The demand for renewable sources of energy has steadily been on the rise. Effective handling of wind energy comes at hand as wind and solar renewable energies are expected to become essential means to achieve the climate goals of the Paris Agreement. Latvian startup Aerones has a solution – a robotic arm to handle the monitoring, cleaning, and maintaining of wind turbines.
How does the robot work?
At first, four winches with attached ropes and powered by electricity are strategically positioned around the wind turbine. The ropes are subsequently tied to a robotic arm positioned between them, and the arm is then lifted alongside the wind turbine. The robotic arm can perform various functions, from inspection and monitoring to coating and fixing cracks or leakages in the turbines. Many minor problems decrease the turbine's efficiency, such as erosion and oil leakages, and some, for instance, cracks on blades and icing, cause it to stop immediately. The robotic arm is, therefore, well placed to prevent both naturally occurring issues in the life cycle of the turbine, including problems that arise unexpectedly due to bad weather conditions or collision with birds. 
The Aerones product is special in its cost-effectiveness and advantage over human labor. The startup claims that it can do the work as much as six times faster. All of these maintenance works usually take several days, if not longer, but the robot does them in no more than two days.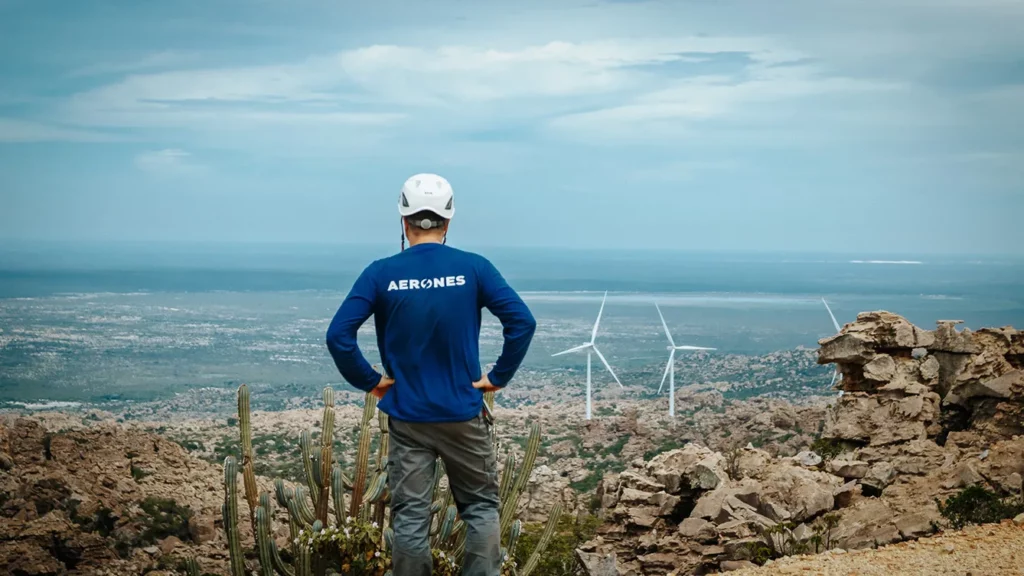 Additionally, it is rather simple to control the robotic arms. They are manipulated on-site from a vehicle with several screens connected to cameras placed on the device. Adjusting their actions takes place on a device similar to that of a PlayStation console, stated the CEO and co-founder Dainis Kruze in a presentation.
The story behind Aerones
The current robotic product was preceded by projects related to the development of drones. The co-founders, Dainis Kruze and Janis Putrams, met at university and began their business with drones soon after. They hoped to develop a set of services that the drone could provide, going as far as rescuing people and maintaining turbines. However, many of their ideas were ahead of their time, and thus securing sufficient funding was difficult, Kruze explained.
Inspired by the need to secure smart turbine maintenance, they began to develop a robotic arm instead. Drones can cover some of the tasks needed to maintain wind turbines, yet they are unable to 'stand still' and deliver detailed work for the required duration. This need has turned out to be well covered by robots tested and in use since 2020. Initially, they surveyed and were piloted on over a hundred turbines during the day, with improvements steadily implemented at night.
The Latvian startup has since made it through several funding rounds. Currently, the company has used its product on six thousand turbines in 19 different countries and has grown to a staff of over 240 employees.
What lies ahead for Aerones
The promising start of this unique model in the region has also brought new challenges. One is how to adjust the technology to the increasing number of offshore turbines. This means that new adjustments need to be made to the robotic arms to operate effectively in the water. This summer, Aerones plans to test its modified robot, which should have magnetic components to attach to the blade. Another challenge is the need to increase automation to control these robots from a distance. Investment into these innovations guarantees even more success, as more wind turbines are on the agenda, rushing in to help with the challenges posed by global warming.