Likely, you haven't. But you should! Croatia has a lot to offer in the winter, including skiing opportunities. As yes, my friends, it does snow in Croatia! The country is technically divided into two climates – continental and coastal. Hence, it is possible to choose whether you are looking for a Croatian winter wonderland break or milder (possibly swimming) weather near the coast in the south. Having said that, climate changes do mean that even Dubrovnik may see a little bit of snow at times, but let's leave extremes aside and check what the top winter destinations in Croatia are.
Winter wonderland
The first spot that should come to mind is the Plitvice Lakes National Park. Tourists eagerly visit this UNESCO heritage site in the summer, but wintertime is also not to be missed. Especially when the temperatures drop, reaching their lowest (usually around January), and the water freezes. Icy lakes and immense icicles created by streams will make you look around for Andersen's Snow Queen (or, rather, these days – Disney's Elsa). The 'wow' effect provided by sleeping nature is worth the travel. And best yet – despite being so utterly charming, the Park does not get as many visitors in the winter as it does in the summer. And you can enjoy the icy wonderland without feeling rushed to take that next picture!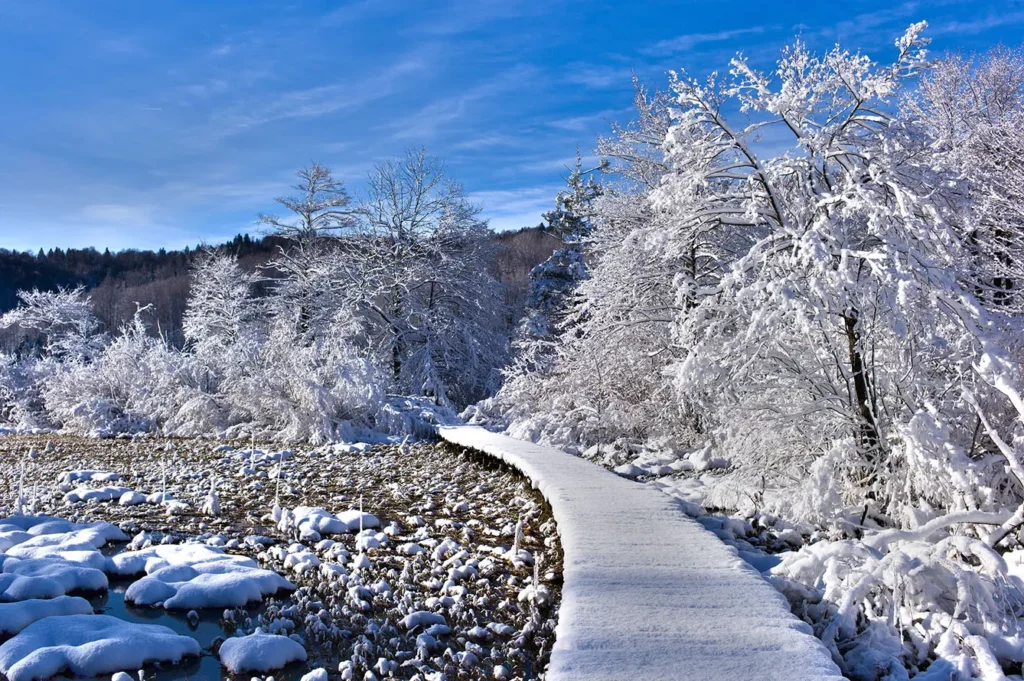 Skiing and Sledging
Speaking of the Snow Queen – just outside Zagreb, in Medvednica Park, you can take part in the Snow Queen Trophy World Cup Alpine ski race (though that's as close as it actually gets to Andersen's Snow Queen, I'm afraid). The race takes place on the highest peak in the region – Sljeme. If you do not happen to be a professional skier, then, apart from joining the 25,000-strong crowd of spectators, you may want to come to Slejme at some other time. Here you can take your time and ski for recreation throughout the winter season. And if you want to combine skiing with some sledding, then The Platak ski resort, located in the Risnjak National Park, is the place to go. Popular with the locals, it offers runs for beginners and more skilled skiers alike. A completely different choice to more famous destinations!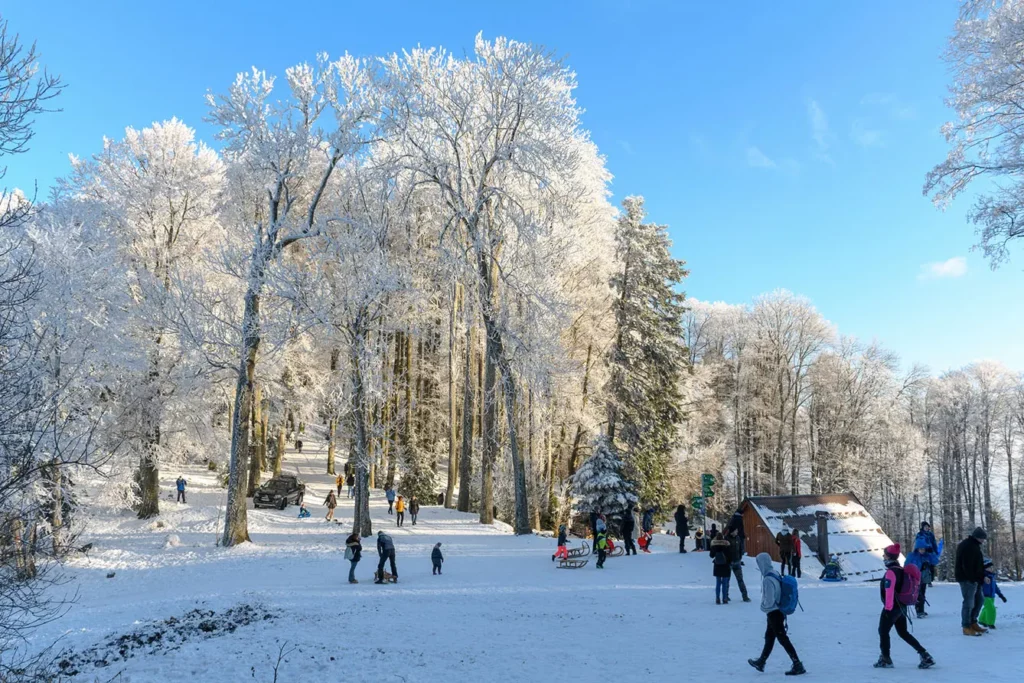 Peace and quiet in Croatian Winter Holidays
If winter sports or snowy landscapes are not exactly your thing and all you want is peace and quiet, then winter might be one of the most interesting times to visit popular destinations. Take Duvbrovnik, for example. It offers an amazing winter festival, which starts during Advent and finishes in the New Year. Christmas lights and concerts make the town even more magical (who knew that was even possible?), and there are nowhere near as many people as in the summer. But all the other coastal destinations will also show a completely different side to them. Zadar, Split, and Trogir (to give you some ideas) are equally interesting outside the hot months and definitely less crowded when temperatures are milder.
Harvest tangerines and relax in a spa
Winter is also the harvest time for tangerines. Neretva, near Dubrovnik, is known as "tangerine valley" for a reason. The orchards here have been blessing the people with fruit since the 15th century, and the fruit-growing business has never slowed down. Truth be told – the peak of the harvesting season starts in the autumn, but even December latecomers can enjoy some fresh citrus vitamins.
And anyway, missing the peak of the harvest is not the worst that can happen, as you can still swap your basket for a towel and head for some thermal spring retreats. Spas in the winter are known for good deals on treatments offered, so here's an idea! But where to find them? Look for Sveti Martin na Muri, Stubičke Toplice, and Daruvarske Toplice, to name just three well-known destinations.
As you can see, winter in Croatia is abundant in varied choices of holidaying. Throw in some great deals offered by the local resorts and private hosts, and it might just be an offer you won't be able to refuse.