Here are three reasons why we'll be hearing more about Bulgaria's fourth-largest city.
All foreign investors aboard, Burgas is calling.
For years, Burgas has been trying to establish itself as an attractive place for foreign investments. And it's working. Ranked among the most promising Bulgarian regions for attracting foreign investment, according to the European Cities and Regions of the Future 2023 study by Financial Times's fDi Intelligence, Burgas is open for business with an international airport that served 1.6 million passengers arriving from 85 destinations in 2021.
The city, home to two universities and four colleges, is also becoming an important IT destination, with some 2,000 IT specialists already working in the city. Czech outsourcing and software development company IBA Group entered Bulgaria six years ago, choosing to open its head office in Burgas. This is an economically developing city with growth potential, but without the inflated labor costs companies face in Sofia. This strategic choice allowed us to work effectively in a less competitive market and benefit from the software skills of local students," says Tanya Eneva, HR Business Partner at IBA Group. Eneva is adamant that students who have completed their software education at local universities prefer to stay in Burgas because of the city's relaxed lifestyle. American software development and consulting company SoftServe started its operations in Sofia but eventually moved to Burgas. Who is next?
Foreign IT companies cite Burgas' favorable business climate, in addition to the available talent, as one of the main reasons they choose the city for their operations. But Burgas is seeing interest from other industries, too, due to the city government's efforts to grow its industrial zones. This year, the International Armored Group kicked off work on its factory in Burgas. The 15 mln EUR plant in Industrial Logistic Park Burgas will be producing a full range of armored vehicles certified to NATO standards.
It's not easy being green. But Burgas is trying.
With some cities only now starting to investigate ways to up their green game, Burgas is already implementing a plan for a sustainable and greener future. The city keeps it simple. Burgas' green strategy relies on the delivery of only zero-energy buildings, making the most of waste, and investing in its own solar capacity.
The Children's Hospital Burgas is looking to build will serve as a test for the city's sustainable growth strategy. When delivered in a few years, the hospital, a 34 mln EUR planned project, is poised to be Bulgaria's first Children's Hospital. But already, city authorities are citing the project as an example of their zero-energy use approach when it comes to new public buildings in the city. The hospital is also to boast its own waste management facility.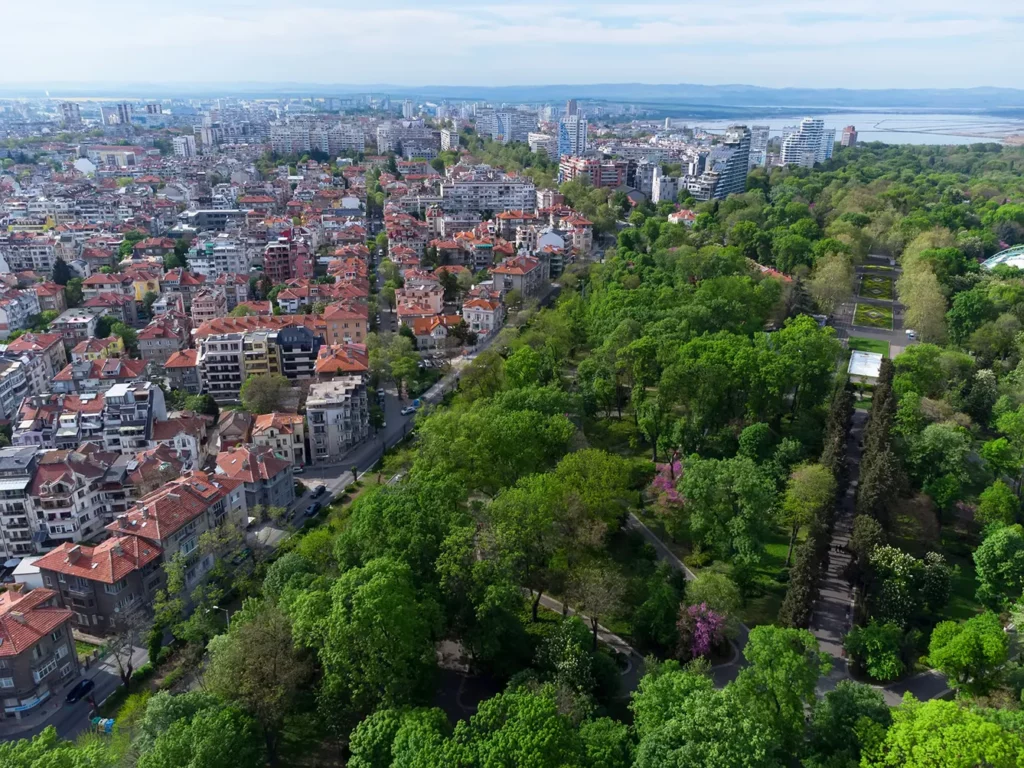 Work is already underway for another key project in the city: Bulgaria's first anaerobic digestion plant for separately collected biodegradable waste. For this initiative, Burgas is partnering up with the neighboring municipalities of Pomorie and Nessebar. In the facility, based on a natural process, waste will be decomposed by special bacteria in the complete absence of oxygen. This process produces compost and methane, which will then be used to generate electricity and heat. The plant will have the capacity to process 30,652 tonnes of biodegradable waste per year.
Burgas is also working with Kronospan, a wood-based panels manufacturer, on separate collection and recovery of waste. The company has the only system in Bulgaria for cleaning and recycling wood waste, with a capacity to process over 100 tonnes of wood raw material per year. The company's target is to source 30% of the wood input from wood waste. "Burgas currently has the best separate waste collection system in Bulgaria," Petar Dishtkov of Kronospan said at a recent business forum in the city organized by Capital Weekly.
Home to the EU's closest port to the Bosphorus Strait, Burgas has big plans for its growth.
In September 2022, The Three Seas Initiative Investment Fund (3SIIF) acquired a significant interest in BMF Port Burgas, a major port operator in the Port of Burgas on Bulgaria's Black Sea coast, from Bulgarian-based Advance Properties, who will retain a majority interest. 3SIIF pointed out that "the Port of Burgas is an important infrastructure asset connecting the Three Seas Region with Central Asia and the Middle East, strategically located on the Black Sea coast and is the closest European Union port to the Bosphorus." As part of the deal, the Three Seas Fund is expected to make major investments in the port, expanding existing berths, building new ones, further upgrading facilities, and the ability to handle new types of cargo.
Burgas already rivals Varna to the north, often called Bulgaria's sea capital, as the country's chief port. In 2020, the Port of Varna handled 7.1 million tons of cargo, while its competitor in Burgas annually handles around 6.7 million tons of cargo, according to data from SHIPNEXT. Christian Roy, Investment Director at Amber Infrastructure, the exclusive investment adviser to the 3 Seas Initiative Investment Fund, noted: "The further development and continued modernization of the Port will play a key role in filling the transport infrastructure gap in the southeast part of the Three Seas Region while delivering broader economic benefits to Bulgaria and the Region.