Dubrovnik Is an Actual Fantasy Location
Founded a long, long time ago in a land far, far away lies the city of Dubrovnik. It's the beginning of a bedtime story as captivating as it sounds. And it's not far from the truth, as the 7th-century city is on the far, narrow strip of Dalmatian seashore in Croatia.
Millions of tourists in Dubrovnik
Yet, millions of tourists to travel to Dubrovnik every year, as it's not only old but also unique. It may not have been the chosen spot for the Roman emperor's retirement palace, as was Split to the north, but boy is it a fantastical setting.
Populated by over 42 thousand people, this ancient city on the sea is known for one unique feature. Its Old Town, which can be circumnavigated on the crown of the city walls in some two hours. The walls climb directly from a cliff from the seaside, adding to their height and giving off undefeatable fortress vibes.
It's even more formidable when you look at Minčeta Tower, the most vital point of the fortress that dominates the area. Minčeta also remains an essential monument in the city's history, as it was rebuilt in the 15th century by Michelozzo, a famous Italian architect incorporating state-of-the-art fortification techniques.
On the other hand, it's hard to imagine a more hospitable place than one can expect in Dubrovnik Port. The rest of the old town is a picturesque collection of houses with a charming cathedral and bell tower, more churches and monasteries, and busy Stradun Street.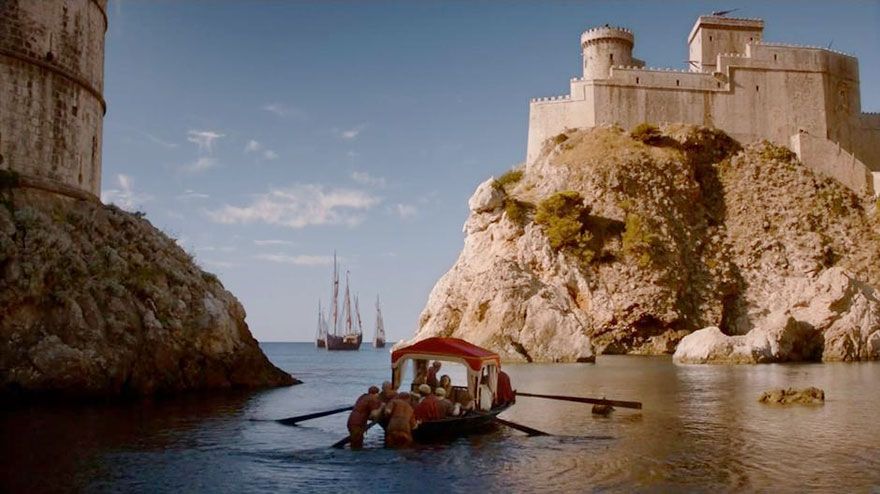 Now that we've set the scene, imagine how such a splendid city could blossom even further with the magic of cinema.
Dubrovnik: fantasy movie location
Luckily, you don't even have to use your imagination, as there's hard proof in more than a few films and series there's a good chance you've seen. Not to mention that the streets of Dubrovnik are crowded with tourists, in no small part thanks to its formidable screen time.
Take the famous show "Game of Thrones." Remember the Battle of Blackwater Bay between Stannis Baratheon's fleet and the Lannisters? Well, in real life, it's not necessarily a bay, really, just a small inlet between two fronts of city walls, used on a daily basis as a kayak port. But scenes featuring King's Landing, the largest city of the Game of Thrones' Six Kingdoms, were filmed in Dubrovnik.
As was "Star Wars: The Last Jedi", the cinematic part of the saga, where the city was "casino planet" Canto Bight. Next in line was "Robin Hood" with Taron Egerton. Alas, in the case of Bond film "No Time to Die," Dubrovnik lost out to Italian towns.
All those silver (and blue) screen appearances are said to increase Dubrovnik tourism by some ten percent annually. This has made the Croatian city the second most popular cruise destination after Venice. However, those who already know Dubrovnik are positive that you don't need to watch "Game of Thrones" to fall in love with the city. One visit will do the trick.