The Venice Biennale, which has been alternating between art and architecture every two years for decades now, hosts dozens of national pavilions, creating a challenging opportunity for artists to speak their minds about important social and political issues.
An Estonian exhibition back in 2008 was a great example of the latter. Why do we mention it now? Because of the current consequences of the phenomenon captured by Estonian ready-made installation, namely, the Russian weaponization of energy.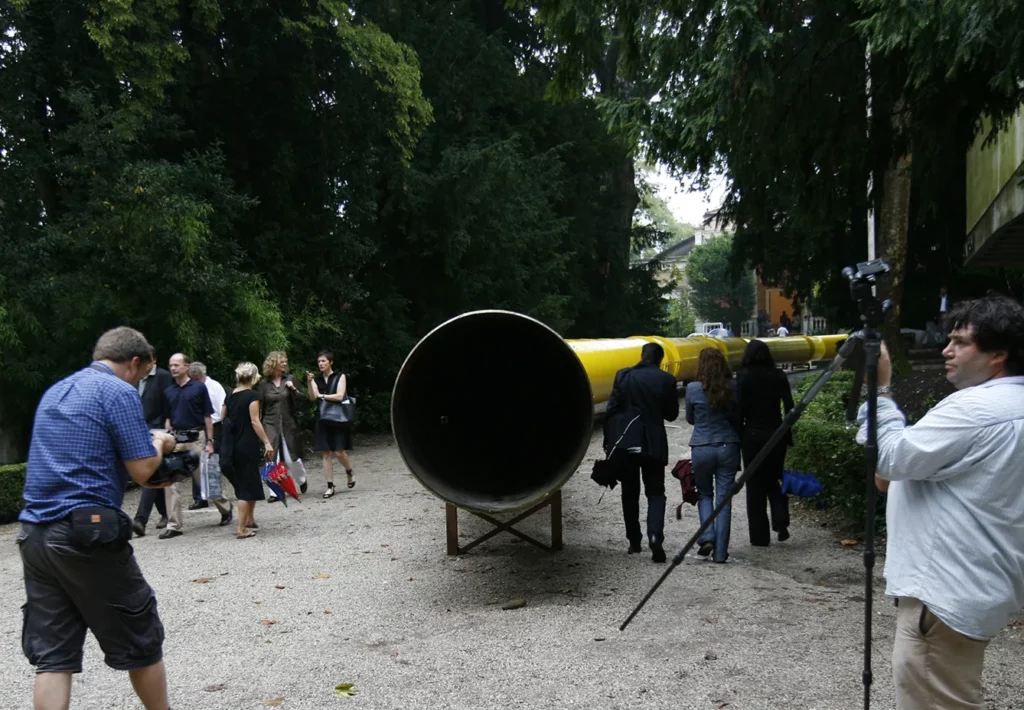 The Estonian installation in Venice in 2008 remotely resembles Marcel Duchamp's idea of the objet trouvé, an everyday object promoted to the rank of art by an artist's attention. But while Dadaism searched for hidden meaning in the nonsensical, the bright yellow gas pipe exhibited in Venice's Giardini was the opposite.
Gas pipe, the literal obstacle
Several sections of actual gas pipe used to build pipelines were placed along the pathway in Venice's gardens where part of the Biennale takes place. The choice was not random – the pipe, openly referring to the first Nord Stream project – passed from the Russian pavilion to the German pavilion.
The 63-meter-long, human-height installation was impossible to ignore. It passed along several pavilions, including Japan's, strongly accenting the space and actively blocking hundreds of thousands of visitors from visiting them.
That was the idea of expressing all the meanings of the geopolitical project of the Nord Stream, enabling the possibility of direct gas trade between Russia's Vyborg and Germany's Greifswald. The actual pipeline, which was still under construction in 2008, was inaugurated in 2012. Enabling direct trade between Russia and the West, the pipeline was not only the antithesis of an environmental project, it also threatened the security of the bypassed, and therefore disposable, countries – the Baltics, Poland, Ukraine, Czechia, and Slovakia.
Art project that turned out to be true
Six editions of the Venice Architecture Biennale have passed since the installation. While the last one so far, rescheduled from 2020 to 2021 due to the Covid-19 pandemic, was taking place, the second line of the project, called Nord Stream 2, was finished – though it never started pumping gas due to Russian aggression on Ukraine.
This was the reality check on Estonian architects Maarja Kask and Ralf Lõoke, Salto Architects' work (*Neeme Külm and Ingrid Ruudi joined the implementation team): something as material and inanimate as a pipe can be a huge threat and an obstruction. Perhaps also an act of aggression – as aggressive was artists' intervention in the peaceful landscape of Venice's Giardini.