Voronet Monastery, a UNESCO world heritage church located in the county of Suceava, is famous, just as its name suggests, for the intricate blue pigment that covers its exterior walls. Showcasing scenes such as The Last Judgment, which gained it the nickname of "Romanian Sistine Chapel," the Monastery continues to exhibit bright colors even after 500 years of harsh winters and scorching summers. This is made possible by the use of special color called Voroneț blue and with the help of unique painting processes that characterize the Monastery. What makes the paint so intricate and spectacular is a question that remains (partly) unanswered.
Voroneț blue, a color that attracts people worldwide for its beauty and intricacies, is the end product of innovation, creativity, and talent. Modern analyzing processes allowed scientists and artists to discover the elements of the unique color. The answer, however, raised even more questions.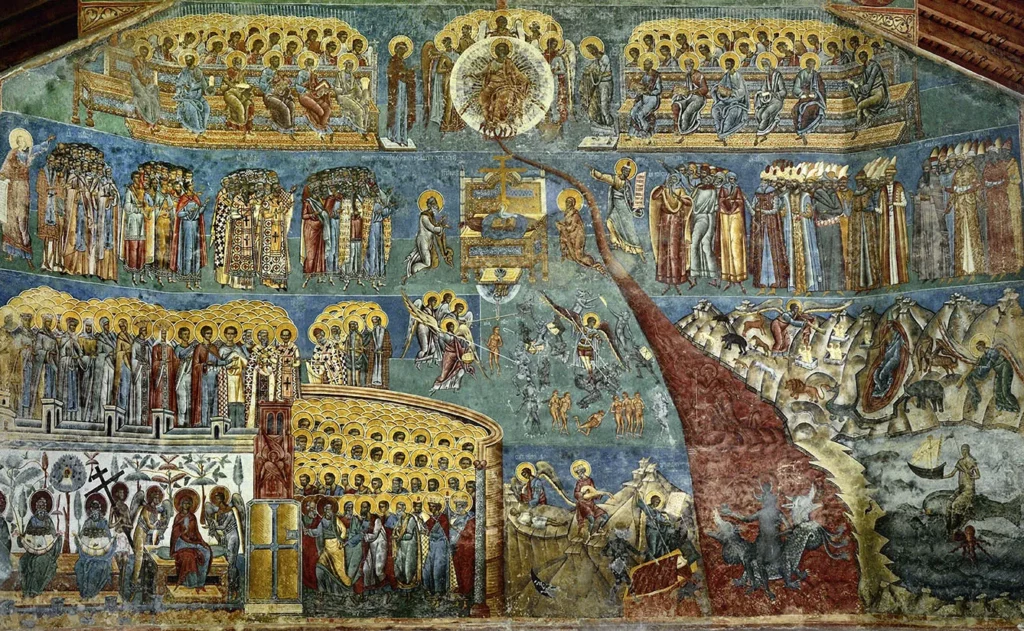 It was deduced that the mysterious component that gave off the beautiful blue nuance was called azurite, an element that is, however, not native to the Romanian land. Originating from Asia and Africa, the rock is the main ingredient that, together with several other components, comprises the magical Voroneț blue. It is now known what made up the color, but the question of how it was made and the mixing process behind it remains a mystery that no one can solve.
Voroneț Blue: Azurite and alcohol
What is known, however, is the technique behind painting the walls, a process deemed a very important step in preserving the blue color. The secret of the skilled painters was to apply the color on slightly wet plaster in order to ensure the best fusion between the colors and the walls. After five centuries, it is confirmed that this technique acted as a quality guarantee to keep the beautiful blue bright and shiny for years.
Various documents of the past attested that painters and workers were often remunerated in alcoholic beverages, leading to the assumption that the use of tuică (traditional Romanian alcoholic drink) might have had a role in the complexity of the pigment. This seemingly far-fetched legend is not far from the factual truth. However, traces of tuică were found, not in the pigment but in the plaster mix. Whether or not that had a role in better preserving the color is difficult to say, which only adds another question to the puzzling mystery behind Voroneț blue.
Today, centuries after the first stroke of Voroneț blue paint, its mix and what goes into making it remain a mystery to the world. Despite now knowing what the color is made of, still, no one knows how it was made to maintain its beauty 500 years after being painted. Some secrets are better left uncovered; for the Voroneț Monastery, this enigmatic element is part of its charm.