Adapting to current developments, Romania's government has embraced digitalization and participatory democracy by introducing an advanced AI system at its core, driven by ION (a voluntary initiative). The concept is for it to act as a link between citizens and leaders by gathering Romanians' voices across social media, official websites, and physical interactions. The data is then later processed, synthesized, and combined with other datasets, extrapolating core ideas to provide up-to-date information about citizens' preferences, needs, and wants. It can even sketch up policy recommendations and then game out prospective results.
A warm welcome
Roughly a month ago, before taking the national and international spotlight, ION's first steps were taken during a cabinet meeting in which the Romanian prime minister introduced their new colleague. This honorary adviser represents a pro bono research and civic initiative, uniting more than 500 programmers and researchers from over 13 Romanian institutions.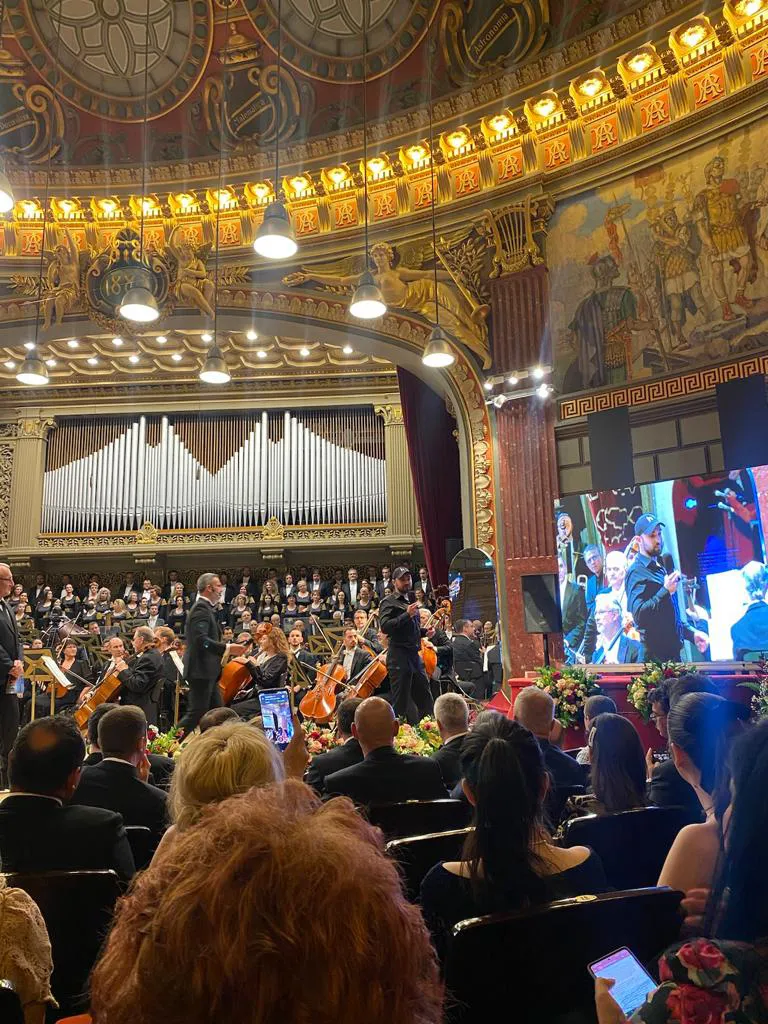 With a desire to spearhead government digitalization, almost overnight and under the radar, the team created an entire AI ecosystem (composed of seven independent systems) initially tasked with indexing citizen-provided data, which it will then learn, eventually offering real-time updates and answers and even generate policy projections. Far surpassing any expectation, in roughly a month, ION received 800,000 relevant messages across its live learning platforms (Facebook, Instagram, Twitter, the official website, and a physical form), from which it extracted 5,000 interlinked topics.
Though attaching a face to the name is proving difficult, the tall mobile mirror-esque robot (seemingly straight out of "Black Mirror") projects blue male and female elements onto its reflective surface, and a voice answers in a deep neutral tone. Nonetheless, its utility resides not in looks but in the fact that, after processing raw data, ION will give real-time insights and prognoses as it analyzes and combines reports, databases, and strategies.
Ironing out the kinks
Although at a nascent stage, our cyber-ombudsman's journey has not been without hiccups. However, from successful participation in live TV sets (Euronews, Antena, Digi, etc.) without issues and the generation of its first public statement for Mother's Day, ION has already learned a few tricks from its human peers. Notwithstanding some website crashes and even a reboot during a Q&A session with high schoolers, the machine has already been involved in a scandal regarding image copyright infringement and investigated for GDPR compliance by the Data Protection Agency. If that wasn't enough, ION moved to Brussels, at least in name, where it was criticized by some MEPs tasked with developing the AI Act.
However, apart from an avalanche of jokes and praise alike, even Andre Ng (Google Brain co-founder) stated that it is "a welcomed step forward," there are some voicing concerns over its ethics. These concerns, which mostly apply to all AI projects, revolve around the unbiased interpretation of data, spam and disinformation avoidance, moral reasoning, and even echoing certain chambering groups over others, especially those marginalized and without internet access.
Meanwhile, with the team working to improve ION's comprehensive representativity of its citizens, the latter seems to enjoy it, as 30,000 voted for the machine to visit their city, 2,500 applied to enter the team, three million have already visited the website, attracting 100 companies that wish to sustain the project. Numbers that show promise, although we must wait to see if Romania's 2024 elections will have ION on the ballots or not.