Q-vent is a small ventilator that can keep a patient breathing for up to 24 hours as it provides oxygen therapy during medical treatment or recovery. Its components are 3D printed, making it relatively simple to construct and put quickly to use. Once the first model was introduced and used during the height of the pandemic, further development continued, producing two even smaller versions called Q-vent 2 and 3.
How does it work?
The mini ventilator pumps oxygen transmitted to the patients through tubes. Q-vent regulates respiration volume depending on the patient's needs and alerts medical providers if the patient wakes up or starts to breathe spontaneously. An important aspect of the ventilator is that its filters remain free of pathogens or other risks, which eliminates the danger of infection from contamination. This is secured by the presence of a ceramic cartridge which heats up to 95 degrees and kills any dangerous bacteria inside the machine. Furthermore, all printed components are made of thermoplastic material, which is biodegradable. The ventilator needs to be plugged into electricity but can also run on batteries for several hours in case of need.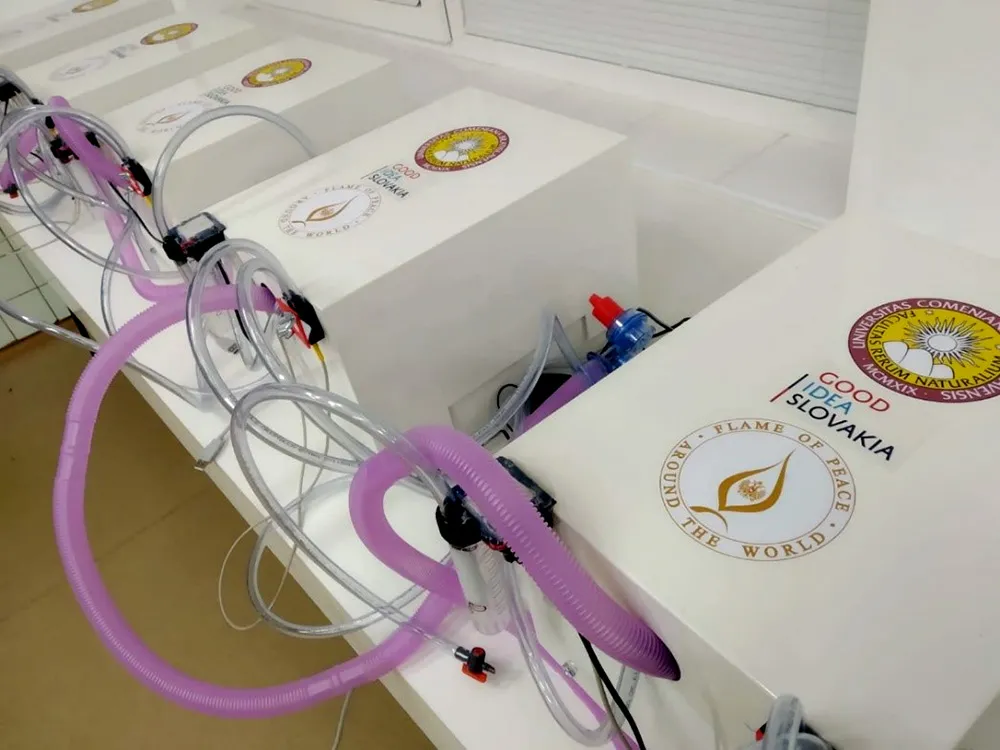 Innovating for health
The first version of the ventilator, which weighs 8 kg, was put to use in March 2020 after more than eight months of work on its formation for the need to cover up the shortage of ventilators during the Covid-19 pandemic. Not long after, an even smaller, lighter (2.6 kg), and more energetically sufficient model was introduced. One of its key advantages is that it does not require an external computer to run, as it works on electricity or batteries.
Another important feature is that all components of the Q-vent ventilators are 3D printed. The printing itself takes up to three days, and putting the ventilator together takes another 2-3 hours. It costs EUR 200; however, it is not commercially available as it is explicitly reserved for humanitarian organizations.
Q-vent has been used in several countries outside of Slovakia. During the critical phase of the pandemic, they were delivered to Italy, Portugal, and India. The second model was used in Brazil, Austria, India, and Kenya. The current model can be found in India, the United Kingdom, and Kenya. The most notable implementation so far has been in remote parts of Kenya in the Marsabit County District Hospital, Kalacha, and Nort Horr villages. Local media have covered the story as it is being used in places that are difficult to access and where basic healthcare is almost absent with the help of the Slovak humanitarian agency called SlovakAid. A Kenyan-Slovak startup called Tatrasky was founded for this purpose, and it continues to gather resources and manage Q-vent's full stationing in the country.
Who is behind it?
Q-vent was invented and made by a team of doctors and researchers from the healthcare sector and academia. Interestingly, Q-vent has been frequently presented by two of its founders, twin brothers named Samuel and Daniel Furka. The Furka brothers are researchers and innovators who have embarked on several interesting projects in the past, such as motorized bicycles.
Although the Q-vent innovation as a product has succeeded, finding the right sponsor to fund its development in the early stages proved challenging. In particular, it has been noted that the project was very short of gaining sufficient ranking for proper funding from the Research and Development Support Agency of the Ministry of Education. Nonetheless, it soon found other sponsors, including the university in Nairobi, who have subsidized its development and introduction to different parts of the world.
What does the future have in store?
As seen, the Q-vent mini ventilators are very handy in any setting where immediate oxygen therapy is needed before proper care is offered. When asked about future aspirations, Daniel Furka confirmed that they want to continue introducing the Q-vent mini ventilator in Kenya in relation to supporting the development of basic healthcare.