Five centuries later, one factory in a small town in Bulgaria is believed to be Europe's last such facility specializing in weaving elaborate Persian carpets of extraordinary colors – up to 240 and nothing but natural dyes – and sizes unseen in any carpet store. Weaving just one such carpet – often required to be an exact replica of an older version – can take up to ten months of hard work and rigorous quality control every step of the way. The price tag? Tens of thousands of euros – hardly a surprise.
3Seas Europe sits down with Nadia Purpulova, one of the driving forces behind the "Hemus" carpet factory in the town of Kostandovo, to talk about designs, colors, and future prospects.
GG: Mrs. Purpulova, I'm sure it's not easy to land a carpet weaving assignment from the British royal court. How did you do it?
NP: We've been in the carpet-making industry since 1998, almost a quarter of a century. Our British story started with us entering a competition. We had to do a very elaborate carpet for Queen Victoria's summer residence and competed against several other countries. Back then, we were still positioned on the map as carpet manufacturers from the Rhodope mountains. The assignment itself was very risky and of extremely high complexity. Very few manufacturers bothered to attempt even trying. However, we managed to match the required design, working with several artists in the process. We trained weavers so that we could meet all quality requirements. It worked. We were commissioned even though they didn't know us back then.
GG: Care to reveal some of your know-how?
NP: It is a combination of many things. We rely a lot on engineering. A lot of maths and formulas are being applied. Then comes the stage related to preparing the nuances, such as selecting colors. We only use natural materials. And when the initial part has been successfully completed, it's time to weave. It comes down to the knot. It was invented 2000 years ago, and the technique has not changed since. This is the key.
GG: How many orders can you complete in a year?
NP: About 4-5 per year, that's it. Unfortunately, there are orders we can't handle due to their size. Weaving 80 sqm carpet is really something. When working for the Royal Family, there are many requirements we need to meet. They have committees that give guidelines on patterns and colors. We then produce samples that are sent out for approval. At least two or three months pass on preparation, discussion, and collaboration with their experts before the actual work starts.
GG: Carpet weaving is a form of art and a longstanding tradition in Bulgaria. Are you able to rely on some governmental support?
NP: We always say that when we won the trust of the Royal Family, and when we created the know-how to produce not carpets but masterpieces that have cultural and historical value, we were stepping on a very successful state policy. It was introduced in the 1970s. At that time, over 2000 women in the Western Rhodope mountains region were trained in weaving. We used something that the state had already provided. We wanted to create a name for the Bulgarian carpet. To improve our know-how so we could make these masterpieces here.
GG: How hard is it today to find qualified personnel for such extraordinary tasks?

NP: To train such a highly specialized weaver, you must invest a minimum of three years in their training. You pay them a salary and social security throughout this time, but while in training, your employee is not producing anything. That's why we're trying to make the government understand that we need help with what we do today. And the state needs us if Bulgaria still wants to be seen as an important place on the carpet craft map. We need fresh talents. But that, of course, costs money. If we stop educating the future generations of weavers, we will lose the ones we have now once they retire. We hope the state will get understand it in time, as it would be a great shame to lose what so many people have created over decades in Bulgaria.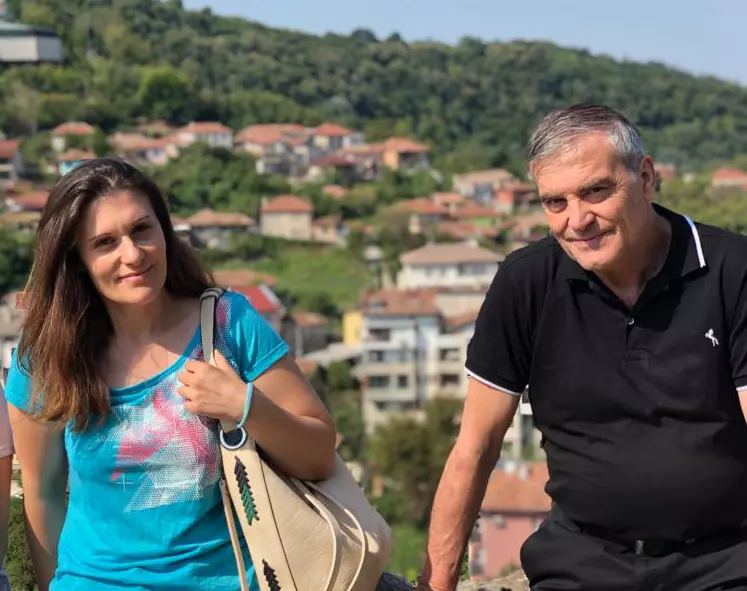 GG: You've also received inquiries from other European monarchies. But despite long traditions, Bulgaria hasn't always been widely recognized in the field, correct?
NP: In my opinion, we surprised people with our Bulgarian production in terms of quality. In the 90s, there was a phrase among carpet experts: "Is the carpet nice, or is it Bulgarian?" Our carpets were known for the high quality of the weave in terms of craftsmanship, but the colors and designs were unappealing – outdated and not stylish. That explains the lukewarm reception of Bulgarian carpets decades ago. Hopefully, we have turned the perception around.
GG: It certainly impressed King Charles III, who even met with your father, Nino Purpulov, to thank him for the carpets.
NP: That's right. In 2011, my father was invited by then-Prince Charles. They met in England, and Prince Charles thanked him for contributing with our carpets to the refurbishment of a few buildings of historical importance to the UK. He just wanted to shake my father's hand, as someone who was involved in that process. The Prince was intrigued that the carpets were made in Bulgaria. He urged us to be more active in seeking government's help for this old craft does not disappear. To this day, it remains an unfulfilled dream of ours to welcome now King Charles III at the very site where these precious rugs are being made.