The idea of peddling a loaded bike, navigating complex routes to bypass streams, lakes, and rivers, and having to pitch a tent at the end of an exhausting day may have caused many to pull the brakes on a life-expanding adventure on two wheels. Now, however, a forward-thinking Latvian design studio has conjured a three-in-one solution – the BeTriton amphibious camper-trike.
In five minutes, the vehicle transforms from bike to boat and vice versa, allowing it to overcome both challenging terrain and bodies of water. When tired, the rider need only find the ultimate spot and unroll their sleeping bag in the inbuilt cabin. Being so versatile and 100% electric, the BeTriton (formerly Z-Triton) fosters an environmentally friendly kind of travel experience. Designed for use by one to two people, it is a convenient option for solo voyages, romantic getaways, and parent and child adventures.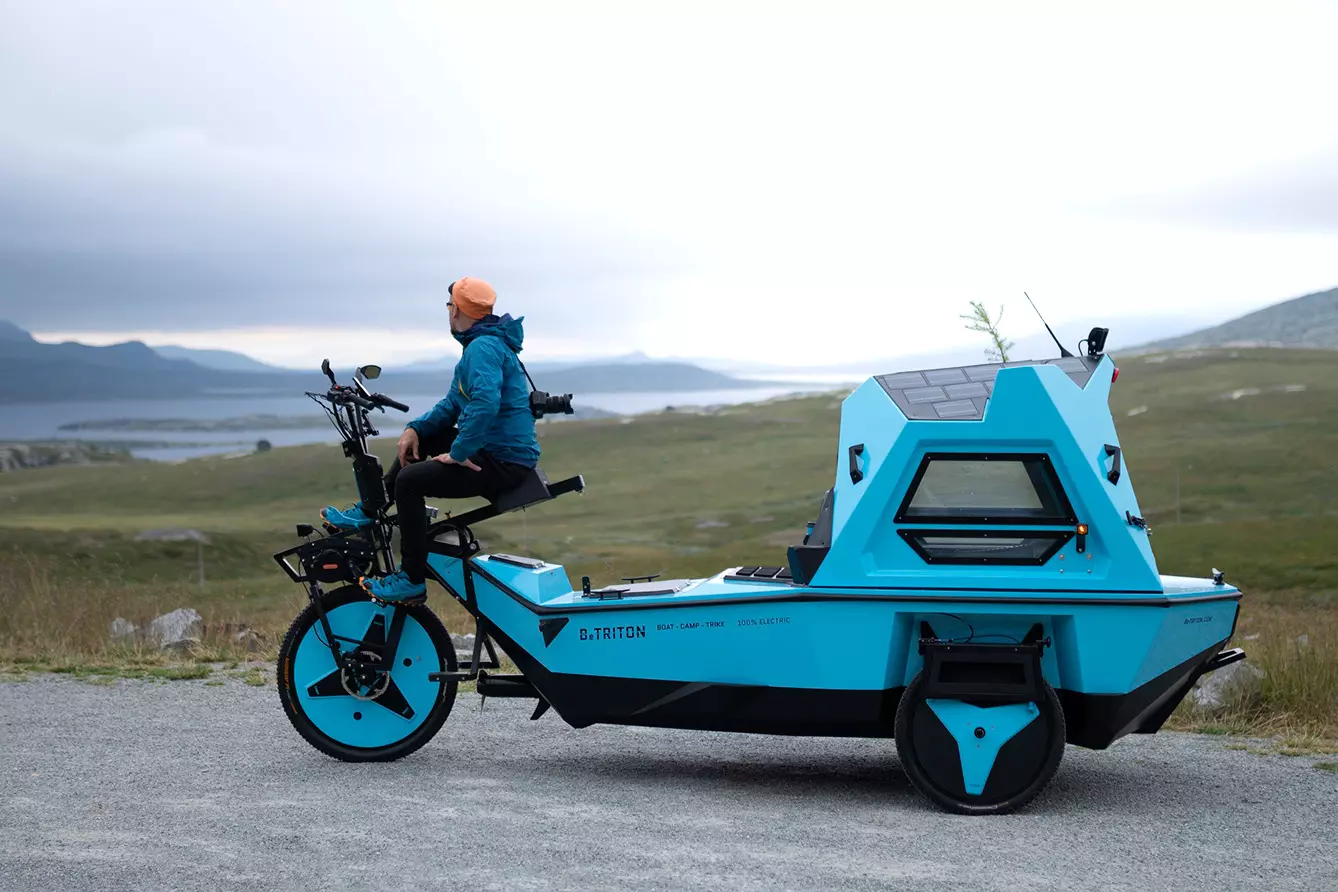 BeTriton inspired by personal experience of cycling around the world
Inventor, founder, and CEO of BeTriton, Aigars Lauzis, is a keen cyclist with a background in architecture and design. Having spent six years in London, he set off on a two-wheeled journey to Shanghai, where the first mock-up model was born. After four years on the road, Lauzis returned to his ancestral home in rural Latvia. He created the first prototype there, which garnered international media coverage and proved that his product would gain a following.
BeTriton attracted investors and found manufacturing partners. However, as many innovators know, the first versions are rarely the final versions of a new creation. So too, the initial prototype of the camper trike was not perfect. The team of engineers and changemakers went back to the drawing board to refine the concept, their work involving such new technologies as 3D printing. In February 2022, the company announced the launch of version 2.0 and spent the summer introducing it to the world in cities like Berlin, Amsterdam, and the Norwegian wilderness.
Layer upon layer of thoughtful details
At its heart, the BeTriton combines an electric three-wheel cargo tricycle with an electric motorboat and camper, but details add further value to the basic formula. So, for example, it comes equipped with several kinds of lights for safety on the road and water, as well as comfort, so users can read a book or cook after sunset. It is possible to cook inside the cabin, fitted with a folding table and extractor fan. At other times, that same table may be used for remote work or movie nights. An inbuilt stereo with a Bluetooth connection also contributes to the entertainment possibilities.
Charged via a regular 220V socket, the BeTriton is not demanding. For extra power, it has solar panels on the roof. Should the vehicle run out of juice, users will not get stuck as no one canceled manual peddling or rowing.
With over 140 pre-orders, the team is currently in full-on production mode and working on a DIY model of the camper-trike, which will have a lower price tag. Anyone wishing to try before buying should follow the company on social media. Plans for next year include a rental opportunity somewhere in the vicinity of the Latvian town of Valmiera where production takes place.