For Josef Průša, the fascination with 3D printers started in 2009. As a student at the University of Economics in Prague, Josef filled his spare time with a 3D printer obsession. What started as a free-time interest and hobby soon grew into a start-up with no investors and later into a full-fledged business. The company has operated since its inception on an open-source basis. Anybody is free to use their blueprints and be innovative in their way.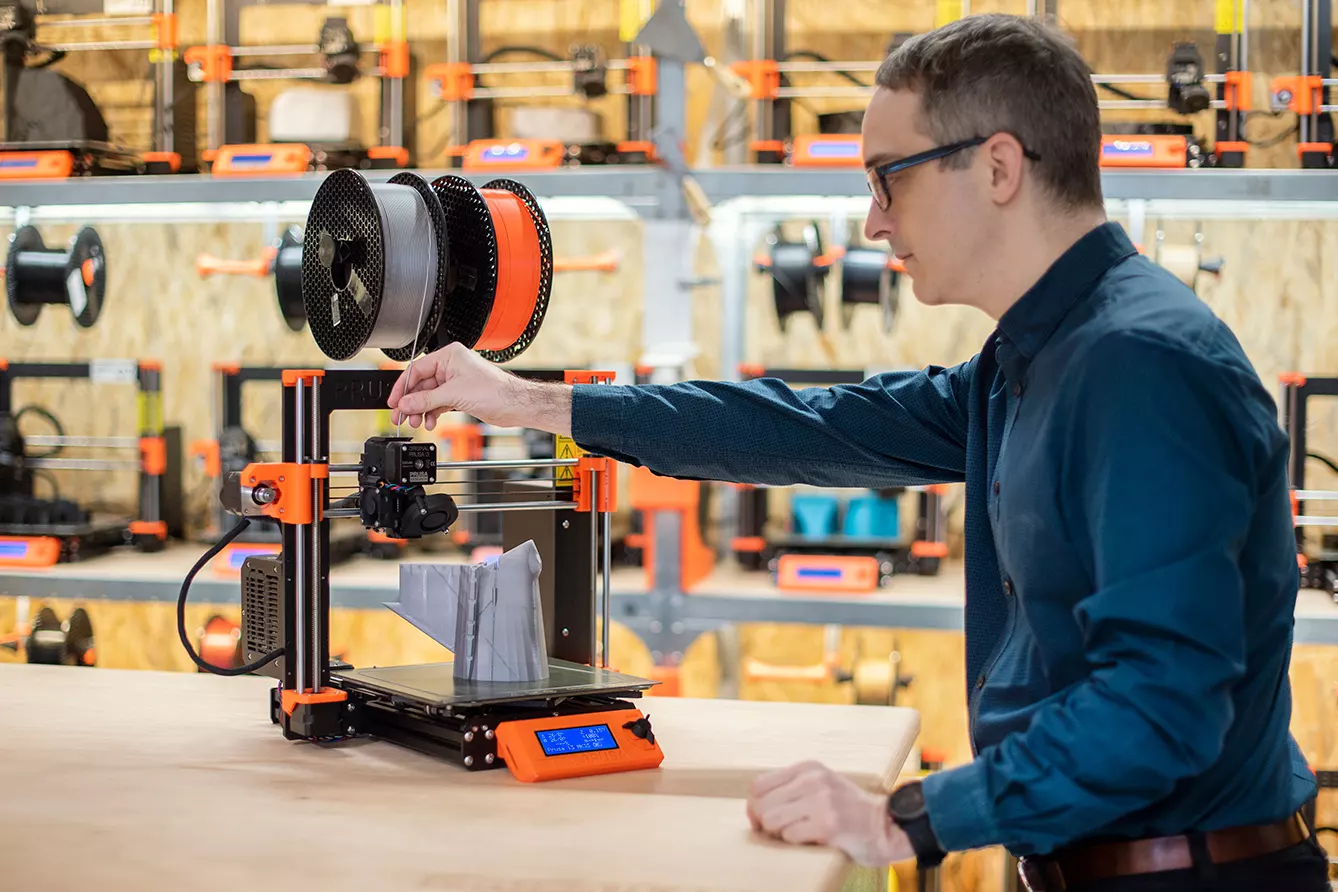 Man to man, Printer to Printer
That is the short story of Průša Research, which is based in Czechia's capital, Prague. Josef Průša is now a successful businessman, consultant, speaker, and university teacher. The company currently employs more than 600 people, and every month, they ship around 9,000 printers worldwide. When it comes to business recognition, Průša Research was declared the number one, fastest-growing tech company in Central Europe by Deloitte in 2018. They demonstrated a stunning growth rate of 17,118%.
Where do all these printers come from, you may ask. From the "Farm." A large hall with more than 600 printers that create parts for other printers. Yes, you read that right. Průša 3D printers are 3D printed and can replicate themselves. That means you can print spare parts for your printer on the second one you own.
It's important to stress that Průša Research is not only about "3D printers." They have an IT team to create the software, engineers to assemble the printers, and an R&D department that creates new filaments. Filament is the plastic-looking material you use to print things. But there's a catch. It doesn't have to be plastic. Průša's team is inventing recyclable and organic materials which can be used as filament. For example, they have a filament that is mostly made of sugar. So, provided you don't mind consuming a bit of plastic with your sugary treats, you could theoretically snack as your printer does its thing!
Farming of the future
The company is all about the future, and in their eyes, the future is in full 3D. Their number one project nowadays is a mass-production facility based on 3D printing technology. You could call it a printing farm, and you wouldn't be far from the truth.
They believe that Průša Research's autonomous print farm is the future of additive manufacturing. The shining example of the automated 3D printing farm is the Průša Pro AFS (Automated Farm System) with 34 printers. It was introduced at the Dubai 2020 World EXPO and worked there for six months.
Our modern manufacturing is primarily based on the subtractive method. That means you have a big piece of material from which the product is created. The result is a lot of waste material. Průša's innovative, new additive method used with the AFS 3D technology works the opposite way. They have the material, and they can precisely create the product without waste.
Despite their interest in the industry of the future, Průša guys are still tightly connected to their humble beginnings, selling 3D printers to everyday people fascinated by this phenomenon. You can choose from one of their 3D printers, order from anywhere in the world, and start your 3D adventure today.