Every year, songs, dances, and much cheer fill three towns in South-Central Bulgaria. Kazanlak, Karlovo, and Kalofer are jointly known as the Valley of the Rose. Here the rose harvest is already in full swing. In Kazanlak, visitors can observe old-timey rose oil-making and taste products made with rose oil. In Karlovo, people dressed in folk costumes demonstrate the harvesting of rose blossoms. Visitors are welcomed with ritual bread and a rose bouquet.
Bulgaria's rose production: prices below value
But producers are not feeling festive. With a kilo of Damask roses priced at EUR 1.2-1.30 – down from EUR 3 just a few years ago, a price level some see as artificial – they are concerned the price is far below the cost value. Farmers worry whether they will be able to cover the costs incurred in the face of high inflation, not to mention major competition from Turkey, where farmers benefit from stellar state support and lower taxes.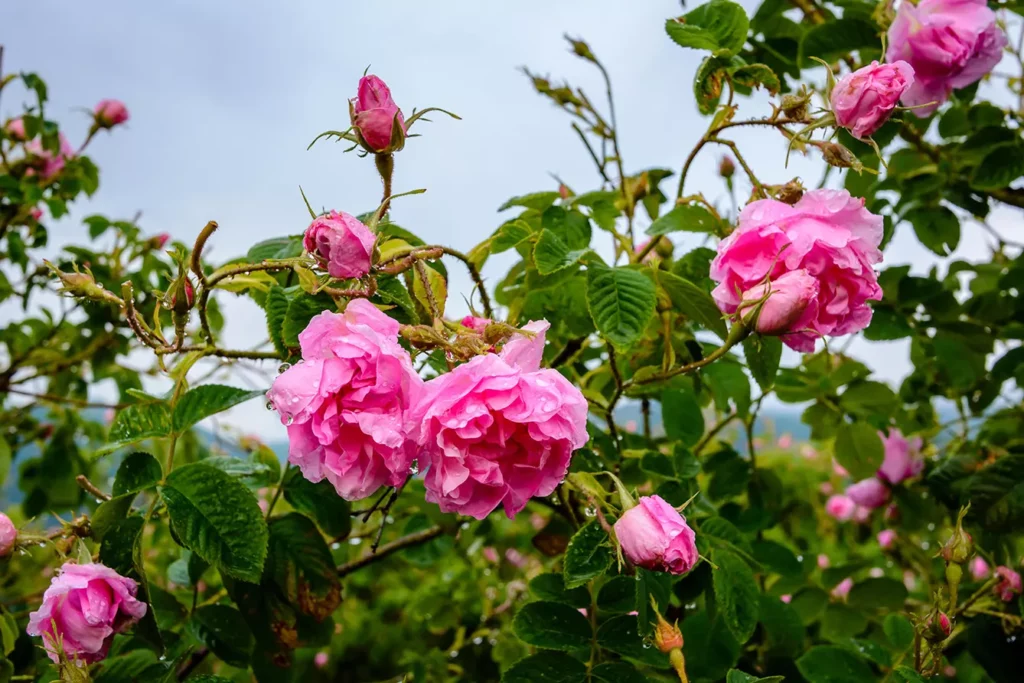 In addition, there are worries about being able to market the produce against a backdrop of high supply and lower demand, about which industry experts are warning. Suddenly, Bulgaria's rose producers are faced with the perspective of selling off their fields altogether. They tear up when flowers remain unharvested and start to rot.
"In recent years, the sector has been in collapse. The purchase prices are very low and do not correspond to the cost of production," says Zara Klisurova, president of the National Branch Union of Producers of Essential Oils, Oilseeds, and Essential Crops. Klisurova admits that at these low prices, many producers are in danger of bankruptcy. In such a critical situation, the acres sown with roses will be even fewer in a sector with an outsized role in Bulgaria's international branding.
The name of the rose
The first documented records of plantations around the village of Voinyagovo in southern central Bulgaria date back to 1712. A few years later, the first batch of rose oil was produced in the town of Klisura. Shortly, trading companies were set up, and Bulgarian rose oil started flowing to Paris, Vienna, Dresden, and New York.
Labeled "Bulgaria's liquid gold," in 2017, one kilo of rose oil – which takes 3-5 tons of rose blossoms to produce – sold for EUR 10,000. Recognized for its premium quality, Bulgarian rose oil is a crucial ingredient in perfumes made by luxury brands such as Chanel, Dior, Lancôme, Kenzo, Bulgari, Givenchy, and Dolce & Gabanna. Bulgaria's prized Damask rose production and its accompanying crafts and processing methods have been declared part of the UNESCO World Intangible Cultural Heritage.
According to Hristo Nikolov, President of the Professional Association of Rose Growers in Bulgaria, "lack of manpower is a major problem facing this sector as well as the entire Bulgarian economy. Every day during harvest, tons of pink blossoms fall to the ground, and there is no one to pick them up."
The Queen of the Rose blesses everyone
With rose growers waiting for positive developments with trepidation, it's been announced that over 1,500 farmers will be financially supported under a COVID-19 relief scheme. Under the 2020 Oilseed Rose Act, over 2,800 farmers have already registered, thus contributing to a database of growers, aiming to eliminate illicit growers. Industry analysts estimate that while some 45,000 decares (or 45,000,000 sqm) of land area are accounted for in the new registry, 10-12,000 decares are not subject to any regulation.
The law aims to grant the right to sell their products only to registered parties. But another issue arises. For some Bulgarians, rose growing is more a family tradition than an established business. For them, overregulation of Bulgaria's rose production might lead to abandoning their lands. In early 2020, experts from the Professional Association of Rose Growers estimated the share of neglected gardens with the flagship Damask rose to be between 30%-40%.
As part of Bulgaria's annual rose harvest celebrations, the newly elected "Queen of the Rose" blesses everyone for health and prosperity. Now is the time to extend those prosperity blessings, especially to rose growers.