Ali Kuvvet, the 'Baklava Master' from Kazandjiska Street, has offered original Turkish baklava and pastries in Shumen for more than ten years. A descendent of an old family of baklava makers, Kuvvet proudly displays certificates proving 55 years of experience offering hand-made sweet treats. "You can have just one piece, but it has to be of excellent quality, and you have to know how to eat it. For complete enjoyment, the small pieces are turned down to allow the sugar syrup to run down," advises the master, who invites us into his baklavajiinica – baklava shop – "Kuvvetoglu."
A delicacy with a long history
Found everywhere from the Balkans to the Middle East and beyond, baklava is often associated with Turkey, where the dessert is also known as "Nightingale's Nest" or "Pretty woman's lips." But the exact homeland of this famous dessert is still shrouded in mystery, with many Middle Eastern nations claiming copyright. "Baklava is a decidedly an Arab pastry. It is by no means Turkish. It was borrowed from Arab nations," says Prof. Vladimir Chukov, an Arabist from the University of Ruse.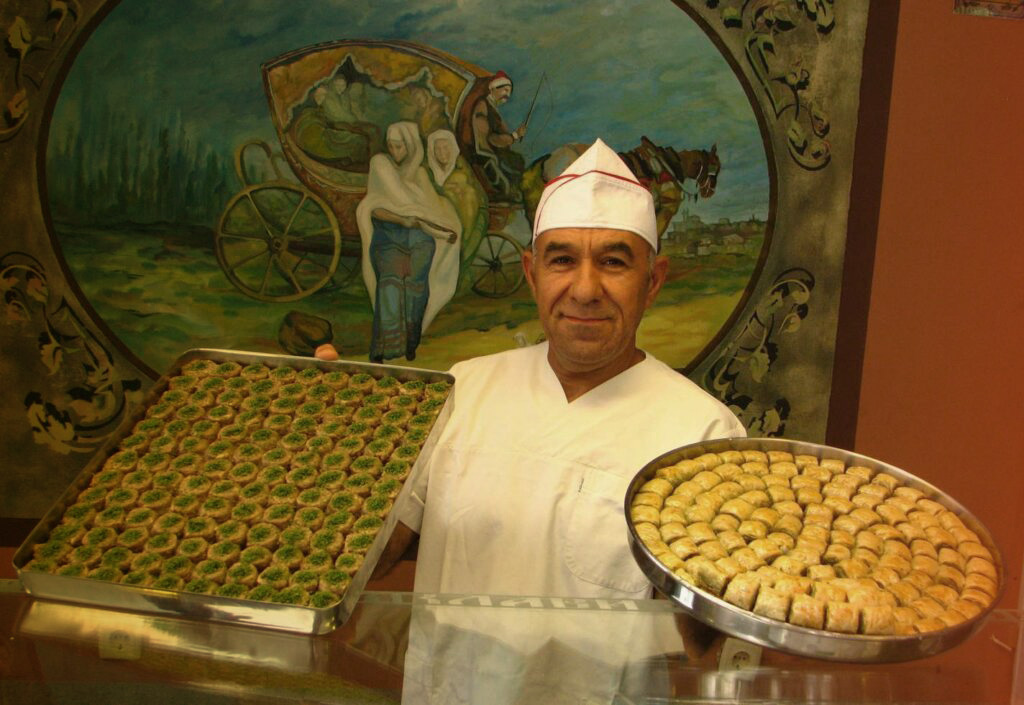 The story begins somewhere in the 8th century BC when in Mesopotamia, they prepared a dessert of toasted crusts with honey and baked crushed nuts. Greek traders in Antiquity carried it across the Eastern Mediterranean, where it later entered Roman cuisine. Over the years, the flavors in baklava have been refined and customized to the palates of the local culture. Armenians added cinnamon and cloves, and the Arabs flavored it with rose water and cardamom. Today in Bulgaria, ordinary pie crusts are being used for its preparation. This is why the pieces end up coarser, somewhat lacking the subtlety of the original Turkish baklava.
Ali Kuvvet chose to set up shop in Shumen, a regional hub with a large Turkish population. In a surprising twist, this is a city that appreciates good Turkish pastry and yet offered almost none. A fifth-generation baklava maker, Kuvvet was born in Gaziantep, known as "the baklava capital of Turkey." He started helping his father when he was only 8-years old. "It is not easy to become a master. You cannot rely solely on your inherited talents. I enrolled and graduated from pastry school."
Mastering the art of baklava
In Turkey, he mastered making 15 types of baklava, ten of which he makes in his pastry shop in Shumen. Kuvvet's baklava is made only from high-quality, natural ingredients. "You need fine crusts, so thin that you can read a newspaper through them," he says. "It takes a lot of patience and poise. Besides talent, special flour is required. For good baklava, you also need quality filling," reveals the master. He sources his pistachios, sprinkled generously into the pastry, from Turkey. Walnuts are another key ingredient. The baklava master is adamant that miracles happen when the two types of nuts are mixed.
Kuvvet also notes that pistachios are a famous aphrodisiac. With a smile, he shares that he himself is a father of eight children. One of his sons runs his own baklava factory in Turkey, while his youngest son, after mastering the baklava craft to perfection, has gone to Germany and chosen another job. For every Muslim holiday and the New Year, Ali Kuvvet provides the Home for the Aged in Shumen with some of his sweet delights. "Life has whatever meaning a person gives it, themself," reads a letter of thanks from the management of the Home.
Is there any tasty profit in Ali Kuvvet's business? No, he says. But he knows that the Turkish proverb "the hand that gives receives from the Lord" is true.