When in the second half of the 19th century, Central European nations went on a search for self-discovery, some (as Hungary did) celebrated a millennium of existence on a political map, and others – like in the region that is now Czechia and Slovakia – turned to folklore to highlight their collective qualities of both coherence and diversity. This is the shortest possible genesis of the Prague Czechoslovak Exhibition of 1895, which wanted to present, harsh as it sounds, rural Bohemians in their natural habitat.
The exhibition sparked an ethnographic craze in the then-northern part of the Habsburg Empire. People started to take an interest in and appreciate folk culture and aesthetics, and this is how Čičmany first appeared on maps.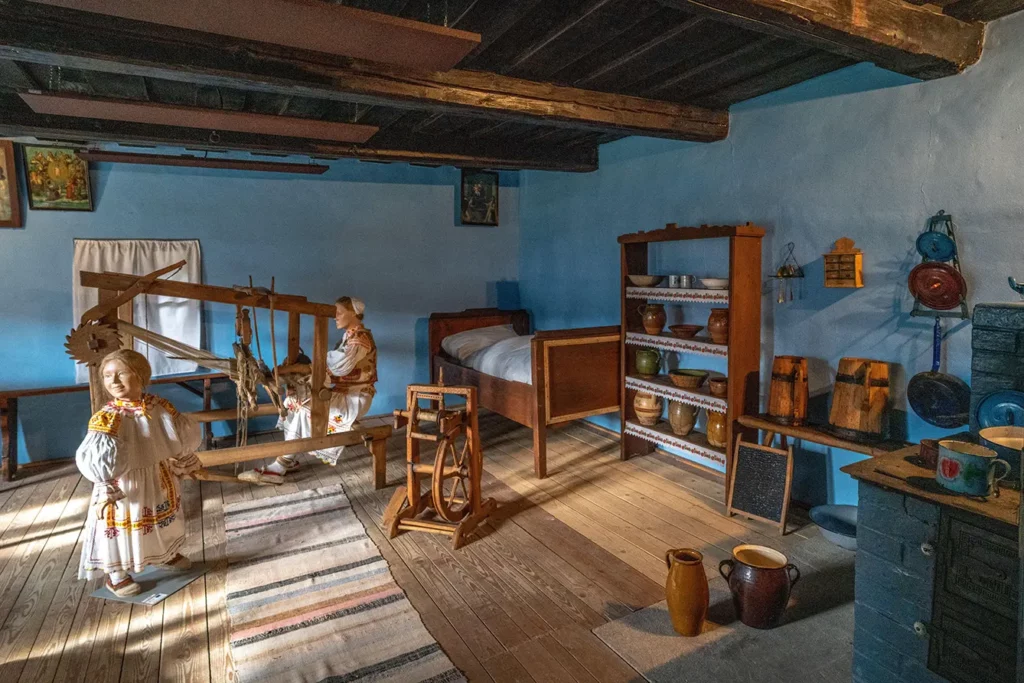 Not that it wasn't there previously. Mentioned as early as the 13th century, in the late 18th century, it was a decent village of over a thousand people, sheep herders also known for producing folk slippers. But when people from all around the country found appreciation for distinctive black, white ornamented houses with galleries, Čičmany became a kind of center of attention.
And the main attractions are houses themselves – old-fashioned timber-storied peasant houses decorated with chalk, mostly geometric and floral patterns. The function of those ornaments, apart from being decorative, is to prevent the timber from moisture and cracking. But the houses were also traditional in their social dimension – housing extended families, gathering them around open fire in the common room.
Čičmany: from Bohemia to Czechoslovakia to Slovakia
It had already officially become the country of Czechoslovakia when Čičmany was severely damaged in the Great Fire of 1921. But by that time, the town's appearance already had an elevated status, and the village was restored to its original shape. But the Heritage Institute, which subsidized the restoration, would only give out funds to families that employed traditional building techniques to rebuild their homes. It then became a state effort – the first of its kind – to preserve Čičmany as an ethnographical exhibit.
Yet still, it was a regular, functioning village known for sheep herding, but with some added potential tourism value. However, in the 1970s, Čičmany faced a threat, as authorities decided to place some modern concrete buildings in the village. Luckily, by that time, the village was known all around Czechoslovakia, not only for architecture but also for folk design, which was being distributed in cooperation with the state-controlled folk-production authority.
The threats of modern urbanization sparked protests in the picturesque and headstrong village of Čičmany. The revolt was successful, and in 1977, the whole village was declared a folk architecture reserve. Not an open-air museum, as it usually happens, but a living and breathing village with an artistic vibe to it.
Now officially part of Northwestern Slovakia, close to the Polish and Czech borders, Čičmany also offers ski opportunities. Still, its gist remains the same: a picturesque village that takes care of its own heritage.