The science-fiction action movies of the 1980s are slowly beginning to lose some of their naïveté and charm as the world moves towards the future, where robots play a crucial part. But what should they look like? What roles should they perform? What about the safety issues concerning AI?
The Clone Incorporated startup, cofounded by Łukasz Koźlik, is taking sure steps toward bringing us a real-life Sonny (an android from the film I, Robot starring Will Smith). Its team is slowly answering the above and other questions concerning state-of-art technology companions for humans. Their hands are shaping the future where an unloaded dishwasher will no longer cause an unpleasant disagreement since the idea behind the Polish startup is to deliver an android that would be affordable for commercial users and could be present in regular households.
Clone Incorporated: Water for blood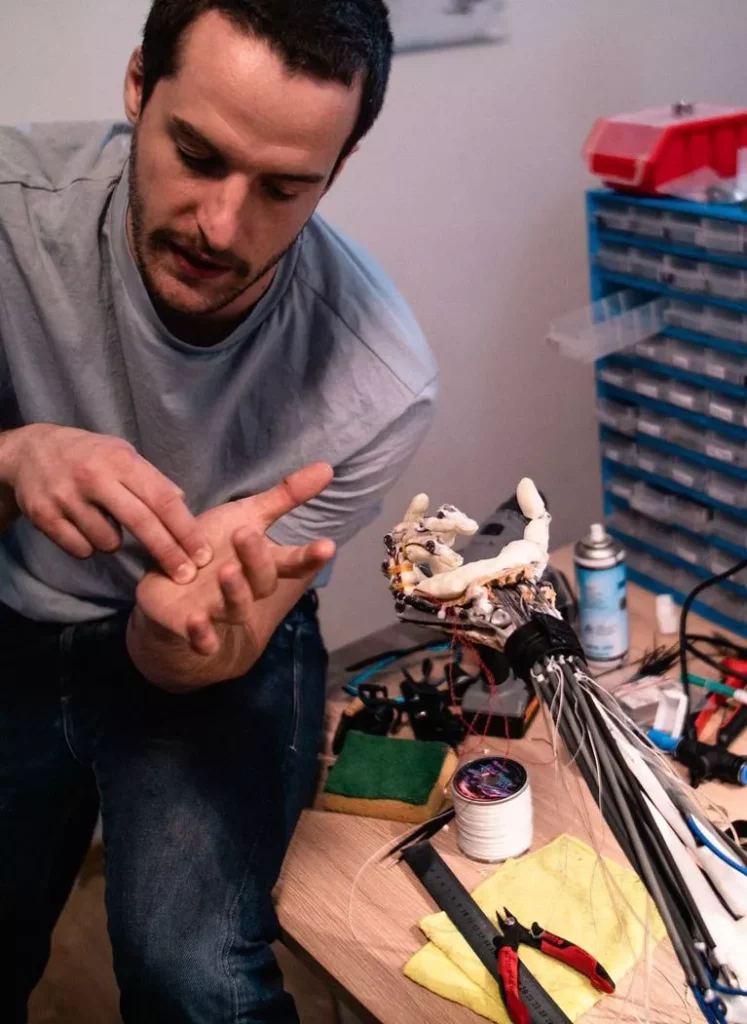 But building a functional and affordable robot is not an easy task. For now, what the developers of Clone have to show for their hard labor is… a hand. But it's not just any hand. It is a human-like hand that is so difficult to reconstruct in a fully functional manner.
Therefore, it seems fit to say a little more about what makes the Clone startup different from similar ones, like London-based Shadow Hand or Ukraine's Esper Hand. The idea is groundbreaking yet very simple.
The Clone team, consisting of Koźlik (lead engineer),  Amadeusz Świerk (electronics engineer), and Juliusz Tarnowski (programmer), decided not to re-invent the hand but to build its mechanic equivalent by reconstructing the tissues in the way they exist in nature. According to the founder, it is an approach not heard of in the industry. And it works!
Early tests show that the hand can lift the weight of 30 kilograms, which is significant progress if we consider that the most praised product can lift only 0.5 kilograms of weight. Indeed, an element that helps can be seen in McKibben's muscle technology, yet the Polish team also introduced a critical twist here. They went for a hydro, rather than a pneumatic, version of the muscles, which allows for better maneuverability, easier steering, and hassle-free maintenance. Humble tap water will suffice should the robot require fixing. Also, minor holes in the 'muscle tissue' do not cause the limb to malfunction, very much like in a human.
A dream or possible reality?
Ok, but is this a real deal? Is the ambitious aim set by the Clone team possible to attain? Perhaps it is too early for a definite 'yes.' However, it indeed does look like it is. In one of his interviews, Łukasz Koźlik said they more than likely owe it to the fact that, at first, they had to fund the startup entirely from their own assets. With no tangible evidence to vouch for their ideas, they were forced to find affordable solutions that would not compromise functionality. And in this, they see a real potential for their final product to be available for purchase at a mid-range price of a car.
Recently, the Clone Incorporated startup opened in the US to gain additional funding, as well as set up crowdfunding pages to gather much-needed assets to push the invention forward. The hand is expected to be fully functional at the beginning of 2023 when the AI specialists will try to breathe life into the carefully crafted limb.
According to the creators, the torso and head are relatively easy tasks, while the legs will be the last challenge to overcome. They also assure that the skin-imitating material covering the final product will make it impossible for the android to be confused for a human since they want to avoid any potential ethical discussions around their masterpiece.
The future of prosthetics
Although the Clone team is fully aware it is still miles away from being able to deliver a fully functional android, it already provides prosthetics with solutions that may change the future of this industry. Their hand, once completed, is hoped to completely replace a human hand at the price of a small backpack where its power bank will be placed. Indeed, a small burden to carry by those in need in exchange for a fully functional hand.
Works on an interface that would allow the hand to be steered by the brain are currently underway. Once all elements fall into place, the Clone's hand might just be a test and a preview of how the mechanical helpers promised by the company may change our everyday lives. Until then, we will have to tackle those dishwashers and laundry on our own.