Throughout his life, David Černý collected several adjectives. Among them, the word "provocateur" stands out the most. He says that he is not a provocateur and that it is a nickname pinned on him by the communist state security in 1987. Whether he likes it or not, his art has aroused passionate emotions for decades – both positive and negative. During these decades, Černý became an icon of the Czech and European art scene, setting the pace for contemporary modern art. And his influence extends far beyond the borders of the Czech Republic.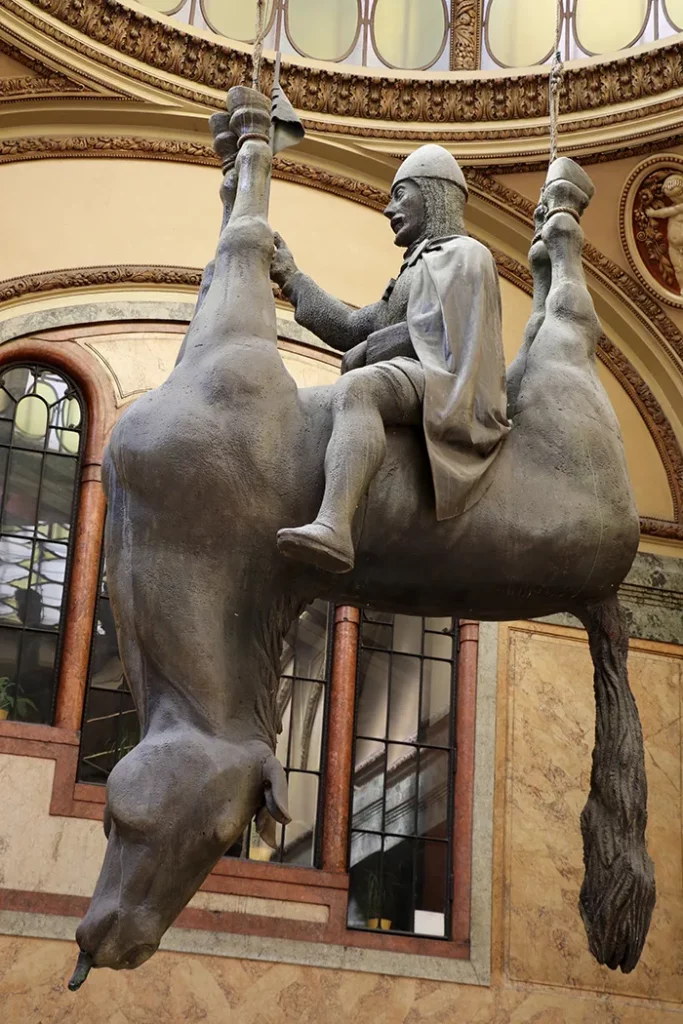 Domestic resistance against the cultural grey
The invasion of David Černý's artwork into the public sphere began in the 1990s. However, his most important work came in the year 2000. It was then that his "Black Babies" invaded Prague. They were initially created for an installation at the Museum of Modern Art in Chicago. However, when Prague became Europe's Capital of Culture, Černý decided to place them in Prague. And he chose a very original spot. They were placed on the Žižkov TV Tower to look like they were climbing it. The installation was a success, and the babies remained there.
Other sculptures by Černý have also become important Prague art monuments. These include a revolving statue of Franz Kafka, a prominent Czech writer, and a parody statue of St. Wenceslas sitting on a tied horse hanging from the ceiling by the legs in the Lucerna passage.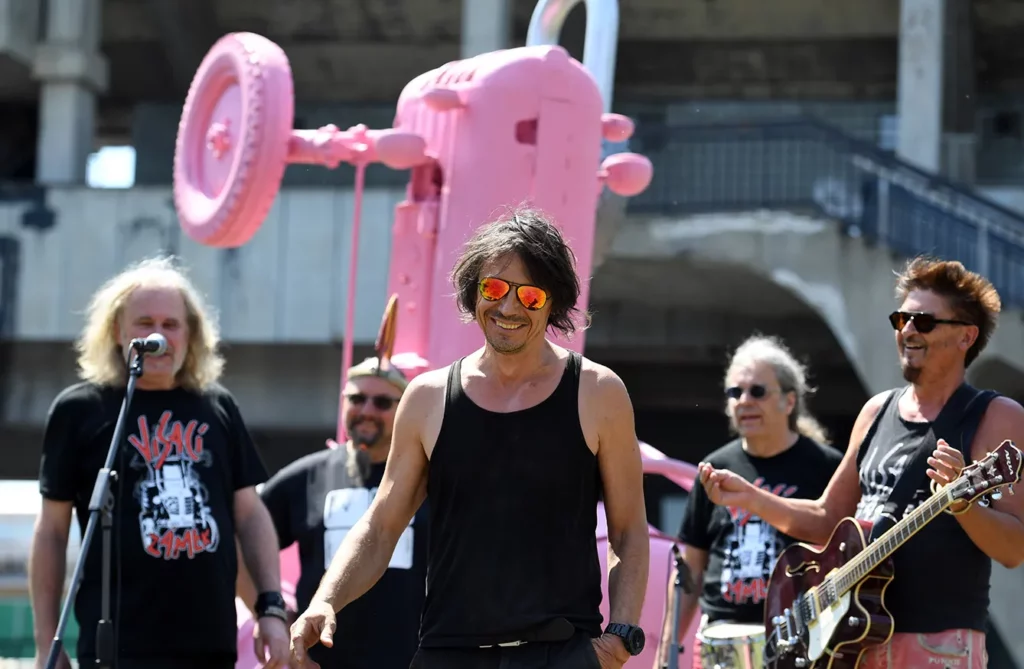 David Černý's European Tour
David Černý is the author of one of Poznan's most famous installations. His Golem statue has been located in the Polish city since 2010. The placement of the Golem in Poznań has its symbolism. Golem's author and father – Jewish scholar Yehuda Liva ben Bezalel, or Rabbi Low – was born in Poznań and served as its chief rabbi. Only later did he move to Prague, where he created the Golem. Thus, the Golem in Poznan guards his father's birthplace forever.
Another of Černý's notable works was a London double-decker bus that does push-ups. It was created for the London 2012 Olympic Games and was displayed outside the Czech Olympic House. After the Games, it relocated to Prague, where it still does push-ups.
Insulting all of Europe at once
The most controversial work by David Černý was Entropa, a giant eight-ton sculpture depicting the individual EU countries using stereotypes. It was created during the Czech EU presidency, and its goal, according to Černý, was to show that even though we are all one union, we still carry the stereotypes about each other. And what were the stereotypes? Germany was portrayed as a country crisscrossed with highways, France was covered with a banner bearing the word "Gréve!" (i.e., strike), and Italy was a large football field with football players. A sculpture depicting the UK was missing to draw attention to Britain's presence/absence in the EU. Sweden was shown in an Ikea box, and Romania, for example, was portrayed as Count Dracula's castle.
But David Černý is not just an artist of the past. He currently has several projects in the works. His most recent work is, for example, the Beetle, a seventeen-meter-high and eight-meter-wide moving sculpture from 2020, featuring a Porsche 911 car impaled on a pin, which is meant to resemble a beetle in an entomological collection. The latest work is a 24-meter-high and 35-tonne sculpture of a naked woman called Lilith. Leaning against a newly built house in the center of Prague, she shakes her head disapprovingly at regular intervals, symbolizing women's fight for equality and independence.