In 2015, at the beginning of his first term as a mayor, Maradzhiev promised his fellow citizens to restore public transport, suspended for years by previous mayors. To do so, the town initially relied on a contractor. "We calculated how much money we were paying to an outside carrier and decided that we would buy our own buses for the same money. But the biggest gain for residents was that we made transportation free," Maradzhiev tells 3Seas Europe.
It took some time, but at the beginning of 2019, two new buses – air-conditioned and adapted for people with disabilities – started serving the town and its six neighboring villages. The municipality was paying the contractor some 5,000 EUR a month, or 60,000 EUR a year, excluding VAT. The two new buses came at the cost of 110,000 EUR. The math was clear for all, with the mayor's proposition unanimously supported by all City Council members.
Improving the lives of its citizens in Stamboliyski
The successful implementation of the project didn't go unnoticed. The municipality of Stamboliyski made a name for itself in Vienna, where it was ranked among the ten finalists in the "Quality of Life" category of the 2018 Innovation in Politics Awards.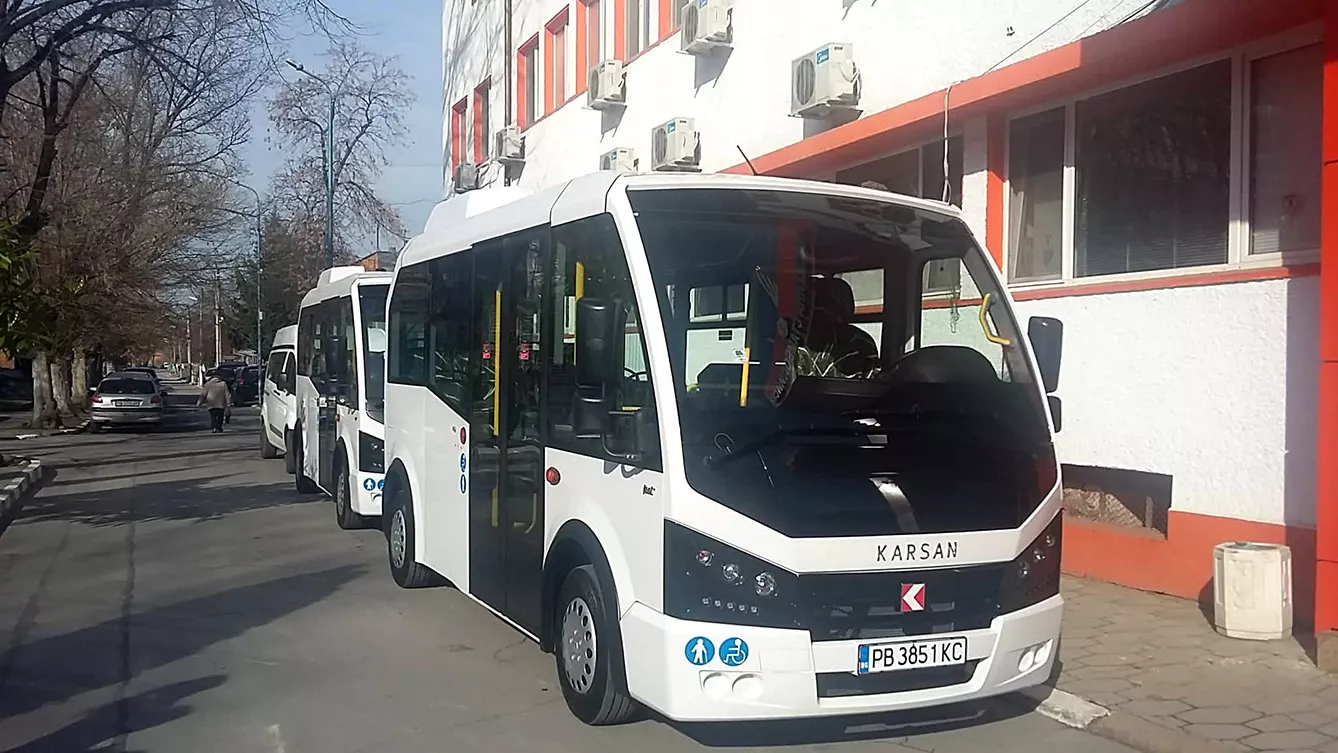 This model has long been introduced in several European cities. In 2013, Estonia's capital Tallinn became the first EU capital to offer free rides to all its residents. And in 2020, Luxembourg took it to a new level, becoming the first country in the world to make all public transport – buses, trams, and trains – free for both residents and visitors. Today, it is estimated that around a hundred cities and towns around the world provide some option of free public transportation, to all or specific groups.
Free public transportation – an idea that has been around since the 1960s – is believed to offer an alternative to city congestion and a much-needed breath of fresh air. With the energy crisis upon us, it might also provide an alternative to soaring transportation costs. However, numbers show that that's not always the case. In Tallinn, three years after the introduction of free public transport, the number of bus passengers increased from 55% to 63%. At the same time, car journeys decreased only slightly, from 31% to 28%, according to data quoted by Enrica Papa, Senior Lecturer in Transport Planning at the University of Westminster.
Free public transportation: more hurdles to climb
Challenges persist, but in economically challenged towns in Bulgaria, such as Stamboliyski, where the switch to free transport offers much-needed relief to fragile social groups, such decisions take time.
Varbitza, a small municipality in northeastern Bulgaria, is currently working on implementing a similar project. After struggling with a private contractor, the town took matters into its own hands. "We went for the option of us setting up our own transport company. In a month's time, three new buses will arrive," tells 3Seas Europe Merdin Bayriam, mayor of Varbitza.
As part of the project, the town's former veterinary hospital will be renovated and turned into a bus station. While the town can't afford to maintain free public transportation, a symbolic price of 50 euro cents will be introduced for all travels within the municipality. The cost of the project, which is also looking to end the practice of using non-licensed taxi rides, is estimated at 100,000 EUR.
In Dulovo, another small municipality in northeastern Bulgaria, the idea of providing complimentary transportation is a no-go. "I welcome the idea of colleagues from other municipalities, but in our case, it is not financially possible to serve neighboring villages, a task now delegated to private companies, for free," says Yuksel Ahmed, mayor of Dulovo. Meanwhile, in Stamboliyski, some 25,000 people benefit from free public transportation. Those two buses have more than paid for themselves.