DeepL Translator has been providing high-quality online translation since 2017. It was developed on the platform of the online dictionary service Linguee from which it managed to effectively incorporate the most recent AI technology and become an independent startup.
How does it work?
DeepL translates texts up to 5,000 characters long in a matter of a few seconds. The current number of languages it can translate to is 29, with Turkish and Indonesian most recently added.
The easiest way to translate a text is if it is typed directly into the translator. The extended subscription versions of DeepL, either on the app or on the web, offer the option to upload word and PDF scanned documents, the CEO Jaroslaw Kutylowski, from Poland, confirmed in a recent interview.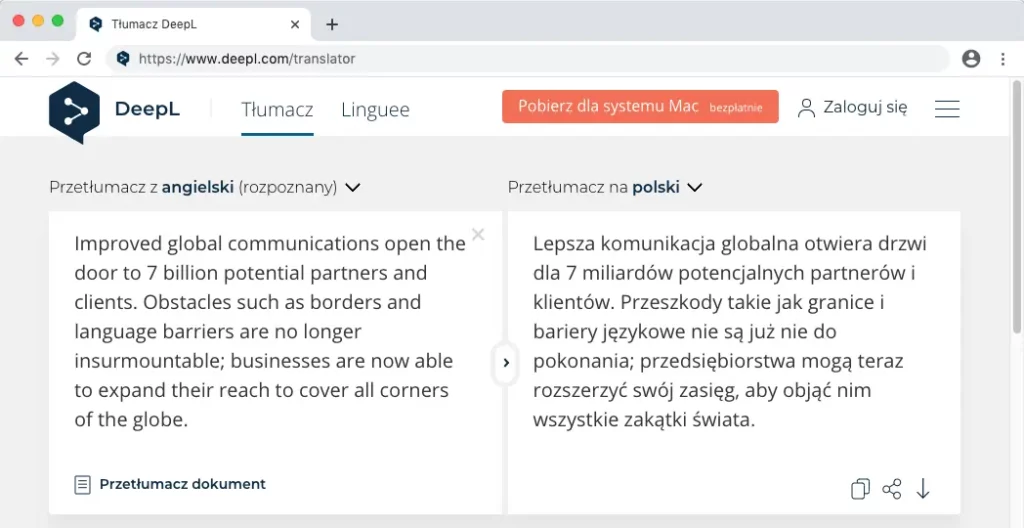 Beneath the surface, a complex set of codes and algorithms is processed under the systems created by the Neutral Machine Translation (NMT) model. This DeepL AI mechanism is unique in that it presents an accurate translation of content, which is not always the case with other online tools.
Who benefits from DeepL?
The translation is very handy in translating causal texts due to its precision. There are particular genres, such as poetry or specific professional texts, including legal and medical sources, where DeepL cannot guarantee a perfect translation but can serve as a useful assistant to professional translators instead.
Indeed, it has been confirmed that rather than reject it, several professionals have welcomed DeepL, which can translate easier texts to help translators focus on more important ones. It is expected that DeepL will replace some current job positions which involve translating more casual text, confirmed one of its users.
DeepL's background story
The current CEO Kutylowski developed the project from an existing platform Linguee where he held the post of CTO. Prior to that, he worked as a researcher in computer science and helped to develop new software tools for quality testing and optimization. Whilst in this position, he saw AI enter the field of translation and started to develop his own project.
Prior to DeepL, which officially launched in 2017, similar services were present, from which Google Translate is perhaps the most well-known. However, all were running on the Statistical Machine Translation (SMT) software model, which lacked content accuracy.
Back in 2016, Linguee embarked on a successful cooperation with Verne Global from the United Kingdom, which focuses on intensive AI support in mathematical calculations. Together they managed to create the necessary AI system on a supercomputer, claimed to be the world's 23rd largest, in Iceland. This paid off for the company (known as DeepL), which grew in large numbers thanks to the accuracy of the translated text. The adoption of the NMT model started off the story of DeepL as we know it today, with Kutylowski being its current and only CEO.
DeepL is well aware of its success and has been secretive when it comes to sharing its know-how. As the Slator portal reveals, there have been no scientific research papers written on their specific AI NMT model, and it is hard to find information regarding the technical aspects of the software DeepL uses. Like most other AI systems, it is constantly improving, but the details are yet to be revealed.
Competition and Future
We have seen much discussion on the comparison of the quality of services offered by DeepL and Google Translate. After the rise of DeepL, thanks to using the NMT model, Google Translate also came to use the same technology. According to the Lionbridge portal, which tracks the quality of providers, Google Translate slightly outperforms DeepL, but this might change as DeepL is making fast improvements in some of its languages. Other than that, it might be interesting to elaborate on the quality of translations of the Vasco Electronics device. Future success is almost granted, given the shift to online and automatic translation. DeepL surely has the advantage in this category due to its mysterious AI software.