The sudden outbreak of the Covid-19 pandemic can be blamed for many things. However, there is always a flip side. The equally sudden development and progress of digitalization have already brought benefits to the public, saving them minutes and hours of their precious time. The same goes for professionals. Amongst them is this particular vocation that never seems to be off-duty and is sought for its 24/7 advice and support, especially when health is considered. Doctors.
Virtual clinic of the future with Doctor.One
When attending clinics in person was taken out of the equation, we saw the rise of a new diagnostics era – the era of telemedicine. And it makes perfect sense! We can chat online with our friends and family, where video calls, photos, and files can often, in a way, replace physical presence. Maciej Malenda, thankfully, had been toying with the idea of the solutions for the telemedicine niche for a couple of years. Together with Tomasz Rudolf, they finally brought it to life, especially as patients were warming to the idea of remote visits.
What makes Doctor.One different? It is a tool that was designed to facilitate contact between a doctor and a patient. The former can treat it as their private practice without needing to rent rooms or maintain infrastructure. They are in control when it comes to the time spent on providing virtual help and when to contact their patients.
The doctors can also offer their care to those app users they feel they can treat. Once their invitation gets accepted, the patient pays a subscription that grants them access to their chosen specialist for a given period of time. The doctor can then call the patient, set up a video chat, or write a prescription or a referral for further tests. The app also allows for the storage of patient history files. All in one place – hassle-free.
Doctors and patients love it!
The pool of specialists is growing rapidly. This virtual clinic opened in May 2021 and already offers care in over 30 specializations. Because the app works exactly like a regular clinic, contacting your specialist this way ensures the same level of care as during a face-to-face visit. And that was one of the main aims of the app creators. It gives the doctor control over the time they dedicate to patient care in their virtual private practice. They control the subscription price for their services and invite patients they feel they can look after. Feedback from the doctors shows that, in many cases, the app allowed them to increase their income by at least 20% without increasing their working hours.
On the other hand, the patients benefit from having easy access to their doctor. They know when they can expect a reply from their specialist and receive a sick note if need be. They no longer have to go out, queue, and strain themselves when they are already feeling ill. The app is an easy solution to personalize their healthcare model and receive support with sudden issues. And they receive all that in one affordable subscription.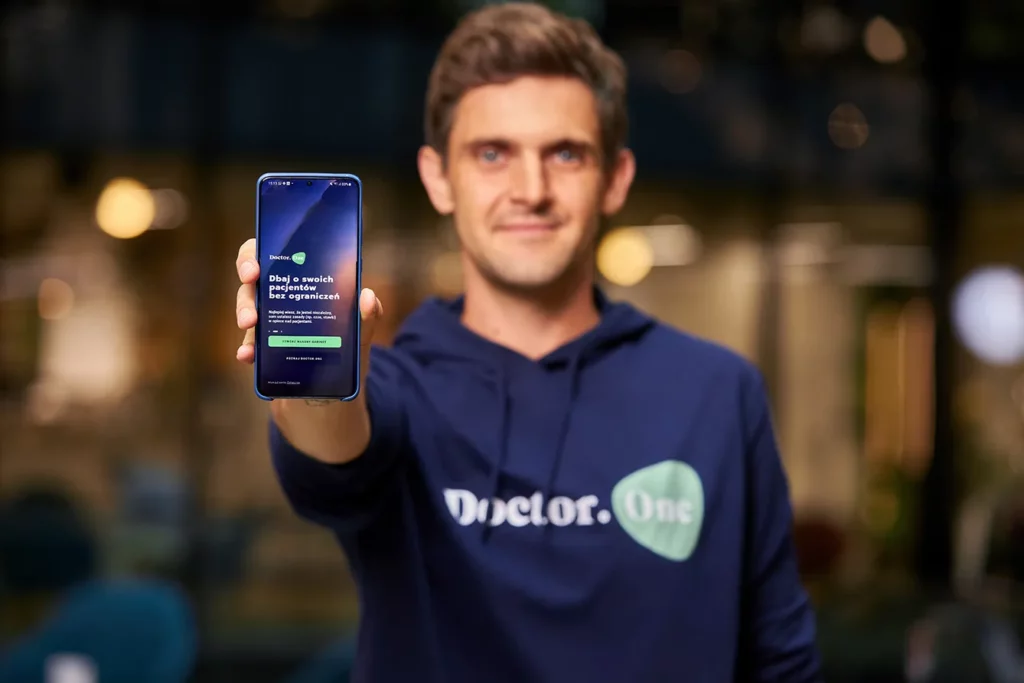 Big idea – big money
The start-up was immediately noticed. The European Economic Congress chose Doctor.One as the best Health & Biotechnology start-up in the Start-up Challenge 2022. It also received the title of the start-up of the week by Forbes in May of the same year. But that's not all – during the investment round in May, it received a total of 2.1 million euros from Atlantic Labs and Movens Capital.
It seems that for this Polish start-up, the sky is the limit. And this seems an apt comparison given that by 2025, they plan to offer the services of over 10 thousand medical professionals across all of Europe. As our world is changing and digitalizing, this aim seems completely attainable since health systems all around the globe are constantly looking for a way to improve and heal their own ailments.