The adventure of Josef Spejbl and his son Hurvínek began in Pilsen in the 1920s. Their spiritual father, Josef Skupa, came to Pilsen during the First World War and immediately fell in love with puppets and puppetry, which were connected with Pilsen. In 1917 Josef Skupa became the art designer of the local puppet theatre, and his fate was sealed forever.
After two years of tireless work for the theatre, he had the ambitious idea of creating his own puppets with unique personalities. He had a vision and a story he wanted to share with the world; the only thing that needed to be added was a woodcarver, i.e., the person making the puppets. So, destiny led him to Karel Nosek, a master carver.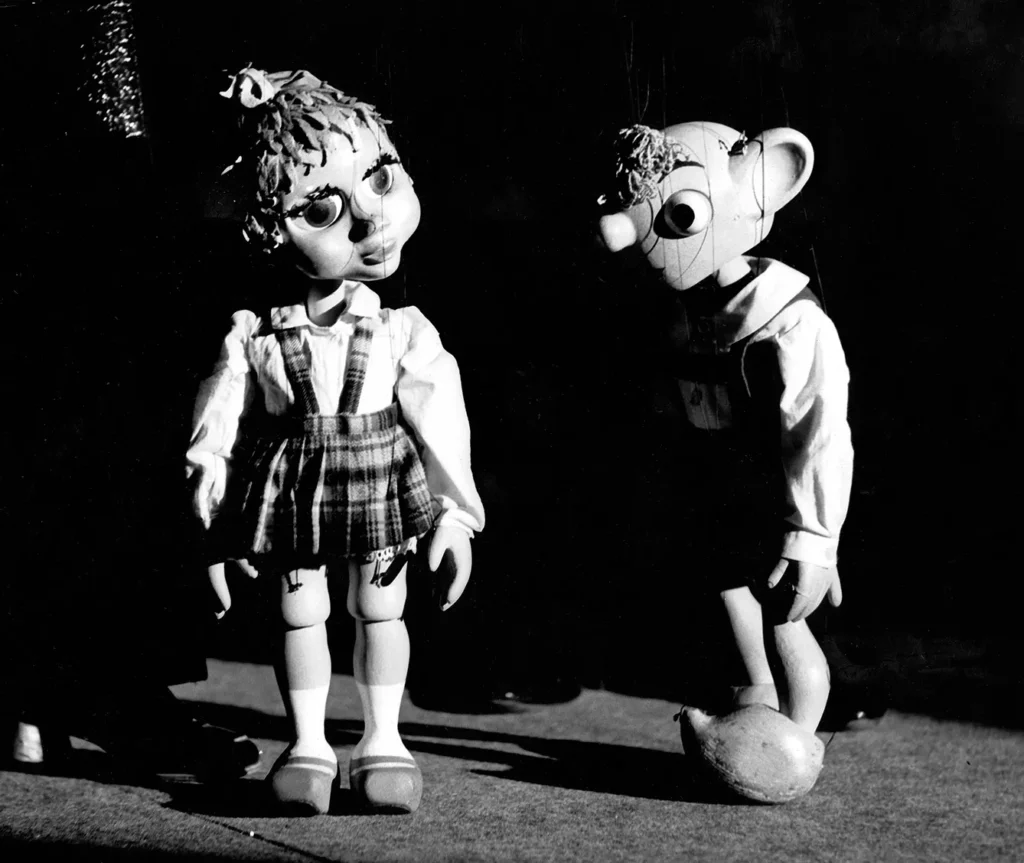 Josef Skupa's wooden family for life and death
In 1919, Josef Skupa brought a simple sketch to Karel Nosek and asked him to create Mr. Spejbl. Nosek was skeptical at first and persuaded Skupa to rework the design. He thought that children would be afraid of Spejbl. But Skupa's goal was to create a puppet of an ordinary guy who would appeal to both children and adults. For a long time, he had longed for a puppet that would embody general human weaknesses and was not precisely classifiable. And as Nosek asked, Skupa delivered. A year later, in 1920: Mr. Joseb Spejbl, a 60 cm tall and 1.6 kg puppet, was "born."
Six years later, on Sunday, May 2, 1926, Josef Spejbl's life changed. At the age of six, he became a father! His son Hurvínek became an inseparable part of the performance since the day he was born.
Spejbl's family continued to grow and welcomed two more members – Hurvínek's fox terrier Žeryk and his friend Mánička. The two became members of Spejbl and Hurvínek's entourage in 1930. The same year the theatre became fully independent as the Spejbl and Hurvínek Theatre. The last one to complete the family was Granny Kateřina, the grandmother of Mánička, who joined Spejbl, Hurvínek, Mánička, and Žeryk in 1971.
A family of wood turned flesh-and-blood
After the Second World War, the theatre moved to Prague, and the golden era of Spejbl and Hurvínek began there. The theatre experienced its first international success at a festival in Romania years later, in 1954. The performance there was such a success that thirteen performances were staged instead of the eight planned. The world opened up to Spejbl and Hurvínek. They have visited 34 countries on four continents and have spoken twenty-two languages so far.
Spejbl and Hurvínek raised generations of Czechs during their existence. They have spoken to them live during performances, from books, gramophone records, cassettes, CDs, DVDs, radios, and televisions. Spejbl and Hurvínek thus accompany Czechs from birth to adulthood and introduce them to all aspects of life: school, cooking, working, and even English.
Almost every two days, the Spejbl and Hurvínek Theatre organizes at least two performances for the youngest children, the older ones, and adults. In addition, the theatre has a puppet museum that presents the history of puppetry in the Czech lands.