January 1st, 2021, was a historic day for Croatia. The Adriatic state and its 5 million inhabitants received a window into the global energy market with the start of operations of the floating liquefied natural gas (LNG) regasification terminal on the island of Krk, off the northern coast of Croatia. The terminal will not just improve Croatia's energy security and increase the prosperity of all Croatians; it will also help the region of Central Eastern Europe diversify its energy supplies.
The diversification of energy supplies might, at first glance, look like an abstract issue, but it can quickly become very tangible. During the Russian-Ukrainian energy dispute in the early winter months of 2009, Russian gas that pipelines had previously transported through Ukraine suddenly stopped flowing to many countries in Central Eastern Europe. Croatia was one of the countries that took a brutal hit, seeing its access to Russian natural gas decrease by 40%.
Many Croatians were facing the genuine prospect that they would not be able to heat their homes in the dead of winter. Such a scenario was one of the reasons why Croatia had started planning the construction of the LNG terminal as far back as 1995, just four years after declaring independence. However, the project initially moved slowly. While the environmental impact assessment was carried out in 2010, works only truly started accelerating in 2016.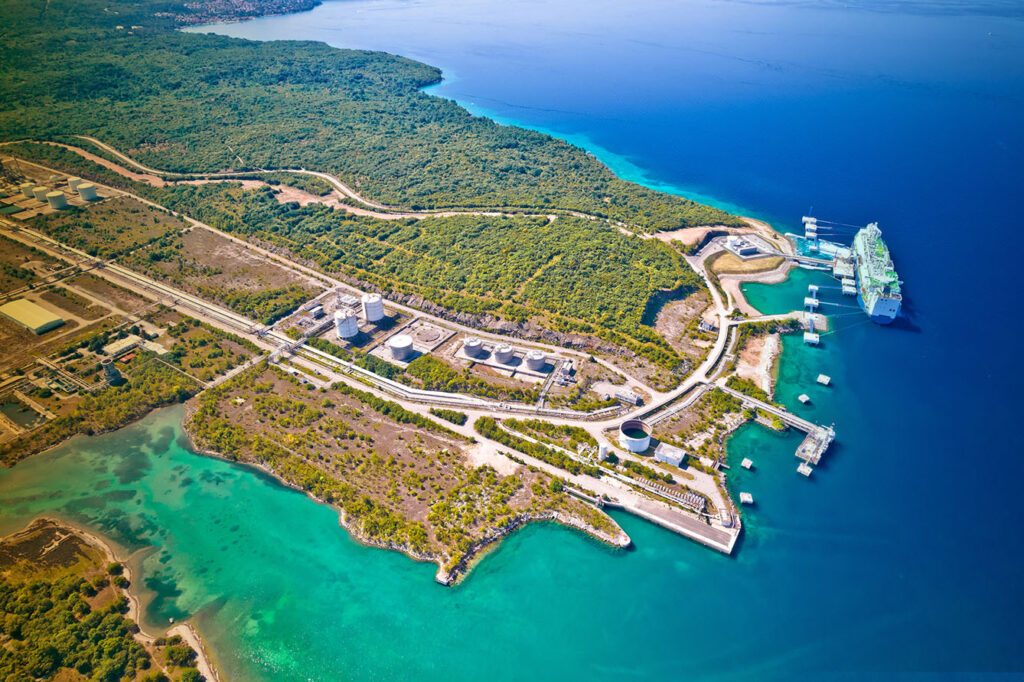 A new opening
The start of operations in January 2021 was a watershed moment for the Croatian energy market, which relies on natural gas for 48% of its energy needs. Through Croatia's pipeline network, it will also be possible to let the gas flow to countries such as Italy, Austria, Slovenia, Hungary, Romania, and Ukraine. Together with the LNG terminal in Swinoujscie, Poland, the node in Krk forms the backbone of a North-South Gas Corridor that will help to integrate the energy markets of practically all Central Eastern European states.
Since its inception, the new energy hub has been a roaring success. The terminal capacities are already sold out until October 2023, and for the next four years – until October 2027 – a total of 2.1 bcm of gas have already been locked in annually. From 2027 to 2030, LNG Croatia has already sold a capacity of 1.14 bcm of gas per year. The improved competition in the national and regional gas market will keep gas prices down in Croatia. With the Rogatec-Zabok gas pipeline reconstruction between Slovenia and Croatia, all requirements were met for delivering gas from the LNG terminal to Central and Eastern Europe, and Croatia's gas transport system was integrated into European supply routes.
The future of LNG in Europe
Demand for LNG is set to remain high in Europe for decades to come as the EU views it as a transitional energy source that will bridge the gap during the transformation from the coal power many EU member states use today to future fully ecologic solutions such as green hydrogen.
Economically sound natural gas deposits are becoming increasingly rare in Europe, which has led to a decrease in domestic natural gas production. However, by 2025, Europe is projected to account for nearly 15% of global LNG demand. The LNG terminal in Krk will serve as one of the entry points for gas to Europe for many years to come. It will benefit Central European energy security, efforts to limit climate change, and all consumers' wallets.