The options and possibilities of the visually impaired have been limited to guide dogs and white canes to help them move around and experience life. Thanks to dotLumen (.lumen), this is no longer the case. With a mission to empower and enable the blind, the Romanian start-up revolutionized the visual aid sector in 2020 when it introduced the .lumen glasses. This headset will give the visually impaired the mobility and freedom to live unassisted. From what may be seen as trivial tasks, such as grocery shopping or enjoying a walk in the park, to studying and pursuing a career, the glasses provide the user with all the help they may need regarding mobility and accessibility.
While the cane and the dog remain viable options, with advanced in technology, more options are needed. The number of individuals in need has long surpassed millions. dotLumen aims to help people everywhere, anywhere, live the life they always wanted, with no need for assistance.
dotLumen, a fusion of science and AI
The headset works on a two-fold system comprised of sensory and feedback operating programs. The sensory system comprises five cameras that interpret the surrounding world to determine the environment, position, and contextual information necessary for the user. The feedback system uses haptics (kinaesthetic and touch stimuli) and sounds to inform the user. With over 40 engineers, professors, disability experts, designers, and scientists using the latest AI and robotics technologies, the .lumen glasses are designed to provide a scalable solution to a continuously emerging problem for the blind.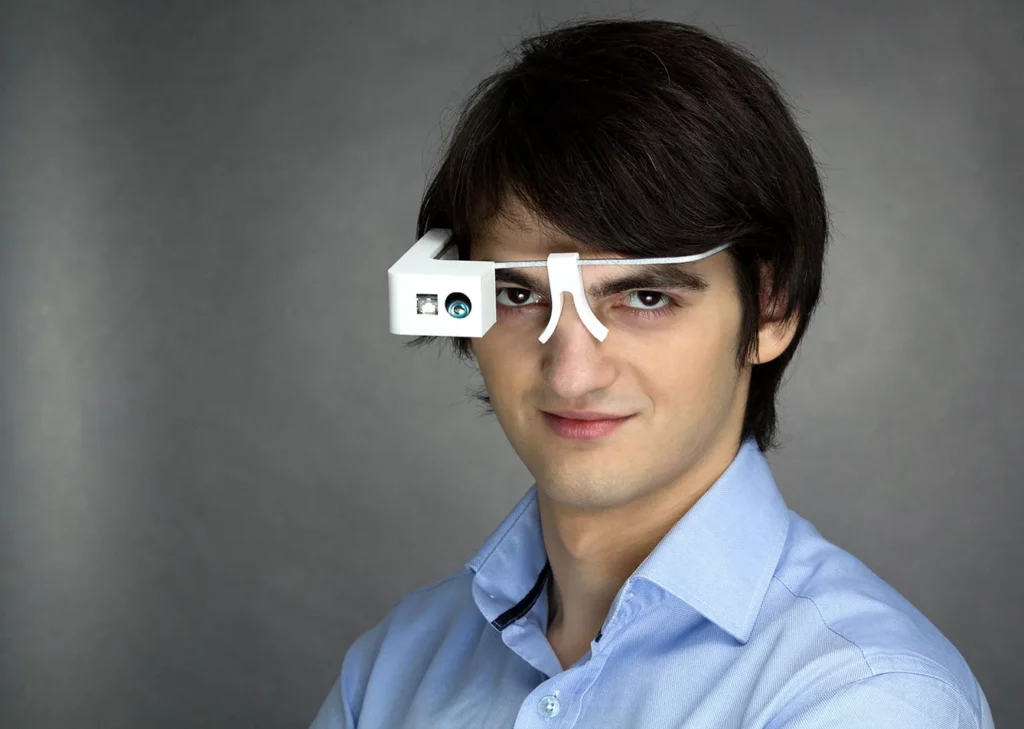 Behind the innovative products stand the minds of Cornel Amariei, CEO of .lumen, Gabriel Chindriş, co-founder and University researcher, and Mihai Ivaşcu, Chairmen of the Board. The "three musketeers" of the blind have dedicated years to making the dreams of the unseeing a reality. In fact, it all started from Cornel's goal of providing disabled people with a world they can enjoy to the fullest.
The first EU-approved Romanian startup
Cornel Amariei grew up in a family where the struggles and challenges of infirm people were present, as both of his parents suffered from an advanced locomotor disability. He was no stranger to the pains of the hurting ones, for he was there to witness the limits and the constraints disabilities imposed. He wished more could be done to help the people in need. Years later, he became the catalyst for the change he wished for.
In 2021, the company received funding worth EUR 9.3 million from the European Union after being selected to take part in the European Innovation Council Accelerator, making it the very first Romanian start-up to be included in the incubator. As of this year, they are also the first Romanian start-up to be named one of the Deep Tech Pioneers 2022 by Hello Tomorrow. The future appears to be bright for .lumen, which can only mean a better future for the blind population.