It may be a surprise to realize that parachutes were not present until the start of WWI at the time when the first motor-operated airplanes, developed by the Wright brothers, were on the rise. Štefan Banič, who was himself a flying enthusiast, sought to resolve the issue of airplane safety by constructing a parachute, which was to "save the pilot in case of an accident."
The patent for freefalling
Born more than 150 years ago in the village of Neštich (now Smolenice) in today's western Slovakia, Banič came from a humble background. He worked in agriculture at the Palffy noble family manor and later as a mason. Like many young workers in the early 20th century, he emigrated to the United States in search of money and employment. There he worked on various farms and in mines until settling down in Greenville, Pennsylvania.
Soon after that, he had his parachute officially patented. He was said to have worked with a fellow Slovak colleague František Jankovič, an engineer. To test it, he jumped from an airplane 600 meters high, as depicted by the writer Eleonora Bartoková in her biography of Banič.
"Let it be known that I, Stephan Banič, from Austro-Hungary, settled in Greenville, Mercer County, in the state Pennsylvania, founded a new mechanism to improve parachutes, which I describe in detail," was the official text of the patent. According to Bartoková, his parachute was attached to the waist and was deployed by pulling special strings on its construction. Banič and his descendants could claim the patent for 70 years, and the right was limited to the United States.
Štefan Banič: commemorating the inventor of parachute
It did not take long for the parachute to be used not for safety but for fighting in the First World War. Nonetheless, Banič remained poor and returned back to the newly created Czechoslovakia in 1920. He is briefly mentioned once again in 1930 when he, along with others, found a new unique cave in the Little Carpathians mountain range, known today Driny. He died in 1941, and for 40 years, not much was heard about him.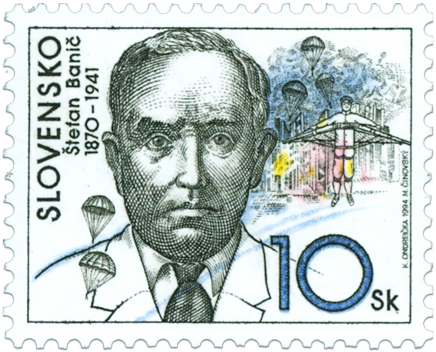 Then, suddenly, in the late 1980s, a tableau was revealed on the house of his birth. Further commemoration followed. Perhaps the most interesting is a theatre play called "The Ship of the World," from 1987, where Banič is on board to the United States with other personalities such as Franz Ferdinand d'Este, his Serbian assassin, and the granddaughter of Leo Tolstoy.
Later on, a monument was erected at the Bratislava airport linking Banič to what he is remembered for – the invention of the parachute. Who knows what stories and inventions are yet to be uncovered behind the 'simple' lives of rural Slovakians.