The project has the potential to increase the development of cognitive AI and make it more accessible for casual use. The 3Seas Region has much to offer in software and hardware innovation technology development. The current contest for supercomputer production and development has resonated in the region with Slovakian Tachyum, aiming to score high with its universal Prodigy processor.
Tachyum and its big deal
The Prodigy Universal Processor Chip unifies functions that are currently performed by several chips. Specifically, it unites the GPGPU (general-purpose computing on graphics processing units) with CPU (central processing units) and TPU (tensor processing units). These three functions run the learning process of computers, but if kept separate, the progress made in AI is limited due to the restricted capacity of servers.
The Universal Processor Chip (currently in the testing phase) is set to help speed up digitization with smart energy use. Tachyum Prodigy integrates 128 64-bit high-performance custom-designed compute cores in a single device, allowing Prodigy to deliver the same high performance across a wide range of applications for HPC, AI/ML, and hyperscale data centers. Prodigy's unique architecture enables servers to run in an SW-composable environment, allowing dynamic redeployment as needed 24 hours/day to address a wide range of workloads without needing costly and power-hungry hardware accelerators. Prodigy delivers unparalleled data center efficiency while reducing both capital and operational costs.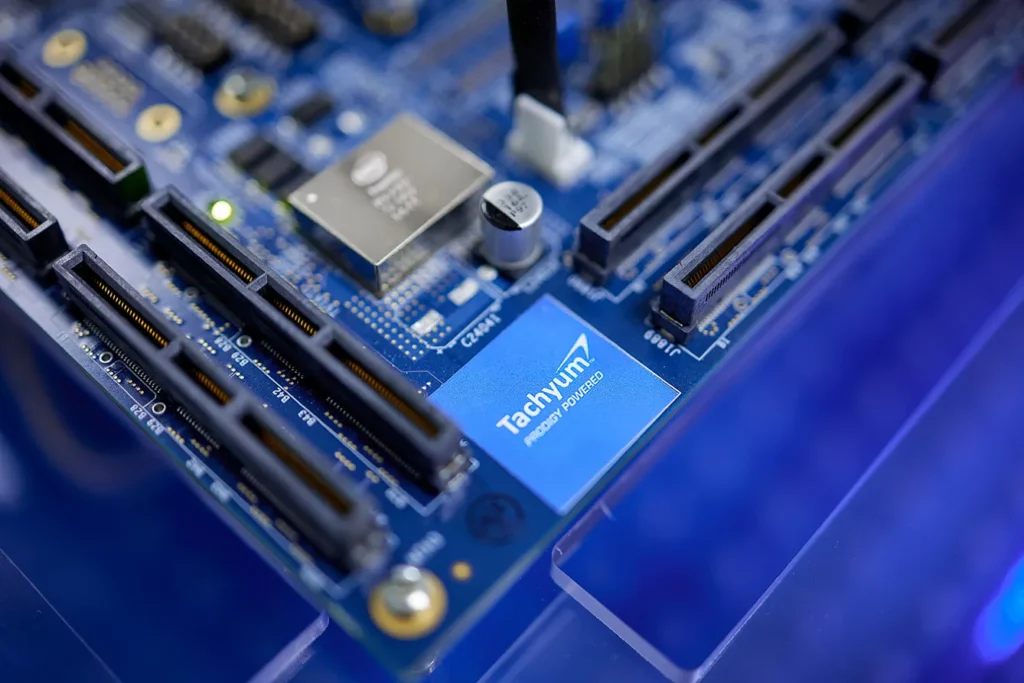 With Tachyum's Prodigy Universal Processor, Slovakia can build the world's fastest AI supercomputer. With a capacity of 64 exaflops (that's 64 billion billion AI operations per second), which is multiple times more powerful than the most powerful ones that exist today, this supercomputer will solve mankind's most complex challenges to help advance all aspects of life. Overall, this speed exceeds that of a human brain, the CEO and founder of Tachyum Rastislav Danilák claims.
As much as a supercomputer may seem to be abstract, its promised impact will range wide. For example, more everyday services will function on the basis of voice interaction, more autonomous cars will be constructed, the weather will be modeled and predicted more accurately, and hospitals will be able to proceed with diagnostic processes more precisely. The key challenge right now is not that of technology development but commencing the mass production of universal Prodigy chips and facilitating the future supercomputer, Danilák confirms.
The story behind Prodigy
The company is currently in series C funding preparation phase, expected to close in 2023. Tachyum was started in 2016 on an ambitious note to improve the performance of computer processors. Before engaging with Prodigy Universal Processor, the CEO worked on several projects as a computer architect specializing in microchips used in devices such as PlayStation. Although Tachyum has two other offices in the United States, it has decided to concentrate a part of its development of Prodigy processors in Slovakia. The advantages communicated include the cost of labor, and the better strategic location of future customers, and innovation potential.
The product is on the tip of being sold and produced in large quantities, but reaching this stage comes with close scrutiny and tough competition from tech companies worldwide hoping to construct the supercomputer. While larger companies and corporations may have more capacity for hiring expertise, Tachyum promises a breakthrough in the energy efficiency that comes with record-speed digitization and increasing availability of AI that the Prodigy Universal Processor will provide when implemented. The Prodigy Universal innovative chip will surely hit the headlines soon as one of the most innovative of recent Slovak innovations. It will suit key players not just in Slovakia but in the whole of Europe.