Chances are you're in the 30-40% of people worldwide who consume coffee daily. In fact, coffee is so ubiquitous that globally, we consume somewhere between 2.25 to 2.5 billion cups of coffee every single day. About one-third of these are sold in single-use cups, a large percentage of which end up in landfills due to the use of unrecyclable material or a lack of recycling options. That equals something like 120 billion disposable cups in the trash each year.
Edible cups to the rescue
Bulgarian startup Cupffee wants to change that. Miroslav Zapryanov, founder and CEO of Cupffee, was working in construction when he noticed something on construction sites: the huge number of disposable cups being used. This inspired him to look for alternative solutions.
However, the idea wasn't just about the cups; it was also to engineer a process that would leave the least amount of waste possible. He partnered with Cupffee co-founders Darina Popova and Simeon Gavrailov to create the company's patented edible, biodegradable 'cookie cups.'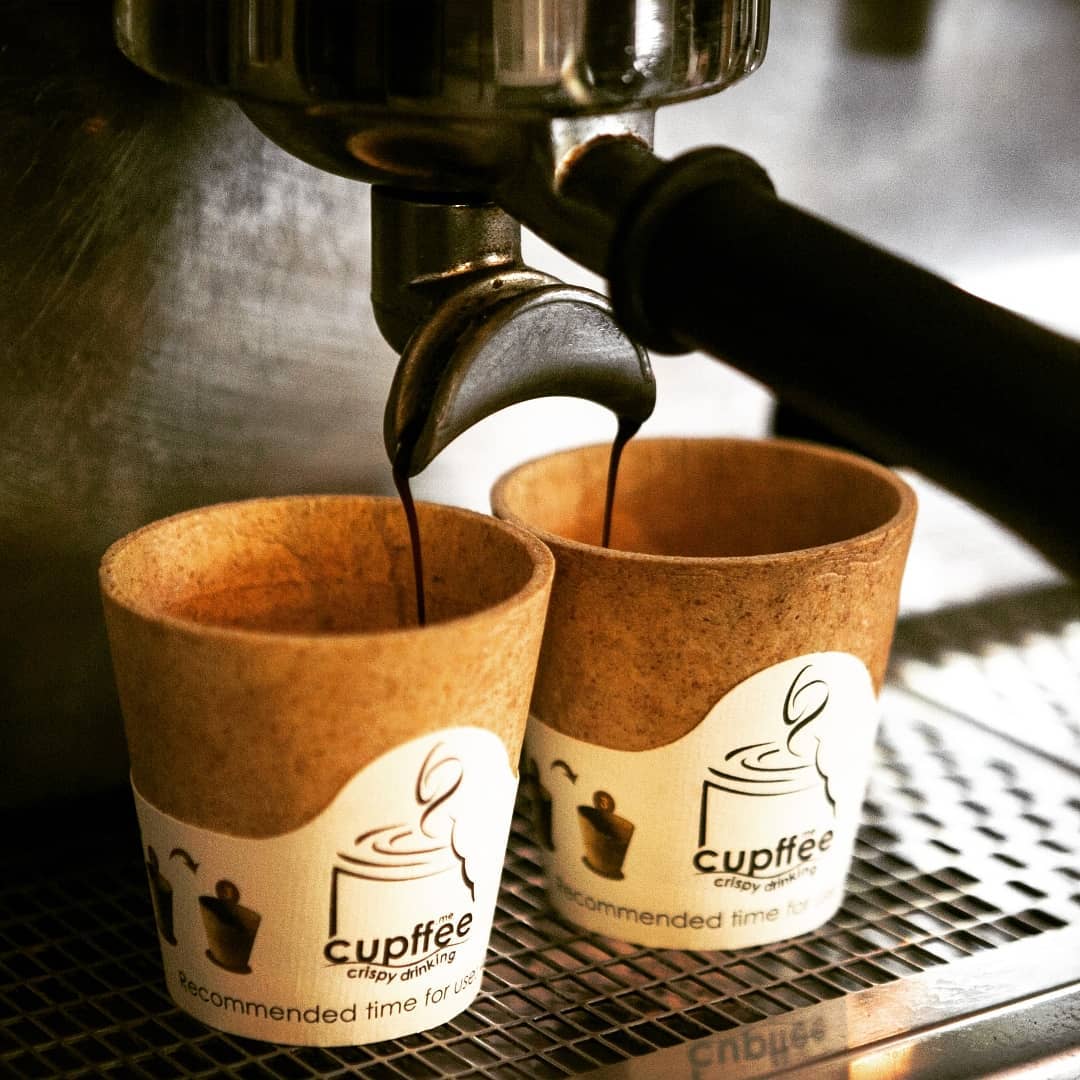 As one might assume, it's not so simple to create something tasty enough to eat, sturdy enough to hold a hot beverage, and delicate enough that you won't break a tooth trying to take a bite. It took years of hard work and a whole lot of trial and error to make the company what it is today. The idea first came to Zapryanov in 2002, but it wasn't until 2010 that he and his partners, based in Plovdiv, Bulgaria, managed to make the first cookie-cup prototype.
They established Cupffee in 2014, and then patented and obtained a copyright for their invention in 2015. Finally, in 2016, they created the third version of their built-by-hand cup-making production machine, lovingly named "The Machine Gun," and were ready to present Cupffee to the world.
Cupfee: the recipe for a cup of coffee
While the recipe is a closely-guarded secret, the vegan-friendly cups are made of 100% GMO-free natural grain products, with no artificial colors, sweeteners, or preservatives. The thermal and moisture-proof wafer won't alter the taste of your beverage and promises to stay crispy for 40 minutes and leak-free for up to 12 hours.
For hygienic purposes, each cup comes with a label so that no one touches the actual cup you're (probably) about to eat, and it also helps to keep the cup out of direct contact with whatever surface you put it down on. (And yes, the label is made from recycled materials and is fully recyclable, too.)
After your beverage is finished, you can dig in (and with between 56-105 calories depending on the cup size, no need to worry about ruining your diet) – or simply place it in a composting bin where it will fully decompose in a few weeks. The company has a zero-waste production process, only leaving clean steam and the aroma of freshly-baked cookies behind. In addition, all leftover materials are used as ingredients for other edible products.
Here's a shocking statistic for you: if the world produced 10% fewer cups, it would save 24.3 million trees per year, 1.8 kg of waste, and 57 billion liters of water annually. That's a lot of reasons to give this Bulgarian start-up's Cupffee a try.