GPS navigation systems are a frequent subject of innovation and upgrade. These have been extended to cats and dogs by the Austrian company Tractive. The company started to develop its product ten years ago and has been expanding ever since.
How does it work?
The setup of the tracker consists of an online application and a physical collar that goes around the neck of the pet. Users download the app, which is available for iPhone and Android, and the app connects to the tracker, allowing users to be able to track the location of their pets on the app on a map.
Of course, ideally, dog owners would love for their dogs to stay by their side on walks, whether on-or-off the leash. Alas, sometimes have a tendency to run off, and getting them back can be problematic. With cats, it may be even harder to track their locations as they wander around. The maps contain safe and no-go zones, notifying owners if the animal wanders off into the latter.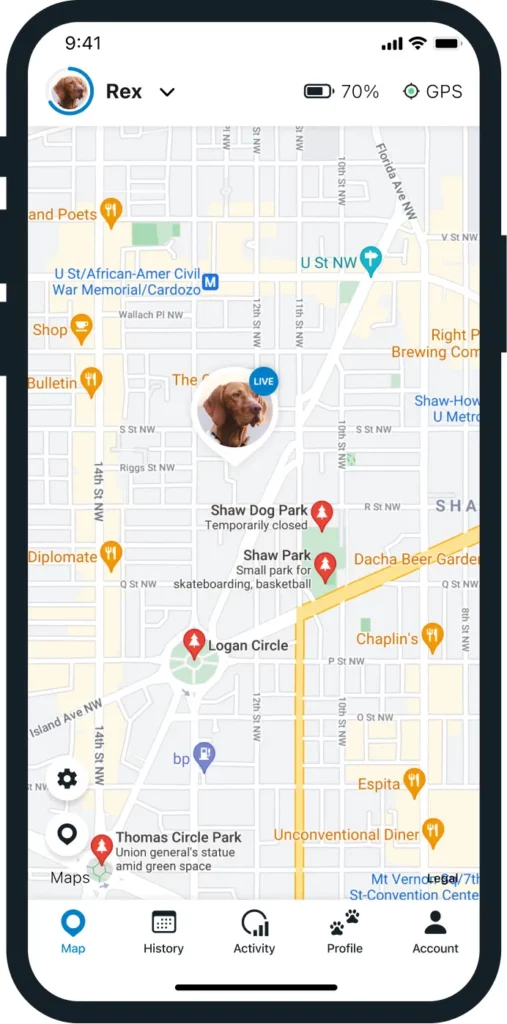 The tracking app has a strong battery that can last up to five days without charging, lasting longer if when connected to a WiFi source than if it has to rely on a satellite connection. However, one of its key innovative aspects is that it includes a SIM card, which puts no limit on location. This means that one can trace the location of their pets even if away in another country, states the company on its website.
Tractive permits to further identify the animal in an online network. However, there can be only one tracker per animal. The tracker works if it is in one of the European or North American countries under the premium subscription.
Apart from location tracking, the device acts like a fitness tracker regarding the activity of the pet, which is made available to the owners. It informs about potential health problems it detects. It does so by observing several different aspects, such as the number of calories burnt, sleep, and movement.
In 2021, the company reported over 400 thousand active users across 175 countries. The growing clientele is in line with plans to expand business-wise by forming new partnerships in the United States, as was reported. Nowadays, the company employs more than a hundred people.
Who is behind Tractive?
The CEO and founder Michael Hurnaus is a former graduate of digital media. He started his career working for large corporations like Microsoft and Amazon, where he specialized in the Kindle reading apps for smartphones. However, he left this career path in 2012 and returned to Austria to start Tractive. Despite innovations and new product ideas, the original goal of the company has remained the same: to help connect pets – integral parts of families – with their owners.
Other widespread products that can be found in the 3Seas Region include various similar tracking devices that take on the idea and transform it into similar products. Recently, detection devices have been introduced for horses. Another product subject to innovation is the Microchip Cat door, through which cats open doors to enter. Nevertheless, Tractive could be considered the frontrunner of the product in the 3Seas Region.
What comes next?
Creating tracking devices that are accurate and adjustable to more than one animal remains a challenge. Tractive is one of the few that offers a device that can be used for both cats and dogs. So as long as these pets are cherished and family members, the product has the potential to grow and expand not only business-wise but also in terms of innovation.
See Also: How Austria Brought Coffee to Europe