Let us invite you to Grožnjan, Croatia. This small town located in Istria is of great cultural significance. You can find it in the northern part of the peninsula, an hour's drive from Pula. Although Grožnjan has no access to the sea, it impresses with its beauty and unique climate.
Thanks to its location on a small hill, it looks like a fairyland among the greenery of vineyards and olive groves. The winding, narrow alleys of the town, cobblestone streets, charming stone houses, and idyllic atmosphere are just a tiny sample of what you can see when you come to these parts. For, in fact, this town's uniqueness lies in its artistic soul, which you will feel with the very first step of your visit.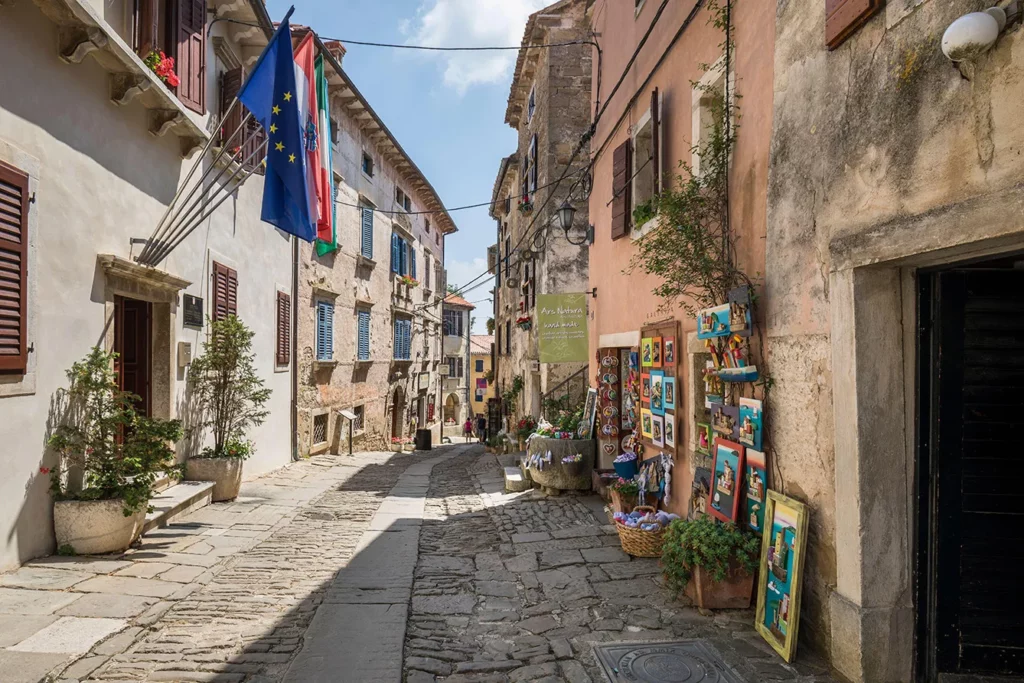 The birth of a mecca for artists
Grožnjan has always been a small town with a quiet life for its residents. They worked their lands and lived primarily by growing grapes and olives. After World War Two, most of the residents emigrated to Italy, and the town began to depopulate over time.
To save the town from dying completely, the mayor and a local artist came up with an interesting idea. They invited several artists and creators from different parts of the world to come and visit the town. They wanted art and people associated with it to save Grožnjan. This is what happened. The arriving artists loved the local climate, architecture, and the town's appearance so much that most decided to settle there. The town acquired a completely different character after just a few weeks.
Many galleries and art studios were established there. Exhibitions appeared on the streets where one could admire and buy handicrafts and paintings by artists. Performances and theatrical shows drew in not only Istrian residents but, above all, new and curious artists. In a word, the town got a second life. In 1965 Grožnjan was given the nickname "The City of Artists," and current residents proudly say that they live in a town saved by art.
Awaken your artistic soul
Today there are about 700 residents in the municipality of Grožnjan and about 200 in the town itself. Most residents are artists who like the local quiet, inspiring climate, and creative atmosphere. They have their galleries and exhibitions here, mainly during the summer when the tourist season in Croatia begins. During the summer, the city buzzes with life, and there are all kinds of artistic activities in which any person can participate, even those who have nothing to do with art. Because, as they say, there is an artistic soul in each of us; you just have to find it. And Grožnjan is the perfect place where anyone can awaken their artistic soul.
Today, numerous performances and artistic shows make Grožnjan one of the most interesting places for a creative vacation. Every year the backstreets of the town turn into a real artistic space. Summer music academies, art workshops, dance and theater shows are organized. Jazz music fills the streets during the "Jazz is Back" event featuring musicians from around the world. There are plenty of attractions for young and old, as Grožnjan is a great place for a break never to be forgotten.