Hearing the word "klapa" you probably wonder what it is. Klapa in Croatian, and actually in the Dalmatian dialect, stands for "band." To make things more interesting, klapa is also a term for a form of a cappella music performance. Klapa has also been a traditional form of singing in Croatia for years, most prevalent in the Dalmatian region. As you can see, klapa is three-in-one and probably the easiest way to call it music!
The group that makes up a klapa usually consists of two tenor lead singers, one baritone, and one bass. Of course, the types of voices in a band can repeat, forming a group of up to eight (and sometimes ten) people. It used to be that male klapa predominated in Croatia. Nowadays, more and more female klapa are appearing. However, there are no mixed ensembles.
Klapa: connecting generations
Klapa is a tradition that has been passed down from generation to generation for years. It is the cultural and social heritage of the country. It represents vocal skills and the common goal of music that connects generations. The most beautiful thing is that klapa brings together people of different tastes, ages, and professions, creating a lasting bond of friendship for many years.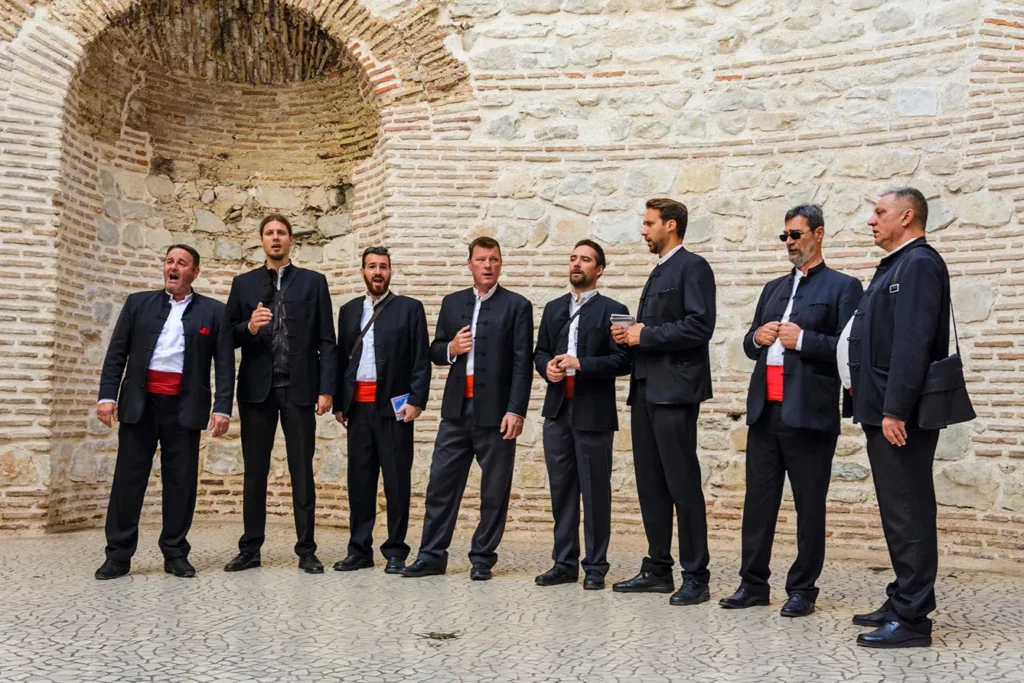 Words from the heart
The words of the songs performed by the klapa are not accidental. What matters here is love – of homeland, of the sea, of one's nation and customs. The lyrics of the songs tell a story of local life. They present interesting stories of the local people, and speak of their struggles, sorrows, and unfulfilled loves.
There are also joyful and lively songs talking about enjoying life, successes, and funny situations. So, when listening to the klapas, you can feel both melancholy and great joy. Each song usually begins with a tenor, and then the other vocals join in. What is important here is the dynamic of the song and its sound. Slower songs can be compared to ballads, while faster songs are full of passion and energy.
Every summer in the coastal town of Omiš, a klapa festival takes place. Its history dates back to 1967, and since then, it has continued with great success. It is also worth mentioning that since 2012, the klapa has been included in the UNESCO List of Intangible Cultural Heritage. Klapa is the pride of Croatians and their national treasure. It is a living tradition maintained naturally, and Croats are not afraid of its disappearance as the number of new Klapa bands participating in festivals is growing.
The klapa festival is a very interesting event, lasting several days, which both the participants and their audience eagerly await. It is a combo of a music festival and a competition for the title of the best band. Despite the fierce competition, each band has a great time. A large audience gathers during the klapa performances. Music fans from different parts of Croatia come to this event, and there are also many tourists. The klapa performances start in the afternoon and last until late at night.
Having fun is what counts
The klapa festival is accompanied by various attractions. During the ongoing festival, you can taste the local cuisine, sample Croatian wine, and liquors, and be tempted by sweet homemade desserts. There are also interesting games prepared for children and young people. You can buy local preserves, handmade products, and unique souvenirs at colorful stalls. It is not difficult to imagine the ambiance on the evenings of the festival. There is a lot of joy, smiles, and fun.
Should you find yourself in Omiš during the summer, check to see if a klapa festival is scheduled on the days of your stay. It would be a shame to miss your chance to participate in such a cool and memorable event.