When it comes to green architecture, French-trained Bulgarian architect Varvara Valtchanova applies a clear set of criteria. "For me, a building is eco-friendly if it is built with local materials – harvested within a 50 km radius around the site, healthy and allowing them to be easily returned to nature after use," Valtchanova tells 3Seas Europe.
For architects like her, it is not only the materials that should be locally sourced. Architects also look locally for inspiration, building upon old, often forgotten, techniques successfully tested over the centuries by generations of Bulgarians, delivering energy-efficient houses along the way. "Our ancestors have been building for millennia with three basic materials: stone, wood, and earth. All three are forgotten today but have the potential to serve us if we make an effort. The effort lies in the mechanization of some techniques. This is already the practice in many countries in Western Europe," Valtchanova adds.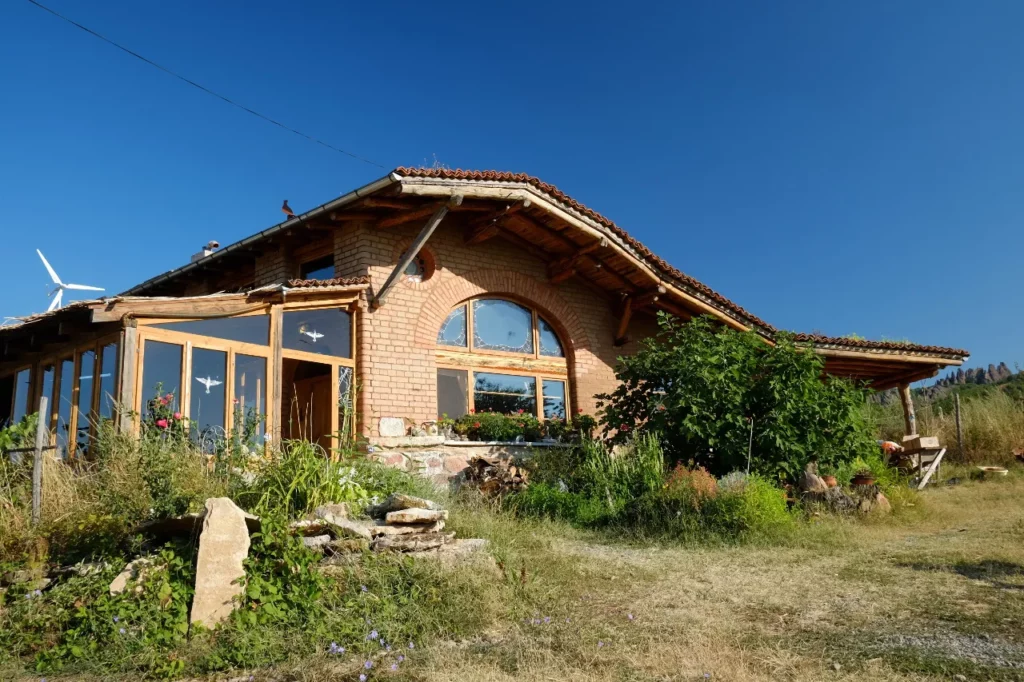 Ecological construction gained traction in the 1970s as a response to the 1973 oil crisis. With green activists around the world looking for solutions, a movement making our living spaces more sustainable emerged. The idea never went away, but, as architects admit, the concept of what is an eco-house can easily be watered down and lose value. Bulgaria is dotted with "eco-villages" claiming a sustainability aspect. But upon closer inspection, results might vary. "We are not an eco-property in the sense that our houses are made of traditional, clean materials. But we do have a compost bin and a solar panel," the owner of one such "eco complex" tells us.
Sustainable architecture: an old-fashioned novelty
"For quite a long time now, in Bulgaria, there have been hundreds of family buildings that do incorporate some traditional elements such as the wide usage of clay. However, these are mostly private houses. We're talking real boutique, labor-intensive, and usually more expensive construction," says architect Nikolay Marinov, co-founder of the Sofia-based Association for Construction with Natural Materials (АСЕМ). This expert group has promoted environmentally-friendly building practices in Bulgaria for over a decade.
Architect Marinov has been involved in over 30 projects encompassing traditional building methods and materials in Bulgaria.
Using natural materials for construction is hardly a novelty. "This was a thing already some 8,000 years ago," points out architect Georgi Georgiev, also a member of the Association for Construction with Natural Materials. "Some very interesting artifacts can be found in Bulgaria. In Stara Zagora, there is a unique museum of Neolithic housing where remains of dwellings can be seen. And Durankulak in Bulgaria's northeast, one can find the oldest stonework in Europe. Natural building materials have always accompanied human life. But with the Industrial Revolution, these materials began to lose their importance."
Hope in the countryside
Can old houses, built with natural materials and now with a green label, be a real alternative to the mainstream ways of construction? Even the biggest supporters of the idea admit the limitations. "In an urban environment, it will be more difficult, but the Bulgarian countryside could witness a revival of eco-friendly building techniques," believes Varvara Valtchanova. "Yes, eco-construction requires well-trained professionals, but it is a wonderful alternative. Concrete can be used minimally, only where it is absolutely necessary, in foundations and retaining walls. But the main construction can be filled with wood, earth, and straw. There are no better materials when it comes to energy efficiency and occupant comfort," the architect believes.
With most Bulgarians still looking at conventional construction as plan A, the number of houses built with traditional techniques remains limited. That also explains the price tag, which is at least 10% higher than what a conventional house might cost. But, as our sources state, those looking for a healthier living environment respecting old traditions will be rewarded at the end with much higher quality.
A boutique architecture
"The motivation is definitely not only economical because such houses come with lower energy bills. I have customers who have inherited houses made from natural materials and want to restore them in an authentic way," says Valtchanova.
Other architects in Bulgaria don't expect a green revolution just yet. "I do not think that this construction with natural materials such as clay, stone, and adobe will become mass construction any time soon. It is not industrialized yet. It remains boutique, still mostly available to people with financial means," adds architect Georgi Georgiev.
But with interest growing, architects in Bulgaria are keeping busy connecting old and new. Says architect Varvara Valtchanova: "For me, old buildings are an inexhaustible source of inspiration. We must find a way to give a contemporary look to traditional Bulgarian architecture. I was honored to work on the restoration of a 100-year-old village house. With a lot of work and love, the old house acquired a modern look and is now ready for another 100 years of happy living."