Roaming the forest in a corner of northeastern Bulgaria, a faithful dog by his side, this man is not out to enjoy the peace and quiet the trees have to offer. For 15 years now, the man, who asked for anonymity because of the sensitivity of his job, has been scavenging the forest in search of truffles. Abound in truffles, tellingly known as "black diamonds" and "white gold" due to their exorbitant prices, Bulgaria is home to some 10-30,000 truffle hunters. They are the first clog in a system that begins with early morning scavenger hunts and ends with gourmet meals in appropriately priced restaurants abroad.
Bulgarians' truffle hunt
Bulgaria is hardly the only country in Europe with a big reserve of truffles. Italy, France, and Spain are also known for their fungi. But from at least 180 known species of truffles, fifteen can be found in northeastern Bulgaria, which explains the high concentration of hunters in the area. The truffles grow in the roots of a tree, especially oaks. However, because the precious mushroom grows about 30 cm in the ground, special skills are required to reach the bounty.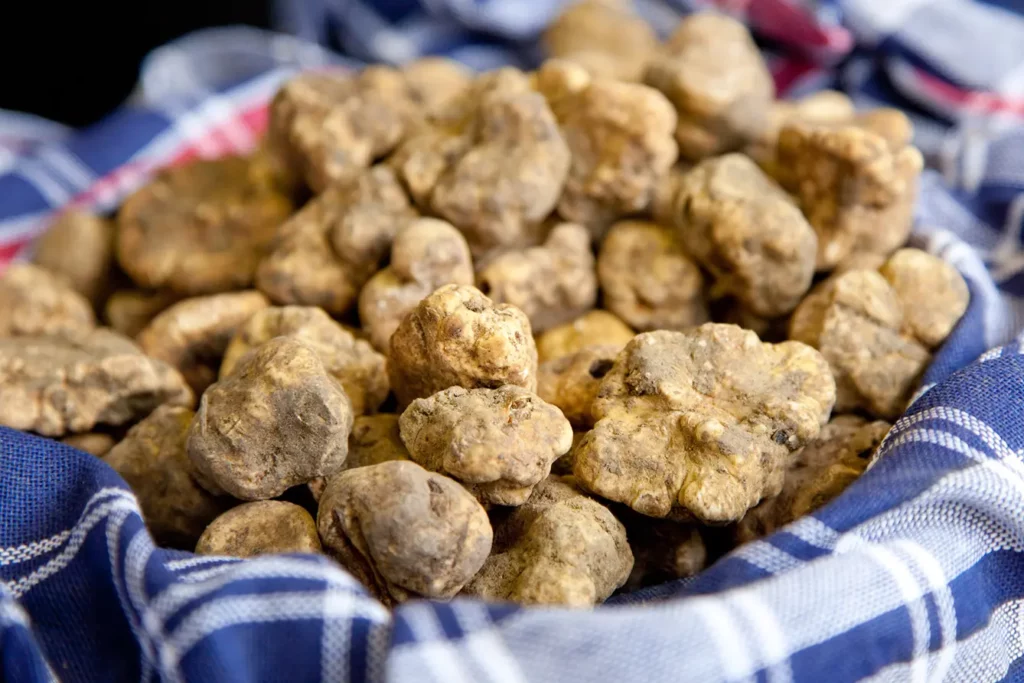 France and Italy have been excavating the precious truffles with the help of pigs, particularly gifted in locating them underground, since the 15th century. While some still rely on pigs, this method carries a certain amount of risk, given pigs' appetite for truffles once they've been found. At USD 330,000 a pop – the highest price on record paid for a single white truffle in 2007 – that's a risk that hunters are not willing to take. For that reason, truffle pigs were banned in Italy in 1985. Enter the dogs.
"Only after the third year of training, the dog is already experienced enough to detect the mushrooms. Then the dog is more poised, not distracted by extraneous factors during the hunt, ready to ignore birds," the Bulgarian truffle hunter tells 3Seas Europe. Like many others in the area, he is on the lookout for white truffles, which price at the reselling companies moving the product abroad varies between 500-3,000 EUR a kilo, depending on quality.
Tons of (white) gold
Bulgaria, despite the vast amount of people involved in truffle hunting, still lacks proper legislation. The consensus in the industry is that it's high time to organize the industry. "In 2021 alone, Bulgaria exported over 550 tons of the precious white truffle. More than 30,000 families are engaged in hunting in the country. A specific law on the use, trade, and cultivation of truffles are more than necessary," tells in conversation with 3Seas Europe Svetlozar Siderov, Chairman of the Board of the National Federation of Truffle Hunters in Bulgaria.
"Unfortunately, there are people who look for truffles themselves, without dogs, and cut down valuable trees in the process. They treat the forest as their property. Truffle hunting should be licensed. This shouldn't be something that people without any training do as they end up destroying our forests," shares the truffle hunter. As he points out, skirmishes between hunters rummaging in the same areas are becoming quite the norm. "Given the scale of truffle hunting in Bulgaria, we need the state to finally do something to end this Wild West situation."
In Italy, all truffle hunters must possess a professional license. Furthermore, given the fact that their knowledge has been passed down orally for centuries, truffle hunting has made UNESCO's Representative List of the Intangible Cultural Heritage of Humanity. Back in Bulgaria, a bill to regulate the trade was, in fact, proposed, but so far, it hasn't become law.
Truffle hunting and farming
Speaking to 3 Seas Europe, former MP Alexander Sabanov, author and sponsor of the bill, says the aim of such law should be to regulate wild truffle harvesting in Bulgaria's forests and protect natural deposits. "There are people who are outright destroying this priceless national treasure with hoes and shovels. There are untrained dogs who also destroy it. This vandalism must stop once and for all," Sabanov says.
Meanwhile, alternatives to traditional truffle harvesting are gaining ground. Once seen as an Old World delicacy, now truffles are everywhere. The secret? Truffle farming. Over the last half a century, due to improved cultivation techniques, truffle farms in the US, China, Turkey, Australia, New Zealand, South Africa, Chile, and Argentina have also been meeting market needs, especially as traditional exporters such as France have been seeing a decline in their production due to climate change. It is estimated that there are already as many as 1,000 truffle farms operating outside Europe.
The time to act is now.