Established in 2014, Dronamics is now an operation with over 150 employees in four countries. It has also obtained an airline license to go with that label and plans to conduct its first official commercial flight later this year.
Dronamics is pinning its hopes for commercial success on its flagship product, the Black Swan. With the ability to carry up to 350 kg, the cargo drone successfully competes with a small delivery van, but the benefits are not limited only to load sizes. The carbon neutral-certified Black Swan can cover a distance of up to 2,500 km (practically all of Europe, or the distance from Dubai to New Delhi) up to 80% faster, 50% cheaper, and with up to 60% lower emissions than alternative modes of transport, including airfreight, its maker says.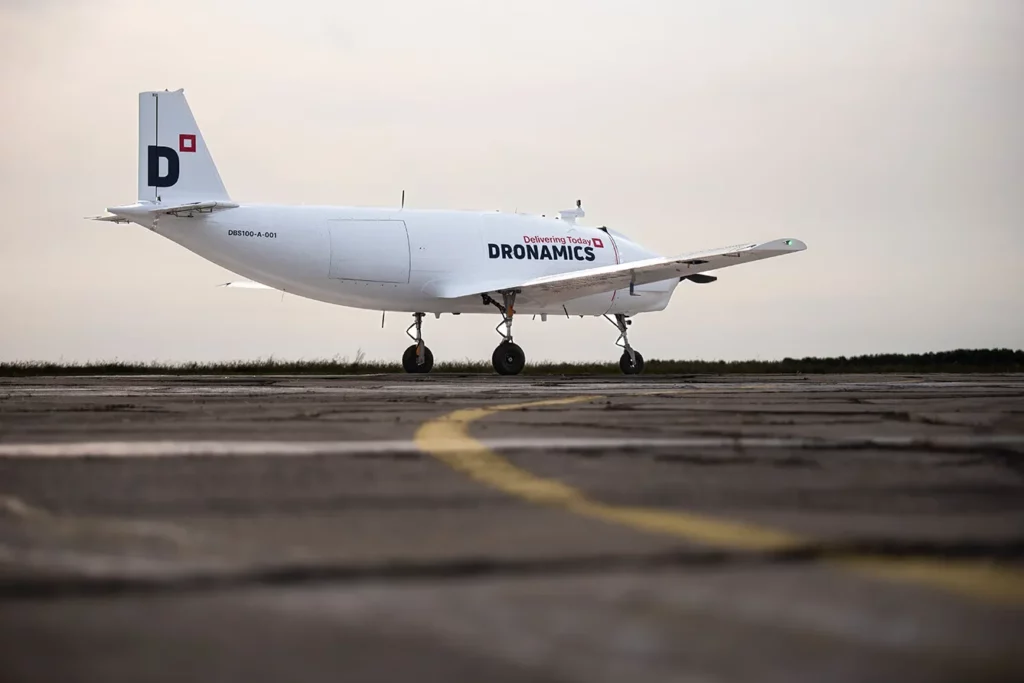 "Today we've made history and are proud to have demonstrated the validity of our drone technology," Konstantin Rangelov, Co-Founder and CTO of Dronamics, said after the completion of the first flight. "We can now focus on the next step, the roll-out of our commercial operations," adds Svilen Rangelov, Co-Founder and CEO of Dronamics.
Phase 1 is set to include Bulgaria, Greece, Italy, Malta, Spain, and Portugal. However, the goal is to eventually cover all of Europe in two more phases. Meanwhile, Dronamics is already IATA's first Strategic Partner for drones worldwide.
Earlier this year, Dronamics announced that it had raised a total of USD 40 million in pre-Series A funding from early-stage funds and angel investors from 12 countries. The company is co-funded by the European Union under the European Innovation Council. EIC awarded Dronamics a EUR 2.5 million grant and has also expressed a material commitment to support Dronamics' Series A round. Among the investors coming on board this year is the Strategic Development Fund, the investment arm of the Tawazun Council, Abu Dhabi, in the United Arab Emirates.
A lot is at stake for the company, founded by two Bulgarian-born brothers, Konstantin and Svilen. As Dronamics rolls out its commercial operations, the company is looking to deliver coveted same-day shipping over very long distances for industries such as pharma, food, e-commerce, and spare parts. The company estimates on its website that the cost per kilo will amount to less than EUR 5, a 50% lower price point than existing same-day cargo options.
Furthermore, cargo deliveries can prove especially beneficial to areas with limited access to good road infrastructure. The drone ports for the Black Swan require very little infrastructure, with unused airfields, airports, seaports, logistic centers, and factory lots, paved or unpaved airstrips with over 400m length, being viable options for the landing of the drone, which has a 16-meter wingspan and flies at 200 km an hour.
The numbers seem to confirm that Dronamics's international team is onto something. Drones can become as cost-effective for package delivery as traditional transport modes, McKinsey, the management consulting company, wrote in a blog post earlier this year. As of early 2022, some 2,000 commercial drone deliveries have been taking place around the world daily. Industry experts believe that the number is only set to rise further.
"The economic and environmental advantages suggest that drone delivery could become an important part of the delivery ecosystem. Forward-thinking companies will plan today for a drone-enabled future," writes McKinsey.
Look up, everyone. The future of deliveries seems to be happening now, right above your heads.