Carebot is a Czech startup that has entered the world of business in a large manner and is seeking to operate in hospitals. Its product integrates AI into medical devices for radiography (CXR) and mammography (MMG) screenings to ease the work of doctors.
The product, which is an AI recommendation system installed into a picture archiving system (PACS) typical for radiology, assists in the diagnosis. Doctors can view the results immediately in a viewer, which they can use to work to read CXR and MMG images. Although the recommendation system is only to advise doctors, accuracy is paramount, as the number of X-rays per doctor is increasing, thus creating a higher chance of something important being missed.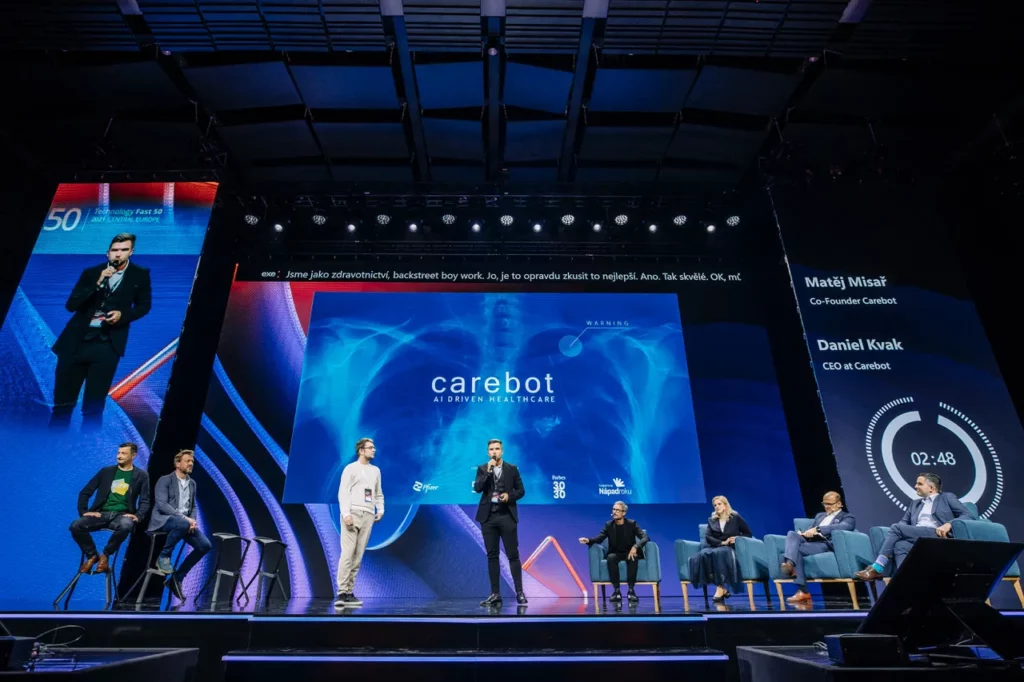 Technical Perspective
While the user experience may seem to be simple, it relies on complex AI learning processes. Starting with telling apart between CXRs on healthy lungs and those affected by Covid-19 in 2020, the AI system can now distinguish a large range of diseases and defects in the lungs. The Carebot AI software combines computer vision with machine learning. The suggested diagnosis that AI provides is based on a complex neural network.
The findings are in the form of predictions, which sometimes account for the lack of accuracy of classical X-ray screenings. The quality of diagnosis is subject to information installed into the recommendation system, whose quality is in line with the recent publications that the CEO has been writing as a doctoral student at Masaryk University in Brno. One of his most recent publications on oncologic patients was made together with Masaryk Cancer Memorial Hospital and was picked to be presented at the European Congress of Radiology.
Should medical certification be awarded, the product would be free to expand into hospitals on a larger scale. Its installation is to follow the principle of integrating into existing systems. The AI recommendation system will be implemented in PACS, which integrates data from computers and devices into one workstation. The startup is currently presenting the AI system across the healthcare and commercial sectors, as well as academia, and is ready to increase its awareness.
Who is behind the product?
The startup was founded in 2020 during the Covid-19 pandemic. A couple of academic scientists with expertise in visual studies and anthropology combined their expertise to help doctors working under intense pressure. One of these scientists, Daniel Kvak, then got together with his friend Matěj Misař, a former TV news moderator, to further develop the product taking into account the feedback they received from doctors and economists on social media platforms such as LinkedIn.
After obtaining investments and support from Pilulka Lab, Karel Bastl, and Roman Trachta, the number of employees has grown to 12, with more planned expansion once the Medical Device Regulation Certification is obtained.
The co-founders recently stated that the biggest challenge was getting into the medical environment, as none have a background in that field. Nonetheless, the specific circumstances of Covid-19 provided openness in healthcare not observed before, which both agree helped them to get the project started.
Similar projects and what lies ahead
The recent pandemic and development of innovations in the healthcare sector started multiple similar projects worldwide, like in Slovakia, another Three Seas State, where the Powerful Medical startup developed an app to help with cardiovascular disease detection. However, the potential of Carebot is promising as its operation is easy and can be integrated into existing software systems.
They have successfully tested their first pilot, with more beginning in Czechia and Poland. They are also currently in the middle of an investment round. The demand to incorporate further types of screenings, including magnetic resonance (MRI) and other X-ray images, gives the startup a chance to expand even further as it hopes to become a friendly tool for doctors all over the world.