Since establishing an independent Czechoslovakia, the country has become an airborne superpower. Companies such as Avia, Aero, and Letov have been manufacturing training, surveillance, patrol, and fighter planes. Some of those planes have become the technological masterpieces of their time. 
The civilian part of Czech aviation started in 1923 with the establishment of Czechoslovak Airlines (ČSA). The Czechs have harnessed the sky, and Czechoslovak planes sailed the clouds as mighty ships. As Jan Bervida, head of the Czechoslovak Civilian Aviation Department, upon taking his position in 1929, said: "We have no ports or ships; the air is our sea."
Spreading their Czech Wings
The Czech Republic is the seventh-largest manufacturer of aircraft and aerospace components worldwide. The most prominent Czech company active in the aviation field is Aero Vodochody. This company, established in 1919, is responsible for two-thirds of the training jet's global production. Their L-39, L-159ALCA, and L-39NG jets fly in 45 countries on all continents. The L-159ALCA model is a light fighter jet that can be armed with automatic cannons and guided and non-guided rockets.
Aero Vodochody is also a contractor for the US helicopter manufacturer Sikorski. They provide both hardware and software for the crucial "nose" of the Black Hawk helicopter. Aero also provides maintenance services for planes and various helicopters.
A similar prestige belongs to the Aircraft Industries (previously known as Let Kunovice). Aircraft Industries in Moravia is home to the legendary L-410NG turboprop plane. The L-410NG is a plane for nineteen passengers, which currently serves the Czech Armed Forces cruising the skies worldwide: from mountains in South America to the cold wasteland of Siberia.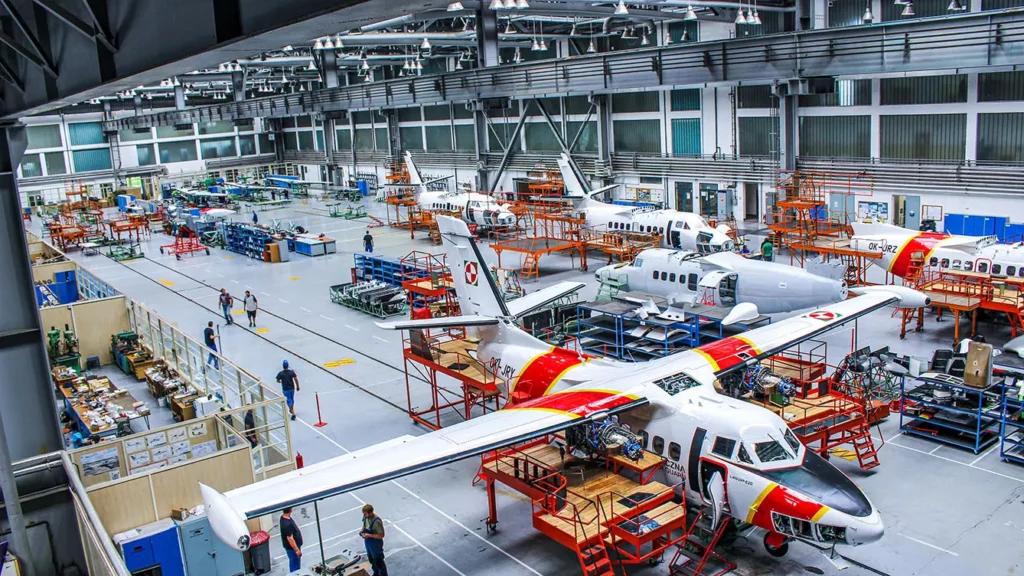 Ultralight, ultrafast, and ultraparts
Czech aviation companies manufacture more than just fighter jets and heavy-duty planes. There are multiple companies manufacturing ultralights. Among these are Zlin Aircraft and Skyleader Aircraft. These planes serve as both hobby and sports planes. Many of these aircraft fall under the section of so-called "aerobatic planes."
The Czech aviation industry is not only about planes. It's also about the parts, components, and systems they use. The most prominent in those fields are Jihlavan: a worldwide supplier of hydraulics installed in more than 10,000 planes, and refurbishment and repair specialists LOM Praha (LOM is a Czech abbreviation of Malešice Plane Repair). The abovementioned Skyleader Aircraft is also a manufacturer of doors for transport planes.
Many other companies, not mainly aimed at aviation, produce some components for planes. Česká zbrojovka (Czech Arms Manufacturer), for example, manufactures aircraft engine parts. Speel Praha develops onboard and diagnostic systems, and Zodiac Aerospace provides aircraft interiors.
Aviation: A multi-billion industry that aims for the stars
Today, the aviation industry in Czechia employs over 10,000 people in 100 companies. The annual turnover of the aviation industry reaches CZK 25 billion (approx. EUR 1.1 billion Euros). However, the Czech aviators and researchers look much higher than the clouds. 
Aviation companies, research institutes, and university space specialists are participating in several European Space Agency projects (ESA) projects. The Czech Republic also recently became one of the centers of the European Space Program. That allows Czech Business and Academia to participate and influence the future of both air and space.