The Thracians populated Bulgarian lands from the middle of the 3rd century BC to the 6th century AD, creating a social system that allowed the aristocracy to enjoy perks out of reach for the commoners. Among these perks was the use of a rhyton, a mysterious vessel plated with gold or silver. Reserved for high representatives of the ancient Thracians, these vessels catch the eye with their exquisite and fine craftsmanship.
These ceremonial vessels, also used by civilizations in the Near and Middle East, resemble horns that end in the head of an animal, usually a ram, a goat, or a deer. Through the technique of gold forging, its weight has been reduced to an incredible 100-200 grams for its time. Its purpose? Drinking wine, among other things.
"In the whole ancient culture, both Greeks and Romans used rhytons, not only the Thracian elite," renowned Bulgarian archaeologist Professor Nikolay Ovcharov tells 3Seas Europe. "This is what makes the rhyton so valuable. A rhyton is a rhyton, as simple as that."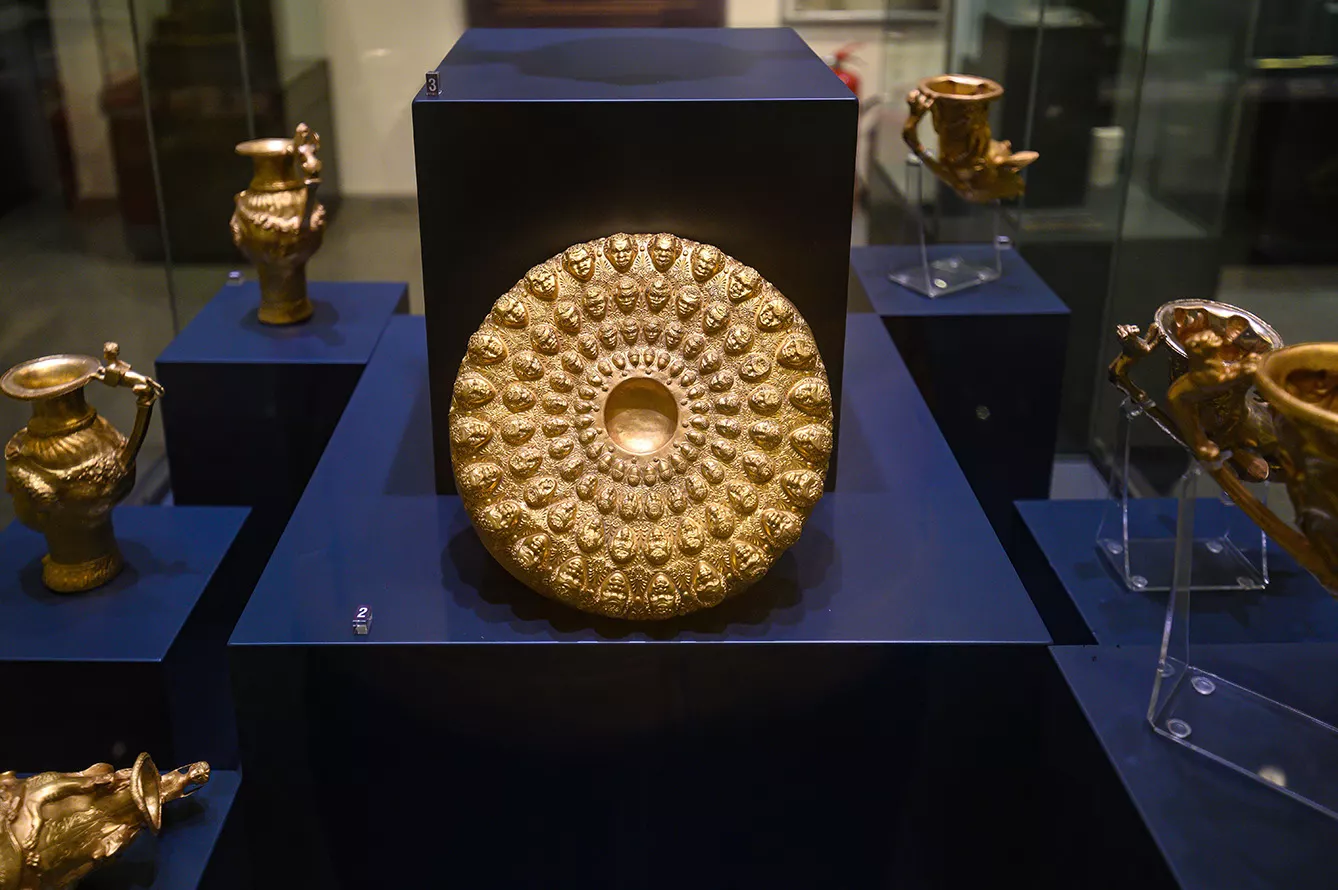 Accidental discoveries of ancient treasures of Thrace
Some of the best-preserved rhytons in the world have been found in Thracian necropolises across Bulgaria. A prime example is the famous Panagyurishte Treasure. At the time of its accidental discovery in 1949, it was considered the richest treasure unearthed in Europe since WWII. Dating back to the 4th century, the Panagyurishte Treasure, which has been on display in many museums around the world, consists of nine Thracian vessels with a total weight of a little over six kilos. Eight of those are rhytons.
According to Docent Nikolay Sirakov, director of the Regional History Museum in Sliven, the rhytons served a different purpose than the wine-drinking most assigned to them. For him, this vessel had more of a ritual function, with the Thracians actually drinking wine from less valuable cups.
"Only rulers and priests had the right to pour into and from this vessel. The most important function of a ruler, besides being a military commander and a supreme administrator, was to be a priest. The rhytons are symbols of their priestly authority," Docent Sirakov tells 3Seas Europe.
He went on to tell us the story of when, after discovering a rhyton, along with the now deceased Thracologist Prof. Georgi Kitov, he tried to drink wine from it. "We swirled [the wine in] the vessel, this way, that way, howsoever. But we kept getting wet. Everyone had a good laugh," Sirakov recalls. He is convinced that wine was poured into the rhyton with the basic idea that it would come out clean, a symbol of harmony, a key aspect of the Thracian culture and beliefs.
Trasure hunters abound
Abound with Thracian treasures, little is known about how many rhytons in Bulgaria have fallen in the hands of treasure hunters and become part of private collections around the world. "In a few years, there won't be archaeology left if the looters continue to operate at this pace," Professor Georgi Kitov, the esteemed Bulgarian Thracologist, said in one of his last interviews. Because of his significant discoveries, including those of rhytons, Professor Kitov was called the Bulgarian Indiana Jones. "They go around Thracian, Roman, and Byzantine settlements with metal detectors and impunity, and thus ruin everything."
Vandalism and illegal treasure hunting continue to undermine the efforts of generations of Bulgarian archaeologists. Over the last two years, the most attacked site is the Eastern Thracian Mound near Nova Zagora in Southern Bulgaria. The search for valuables by looters has led to the destruction of significant archaeological discoveries. Experts working in the field are adamant that treasure hunters have managed to excavate precious new finds, including rhytons. Their fate remains unknown.
A global market for replicas
In northeastern Bulgaria, a group of six illegal excavators was not only focusing on looting mounds, but also producing fakes of archaeological finds, which they then marketed in Bulgaria and abroad as originals. The group even tried to forge and then sell items from the world-famous Panagyurishte and Borovo treasures abroad.
Most recently, two brothers who excavated archaeological sites in the Targovishte region, also in northeastern Bulgaria, were convicted. However, they got off with suspended sentences with a three-year probation period. The court did not impose fines on them, citing their lack of income.
"Naturally, every museum strives to own these artifacts. The blood and cultural code of the Bulgarian nation has something to do with ancient Thrace. We are the rightful heirs of these treasures. We can only be proud of this as it is a capital of the world cultural heritage," says Professor Ivan Marazov, author of a monograph describing twenty-two rhytons, in an interview with "Marica" daily. The ancient Thracians couldn't have agreed more, regardless of their social standing. Now it's time to protect what they left behind.