In January 2022, the OECD announced that the organization would open accession discussions with six candidates for OECD Membership: Argentina, Brazil, Peru, Bulgaria, Romania, and Croatia. Six months later, each country received an individual roadmap for the detailed assessment process that will lead them to membership within a few years if everything goes according to plans.
Membership for Bulgaria, Romania, and Croatia will mean that all 12 Three Seas states will finally be members of the OECD countries club, an organization grouping together the world's high-income economies. Shortly after announcing that the individual roadmap plans had been delivered, 3SeasEurope had the opportunity to talk to Jeffrey Schlagenhauf, the Deputy Secretary-General of the OECD, about what the Three Seas Initiative brings to the OECD.
Mr. Schlagenhauf is responsible for the strategic direction of OECD policy on Public Governance while also overseeing the organization's Environment and Statistics and Data Directorates. Finally, he also leads OECD's horizontal work on Anti-Corruption and Integrity and on Sustainable Development Goals.
Previously, he served as the Associate Director for Economic Policy at the White House's Office of Management and Budget (OMB), where he was responsible for implementing evidence-based policymaking across the U.S. federal government.
The main goal of OECD is to stimulate economic progress and world trade. Its 38 members describe themselves as states committed to democracy and the market economy. The organization provides a platform to compare policy experiences, identify good practices, and coordinate domestic and international policies of its members.
It is recognized as one of the most influential publishers of economic data and annual evaluations of member states.
Speaking to 3SeasEurope, Mr. Jeffrey Schlagenhauf stated that the Three Seas region has much to bring to the table for the OECD as an organization, and that experiences make it particularly well-suited to help Ukraine in its most challenging moment since it regained independence in 1991.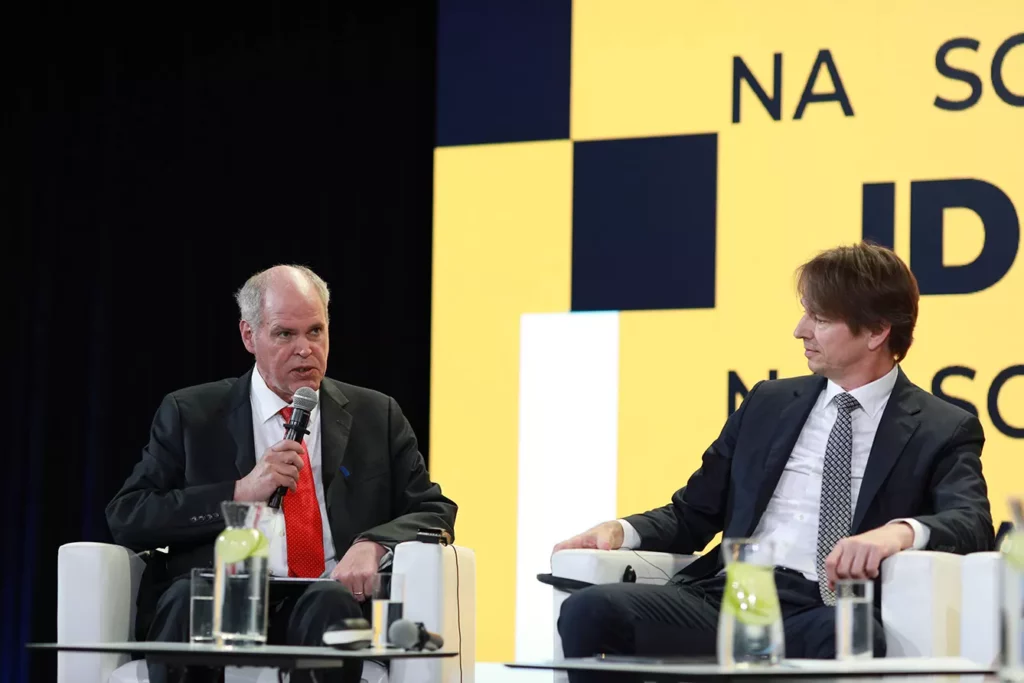 Jeffrey Schlagenhauf about OECD countries
3Seas: The OECD is about to get three new members in the near future if everything goes according to plan. The countries are Croatia, Romania, and Bulgaria. Which steps have they taken that have made it possible for the OECD Council to start accession talks with these countries?
Schlagenhauf: The OECD is about to get three new members in the near future if everything goes according to plan. The countries are Croatia, Romania, and Bulgaria. Which steps have they taken that have made it possible for the OECD Council to start accession talks with these countries?
The big thing here is that we have given them a roadmap that they will now be able to follow. It will take them forward to adhering to OECD standards in all sorts of areas. Corruption and the methods the countries use to combat it is an important issue in many places. This is more or less what the path forward will look like. We are likely talking about a 5-6 year process for most of them before full membership becomes a fact.
3Seas: In this part of Europe, the Three Seas region, the communist past is a factor that has shaped some of the economic specifics that still influence our countries. It had to leave a trace as it was the dominant economic system for nearly five decades after the Second World War. Does the OECD have a position on how to tackle issues connected with this legacy? Are there certain problems that must be taken into consideration, and are there solutions that have helped these countries overcome the problems that were created by a planned economy?
Another question is whether the OECD believes that these countries can serve as a model of transformation for those countries that are either still communist or are struggling to adapt to a democratic model and a market economy?
Schlagenhauf: Absolutely, it is an important region of the world, and I believe that these countries have experiences that they can share. If we look at the Baltic states, Estonia, Latvia, and Lithuania, they were all part of the Soviet Union itself. Then we have countries such as Poland, the Czech Republic, and Slovakia, or rather Czechoslovakia before the transformation, which were all Soviet satellite states but have made great strides in the decades that have followed.
There are great results that they have been able to deliver for their people. I believe that one of the most important things, when looking at how the war in Ukraine is playing out and the connection it has to this area, is that we have to stand up for freedom. Because if you don't stand up for freedom, you won't stand up for anything. And we need to do that first and foremost right now. Here, the Three Seas countries, with their experiences in this regard, can serve as an inspiration, both for Ukraine but also for allied states further west.
3Seas: Speaking about Ukraine, when it comes to the question of military aid, the countries in the Three Seas region have been behind the largest weapons shipments if we look at their expenses per capita. Do the countries of this region serve as a form of loudspeaker in this regard? Do they amplify Ukraine's global voice, and can they influence the conscience of leaders and elites in countries across the world?
Schlagenhauf: That's absolutely the case. This is simply the reality. People from Poland and from other countries in the region know what it was like to live under the boot of communism, having been dominated and occupied by foreign powers. This is why they are now speaking up and supporting each other in the effort to bring as much help to Ukraine as possible. Such coordinated action can both pull heartstrings in other places, but it is also an efficient way of amplifying the message that Ukraine is working hard on getting out to the global community.
Jeffrey Schlagenhauf talks about the Three Seas Region
3Seas: Let's take a look at the Three Seas region and its economic prospects. Over the past 30 years, ever since the fall of communism in this part of Europe, the countries making up the Three Seas region have had an average GDP growth of around 3 percent per year. Is this pace of growth sustainable? Can they keep it up for another two or even three decades?
When parts of East Asia experienced quick economic growth in the 1970s and 1980s, they managed to brand themselves with the help of the phrase "The Four Asian Tigers" (South Korea, Taiwan, Singapore, and Hong Kong). Later, they were followed by the so-called "Tiger Cub Economies" (Indonesia, Malaysia, the Philippines, Thailand, and Vietnam). In comparison, despite the decades-long swift economic growth, The Three Seas region has so far not been able to brand itself as an economic success story in the making. How should the region communicate its achievements to the world?
Schlagenhauf: I do believe that the region could successfully promote its own so-called "economic miracle story" to the world. Here, the story about the reform process is absolutely crucial. The key is to attract as much investment as possible. Not necessarily just outside investments but also intra-regional investments between the Three Seas countries themselves. These investments create jobs and also increase people's incomes. So making sure that the word gets out to the world through a well-crafted PR campaign can bring back very tangible results.
3Seas: When it comes to external investors, there have been some questions raised recently about how they will react to the war in Ukraine. There have been voices saying that the war has made some investors a bit apprehensive about investing in this part of the world as the Russian Army and its activities could spell trouble in the future. Is this something investors should worry about, or is NATO's article 5 and its provisions of collective defense enough for the safety of their investments to be guaranteed?
Schlagenhauf: I believe that it is. I sometimes think about how… and this is not just here, it also applies to many places in Africa… we often overprice risk and underprice opportunity. If the region is able to present a good case and brand itself in the right way, the investors that are out there will notice and come. Many of them will realize that this is a region with tremendous economic growth and that we can't see an end to that trend on the horizon. I believe that the future of this part of Europe is very bright.
If you are interested in the economy in Europe then also read the article on EU labour costs.