On the streets of Central and Eastern Europe – from the Baltic countries to Georgia, you can stumble upon an extraordinary sight (now by far much less prevalent than decades ago, and in many countries extinct): car-towed steel barrels or Soviet-style vending machines serving a specific soft drink.
This is kvass – or "bread acid": a brown, delicately fizzy, and mildly foamy sweet and sour soft drink dubbed the "Eastern response to cola." It's obviously anything but, nor is it cola, but, first of all, there's no "response" part to it. It's original, once prevalent, and true to the European peasant cuisine idea of zero waste. Yes, as the name suggests, it's made from stale bread.
Kvass, or "the acid" (you heard it right!)
If there's one valid point of comparison between kvass and cola, the refreshing quality. Sweet or savory, either way, it's a great solution to rehydrate during the summer heat. And despite the polar-bear-roaming-streets stereotype of the European northeast, summer heats can be quite stingy here. (Yup, Poland even has a desert!)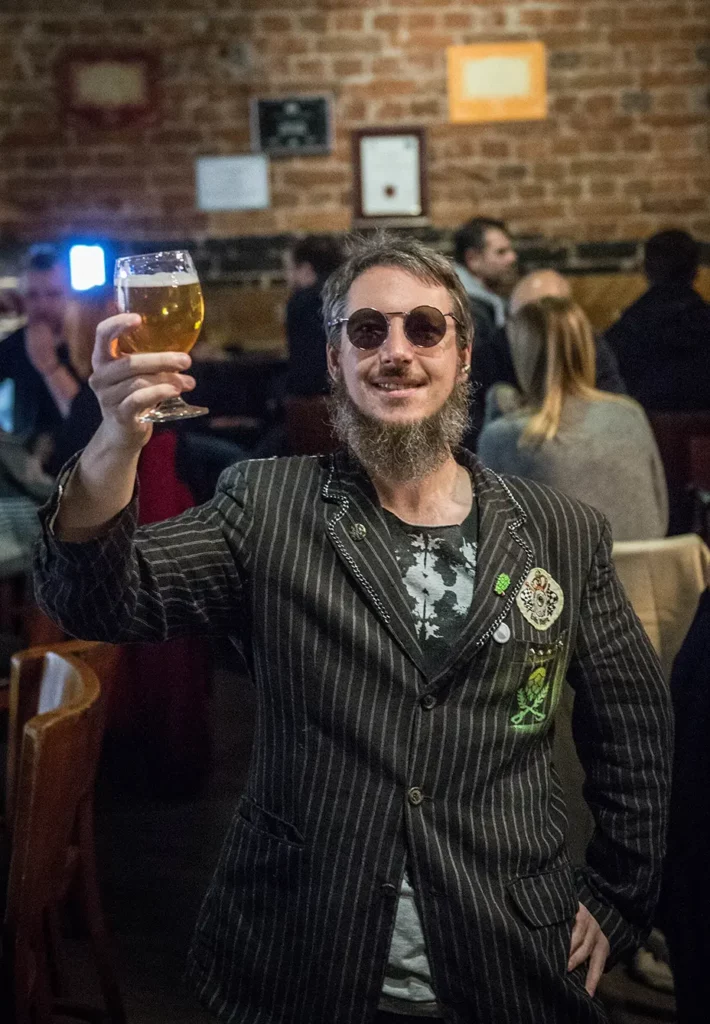 To best describe the taste of kvass, take look at how it's prepared. In the beginning, there are bread leftovers. Central Europe is strong on zero waste, but bread plays an even more special role in celebrating this ideology. Directly connected to the Last Supper and the Eucharist (the Greek Orthodox church uses yeast dough for the ritual), it's considered even more sacred than "regular" food to the point where people would mark a cross sign on bread before cutting it into loaves. Hence the idea of doing what you can to save the stale bread: soak it in soup, turn it into breadcrumbs, or make kvass.
Stale bread – especially that made from white flour – is usually toasted and then soaked and fermented. Regarding that bread is essentially cereal, kvass is not unlike beer and can contain up to 2 percent alcohol – though usually, it's weak enough to call it a soft drink.
Sweetness may come from sugar or honey or added fruits – of course, in some instances, sweeteners are added. Then, herbs may be added – mint is traditional, but others may work as well: think sour dark beer with a hint of caraway.
From serfdom to socialism to capitalism
The first mentions of kvass come from 12th-century Ukraine (Kyiv Rus), where Prince Volodymyr, a historical figure baptized in 988, was supposed to treat guests of his baptism party with mead and kvass.
Having a heyday in Socialist times, with street vendors sitting by their barrels and selling it by the cup, it's now produced both industrially and artisanally; the further to the east, the more ubiquitous.
And although Poland may traditionally prefer "podpiwek," the other kind of soft drink, namely brewery byproduct, kvass here has been present for centuries and is now making an artisanal comeback. This is thanks to the "Wolny Kraft" association ("Free Craft," the word derived from "craft beer"). This home- and microbrewers fan club decided to reboot kvass in cooperation with one of the largest bakery chains in the country, with income going to charity.
"When we were taking the first steps, we didn't know where it would lead us. No recipe, no know-how, nothing at all," says Paweł Leszczyński, the face behind the project. "Luckily, we had Oleg Sapizhynski with us. He was the Polish Master Cup Taster 2021, and as a Belarussian, he knows true kvass by heart."
This kvass helps
The result is wonderfully layered: as kvass unveils its tasting notes, from sour and savory to hints of toasted bread and added herbs, you can also follow the story of its creation. There is a documentary about the quest for the perfect kvass. On your way through the story, you find heroes and contributors: herb experts, coffee roasters, brewers, charity guys, and even the US Department of Agriculture, which supported the project.
Finally, the relaunched kvass is here, branded simply "This kvass helps" – as it has, for centuries, as relief from the heat, as well as now providing relief to charity.