What precisely is the surprise about Polish bary mleczne, so milk bars (as their name is commonly and literally translated), is beautifully described by the true story of a British friend who came to visit Poland for the first time a dozen or so years ago. He was traveling on a shoestring budget and was thrilled to find a reasonably priced restaurant right by Warsaw's old town. Back then, his Polish was basic to the core, and the only thing he recognized on the board was the word makaron (pasta). 
He politely asked the lady for the dish, and the clerk, not politely at all, started piling white, soft-boiled pasta onto the plate and topped it up with cottage cheese. My friend looked in horror as she abruptly uttered some words at him (which he swears sounded more like a threat). He nodded and then nearly collapsed as she began spooning heaped tablespoons of sugar onto his already bizarre dish. Suffice it to say – he barely could stomach his lunch.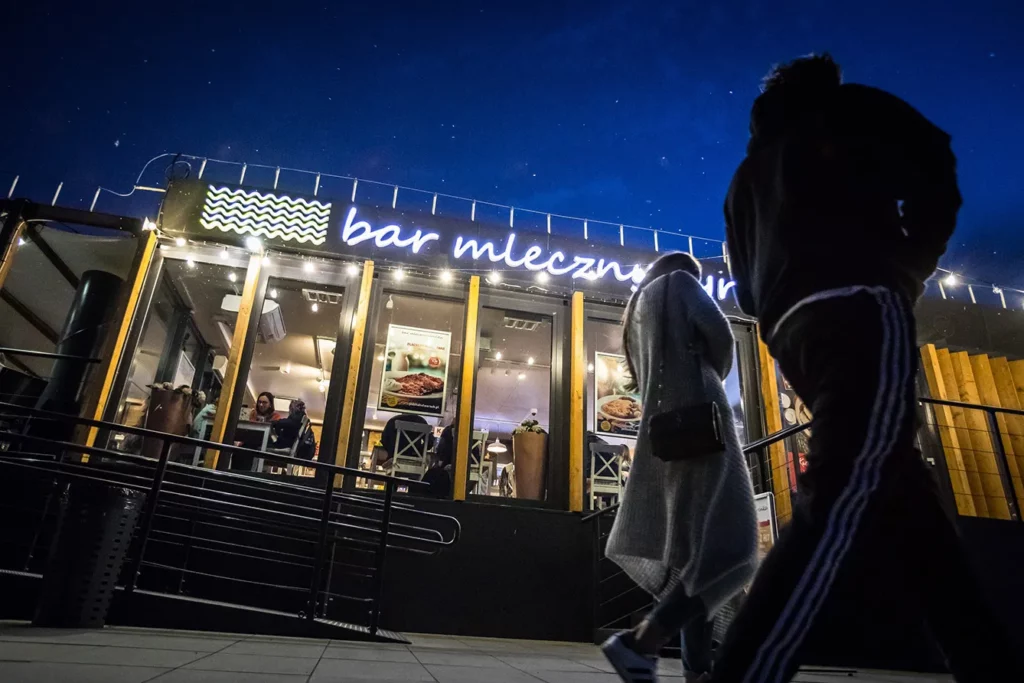 Milk bars: affordable delicacy
To the average Polish person, this story is bound to sound hilarious, as yes – we do like to occasionally eat pasta with cottage cheese, some cream, and sugar – call it our version of mac and cheese. But that's beside the point. For a milk bar is much more than just a place to eat – it is a philosophy, dressed with a hefty dose of nostalgia of the times long gone – to some, the People's Republic of Poland, and to others, preschool and school canteens ran in a similar style. 
The overwhelming majority of Poles know that a milk bar is not a place for sophisticated dining, but more like a canteen with fresh, home-style comfort food that is supposed to fill your tummy without draining the pocket. Moreover, virtually every Pole has eaten a place like that at least once in their lives. Traditionally, milk bars were vegetarian joints, but these days, you can find some meaty specialties of Polish cuisine offered at the counter, though not everywhere. 
So that no one will go hungry
The first milk bar was opened in 1896 in Warsaw. Stanisław Dłużewski was a dairy farmer who came up with the idea of starting a place where people could eat basic Polish dishes focused on three main ingredients: eggs, flour, and milk. His dairy shop, as he called it, was situated on today's Nowy Świat Street, close to the Charles de Gaulle roundabout. It proved a success since the food was tasty and affordable. Soon many other entrepreneurs followed suit. By 1918, milk bars were present all over the newly liberated Poland, and the government strongly supported their operations, as their existence meant even very poor people would not go hungry.
Time of greatness
However, milk bars had to wait for their golden age for a few more decades. They flourished post-Second World War, during the grim times of the People's Republic of Poland. Milk bars ideally reflected the ideology of the communist period, where money was hard to get (and milk bars were cheap), and people were supposed to eat traditional, national dishes and work – without wasting time on pointless chit-chat (think the canteen, fast-food style of serving the meals). 
All the above factors made them even more popular food joints. Their basic looks lacked tablecloths, and the spacial arrangement made the people eat rather as a collective – not as individuals. Some of these basic, some might even say ascetic, features can still be traced in the milk bars in operation today.
A new era
Despite many changes in this Central European country – the fall of communism and the transformation of the society – milk bars with their momma-style cooking still survive. Some dropped the basic canteen decor, offering more cozy interiors, while others thrive on the retro accessories and style as if copied and pasted from the 1970s and 1980s Polish films. Milk bars still enjoy partial governmental funding and stick to the philosophy of basic, comfort food for everyone's pocket. (And yes, we will still stick to our Polish narration that pasta with cottage cheese and fruit soups are tasty!)
So when in Poland, make sure to seek your friendly, local milk bar and give the Polish version of fast-food a go. After all, generations of Poles keep returning to these simple food joints, as not even the often grumpy canteen ladies can deter them from having their egg chop! So if you spot a queue to an unassuming bar that stretches out to the street, be almost certain that's where a milk bar is located. And when in Rome… join the queue to feast on some dairy goodness. 100% Polish style.
See Also: Love Zero-Waste Cuisine? Try Traditional Polish Dishes