Believe it or not (especially if you're a younger reader), there was a time in history when not everything was run on a schedule kept by mobile computers, aka phones. Moreover, there was a time when time itself belonged only to one sphere of people's lives: the public one.
Private life was dictated by large and observable units: seasons, sunrises, sunsets, dusks, and dawns. You woke up when it made sense to start your day's duties. If you wanted to read after work, you'd have to light some candles. And then, there were time units you had to measure. You were expected to be in church every seven days. The Bible meticulously recalls the Passion of Christ to the hour, so you were encouraged to pay special attention to 3 pm, especially on Good Friday. In the cloister, you were expected to pray every three hours and to know the date – so that you would know its saint patron. In business – you had to know when a debt was due, and so on.
Prague astronomical clock to replace hourglass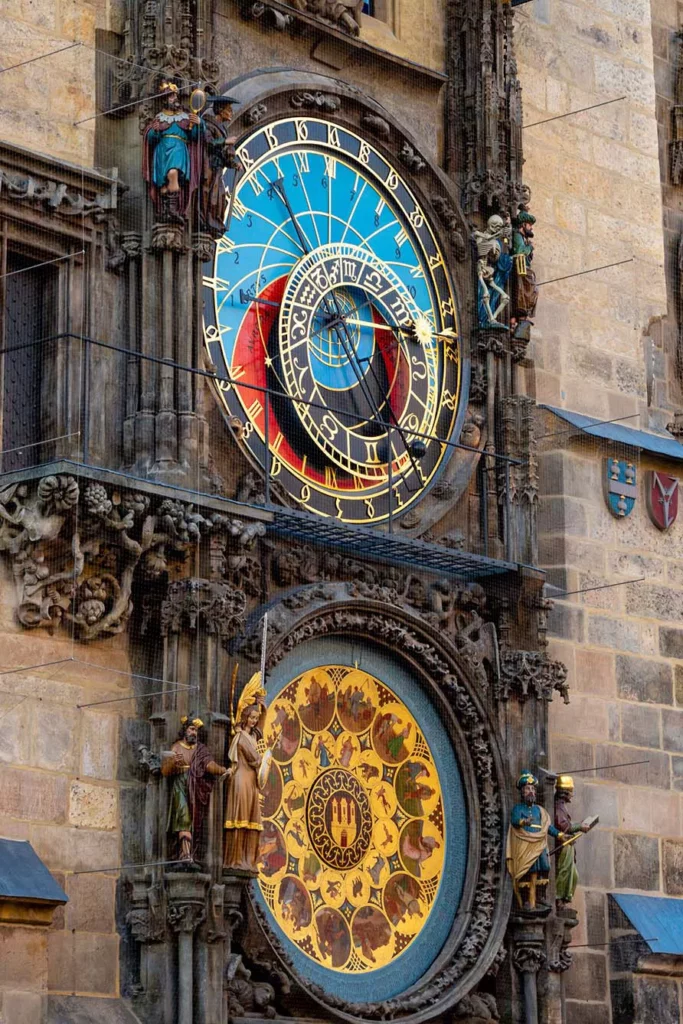 Having a watch would be the obvious answer, but in medieval times, they hadn't yet been fully developed. Hourglasses needed near-constant attention, besides the fact that they weren't easy to display. But clocks – monumental city devices – were widely in use. And Central Europe is famous for two such 15th-century clocks. Terribly sophisticated ones – astronomical clocks, which are still active.
Perhaps the best-known one, Orloj, is located in Prague. Installed in 1410, when breast-plated armor was the height of high-tech for knights, it occupies the southern wall of Prague's Town Hall. It's an astronomical clock with several dials. Thanks to these, it can display not only the hour but also Earth's position in relation to the Sun.
The clever inner ring goes around the clock displaying partially the depiction of the moon underneath, and in effect, it gives an accurate depiction of the current lunar phase. What makes this system truly unique is that the ring goes around the clock by the force of gravity.
Orloj: death's striking time
And hours are displayed by Apostles themselves, who appear every hour through the door situated above the clock's face. There's also Death striking time, and figures of the deadly sins there to help you remember just how fast time flies.
Prague's astronomical clock was severely damaged in May 1945 during the Prague Uprising and was later repaired. Since then, it has been under maintenance multiple times. On one recent occasion, residents and visitors didn't even have to miss out on the sight as an LED screen projected the clock's likeness while the clock itself was rushed to restoration to be able to strike on Czechoslovakia's hundredth anniversary in October 2018.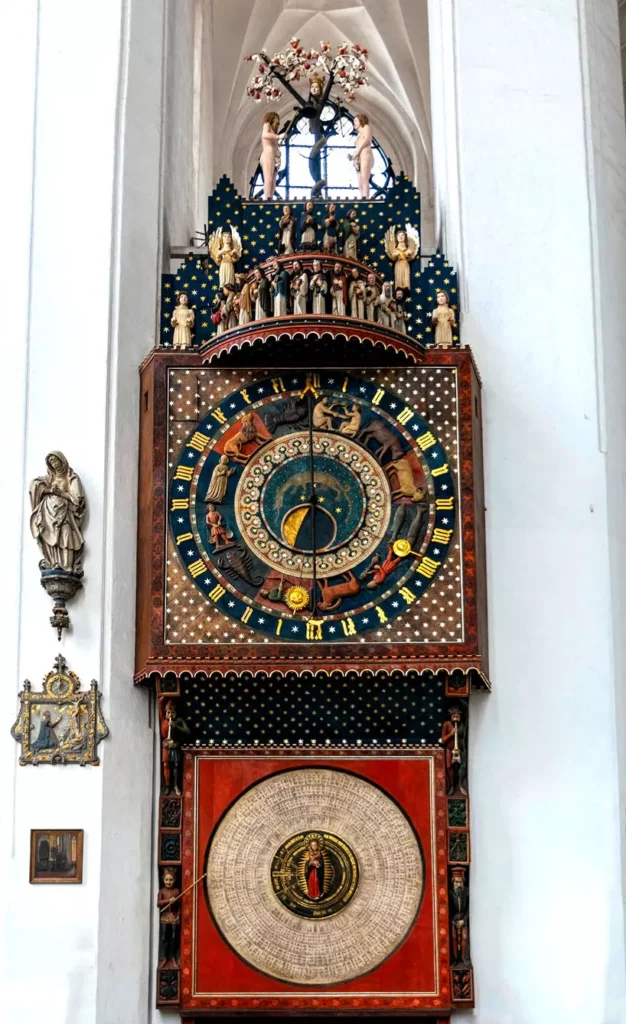 A similar clock located in Gdańsk was constructed a little later. It is an equally sophisticated astronomical clock, built in the seventh decade of the 15th century. Its dials show the time and date. It also informs us about Earth's astronomical position and the zodiac signs, but most importantly, it also points to the patron saint of the day. And Adam and Eve are the ones to chime the bells every hour. They're also featured in an animated procession above the clock's face.
What's interesting is that this clock is not an outdoor one, nor is it a profane one. You can find it in St. Mary's Church, which is perhaps the most famous medieval cathedral of the Tricity. Along with the city, the astronomical clock in Gdańsk was heavily damaged during World War Two and had to be reconstructed. With the Holy Mary in its center and so much information on its face that puts you in vertigo, it can easily compete with the current time-displaying technology that so many of us adore.
Check out our article: The Older Sibling of Stonehenge