The print-on-demand market has been booming in recent years and was further aided by e-sales growth during the pandemic. One of the big players in the industry, Printify, is headquartered in Riga, Latvia. The vision of its founder and CEO, James Berdigans, is for print-on-demand to increase the profitability of companies by helping them to escape the problem of unsold inventory or, alternatively, not making full use of the opportunities offered by producing less than customers are prepared to buy.
Printify: e-commerce made easy
Printify makes life easier for e-commerce merchants by a scheme in which goods are only produced after the person shopping online has ordered and paid for the product. Another crucial component of the business idea is that Printify also takes care of transport by having it drop-shipped directly to the end consumer.
Such a solution takes out upfront investment from the equation as well as storage costs. The direct transport to the client also minimizes the time the merchant has to spend on packaging and shipping. Printify allows the creative minds in the print and merch industry to use the time saved on what they do best: coming up with new great products and designs or tending to their customer relations.
The concept proved to be very successful, and Printify quickly grew from revenue of around USD 500,000 in 2016 to more than USD 10 mln in 2018. Today, the company has more than two mln merchants using the service, and Printify cooperates with more than 100 print providers worldwide to serve their clients' needs.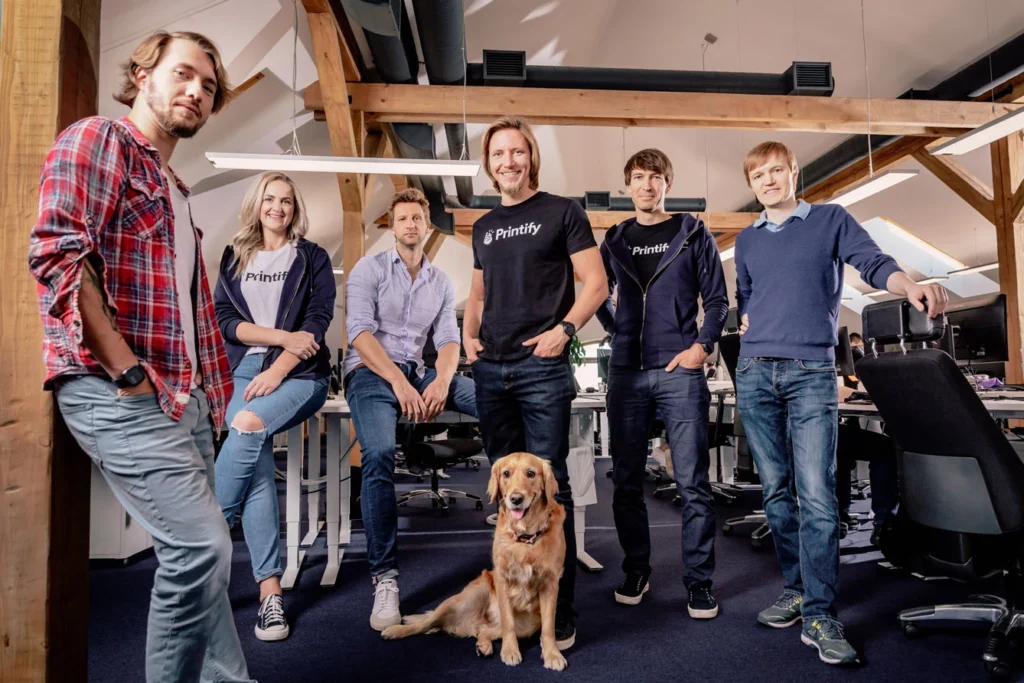 From San Francisco to Riga
In 2016, James and his two co-founders participated in a 500 Startups accelerator program in San Francisco. They decided to stay in the city, believing it would be good for the company to initially be headquartered where many of their early investors were also based.
As the company started growing, James realized that there would be many benefits to moving the company's headquarters back to Riga. For starters, salaries in the San Francisco Bay Area are more than three times higher, and the competition for tech talent is more intense, making it more difficult to scoop up the brightest minds out there.
Printify has grown to employ more than 600 people. Many have been attracted by the company's decision to grant stock options to employees who help achieve certain business goals. After its latest funding round, which brought in nearly USD 50 mln, one-fifth of the investment was split between employees who took the opportunity to sell their shares.
Riding the wave
James is convinced that he created the company at exactly the right moment to be able to maximize its growth as the cost to print products sharply decreased in recent years. It has made it possible for one-person businesses to offer a selection of unique items, which in turn are increasingly sought after as consumers try to move away from mass-produced goods that all look the same and are available in thousands of chain stores across countries and continents.
The rise of social media influences has also created a situation in which many of them are tempted to monetize their fame by selling personal merch. Printify can cover most of their needs, with a vast catalog offering more than 400 products. The classics still sell the best: T-shirts, hoodies, stickers, mugs, and hats. However, James says that other types of goods, such as the market for baby and kids products, sportswear, and pet products, are also on the rise.
Printify is on track to continue taking advantage of a world trend: more and more people use e-commerce to build side businesses that help them earn money in addition to their primary income. For many regular people, the Latvian company will be their ticket to the exciting world of e-commerce.