It's safe to say that Raimonds Pauls is one of the most renowned, if not the most renowned, Latvian composers of all time. His popularity spans continents. One particularly well-known song – "Dear Māra gave the girl life" (Dāvāja Māriņa meitenei mūžiņu) – became "A Million Scarlet Roses" when Russian singer Alla Pugacheva covered it in 1982. It has since been adapted into several languages, including Vietnamese, Hungarian, and Finnish. 
Pauls's enchantingly melodic compositions draw from Latvian folk music, jazz, blues, rock 'n' roll, the French Chanson, and German Schlager, while also capturing the latest trends. Far from repetitive, his works manage to surprise every time, ensuring Pauls has never lost relevance throughout his career.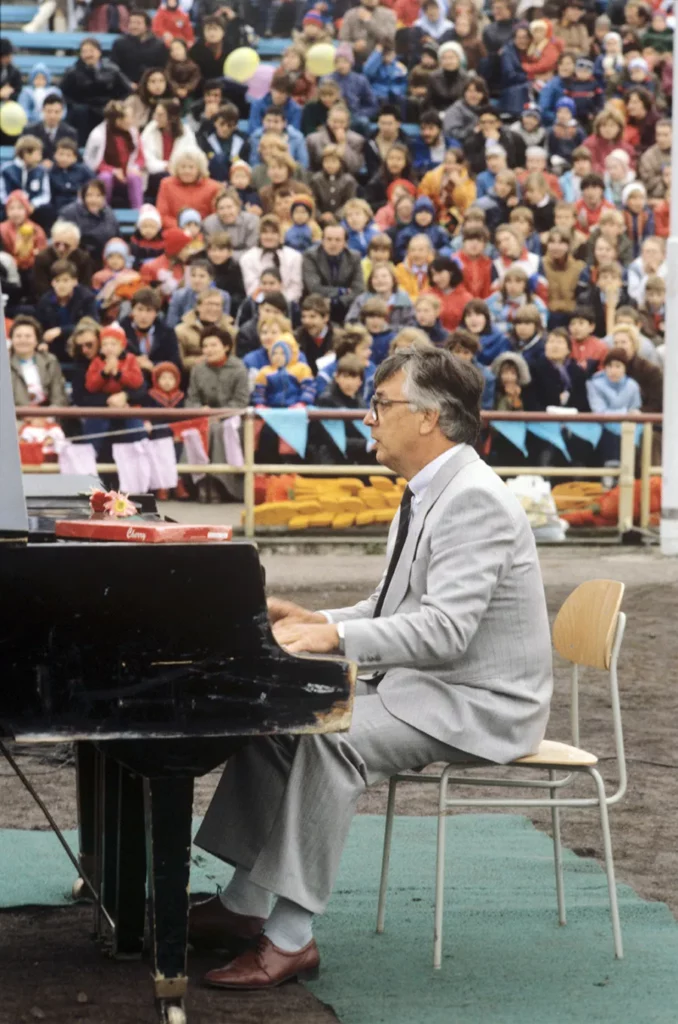 An impressive multitasker
Pauls has produced approximately 3000 pieces – songs, musical theater, instrumental, theater, and film music – which revolve around a melody. He has gone through phases as a composer, and his works can be grouped accordingly. His early jazz period in the 1960s was followed by popular music when he established his signature style. In the 1970s, Pauls turned to jazz-rock before establishing the perfect Schlager formula. He has always written choir songs and music for children.
The composer is also known as a talented swing and jazz pianist, playing his own compositions and adaptations. Additionally, Pauls is a revered producer, recognized for his ability to identify and nurture young talent and pick up on new musical trends. To add to an already-impressive professional career, Pauls has been an active member of several orchestras and bands, as well as a conductor. 
A piano player from the age of three
Pauls, known for his excellent sense of humor and direct and honest manner, was born in Riga in 1936 and first started to learn to play the piano in kindergarten at the young age of three. In later years, he continued to learn music both under private tutorship and at specialized schools, working as an accompanist alongside his studies. In 1953, he was admitted to the piano class at the Latvian State Conservatory. In the first years of his career, Pauls played at restaurants and as part of several orchestras. 
Extra time for politics
Pauls's musical legacy is not his only contribution to the development of Latvia. In 1984, Pauls was elected secretary of the Composers' Union. One year later, he became a member of the Supreme Council of the Latvian Soviet Socialist Republic and, in 1988, was elected Chairman of the State Culture Committee. Between 1989 and 1993, Pauls was the Latvian Minister of Culture, during which time he established the Grand Music Award, which, to this day, continues to recognize the country's biggest musical talents and achievements. Later, Pauls became the president's advisor for culture and served three terms as a member of parliament. At one time, Raimonds Pauls himself was nominated as a presidential candidate.
The man is a living legend whose music and personality continue to charm as he approaches the age of 90.