It is Pentecost day in Czech lands, meaning 50 days have passed since Easter Sunday. Pentecost commemorates the descent of the Holy Spirit upon the Apostles of Jesus Christ in Jerusalem. You are in the Moravian village of Vlčnov, and you hear royal music out of nowhere. From behind the corner comes the King's entourage: a group of young men rides through a village in a ceremonial procession guarding the King. What year is this, you may ask? The year is 2022, of course.
A complicated history of Pentecost Festival
The origin stories of this tradition are as diverse as the Czechia itself. The most famous and probable origin is connected to King Matthias Corvinus of Hungary, who fled from King Jiří z Poděbrad of Bohemia after a disastrous battle with his entourage. On his way to safety, he wore a girl's dress, covered his face with ribbons, and held a rose in his mouth. Why? So he wouldn't be recognized and captured.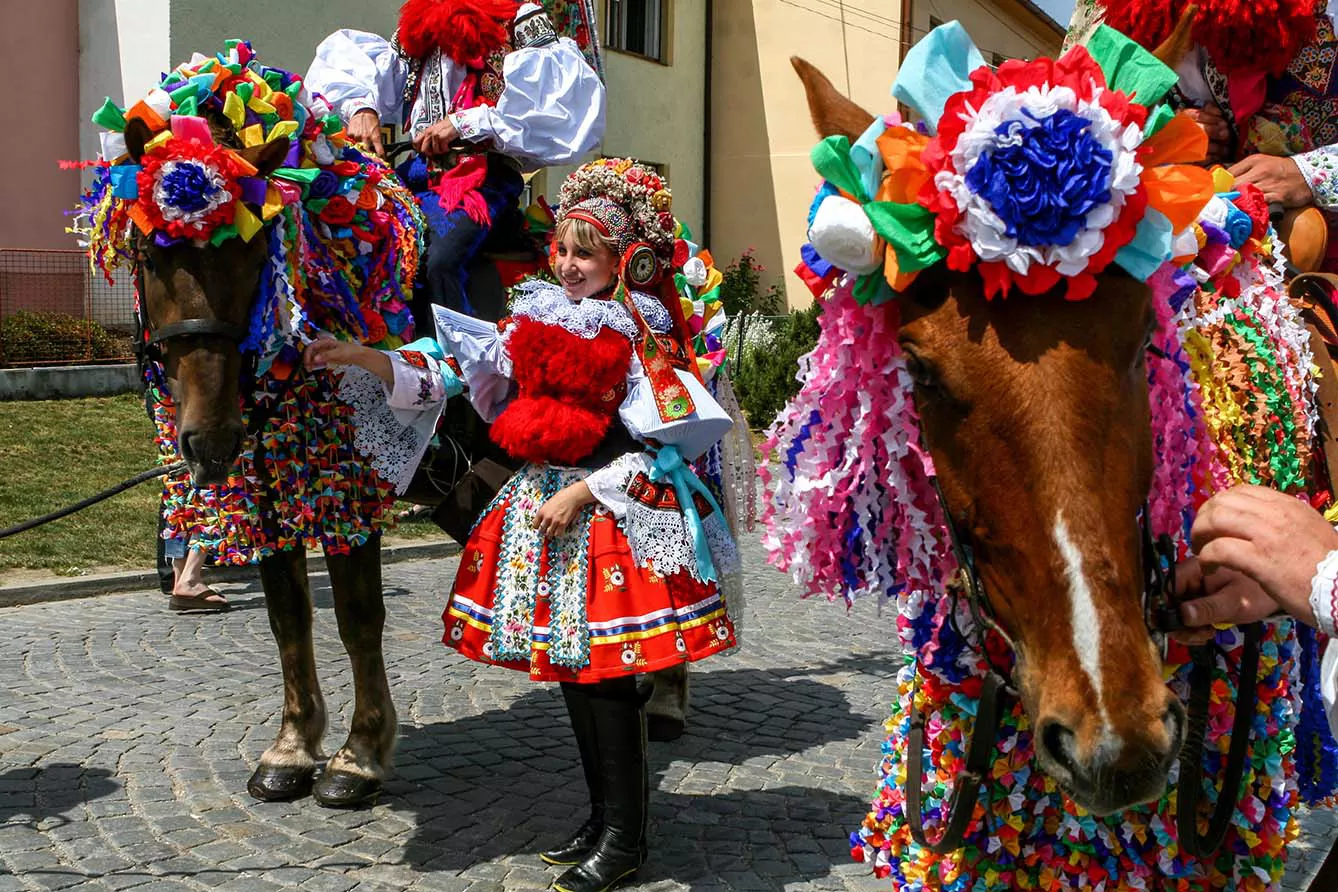 These days, the boy chosen to be the year's King must be between 10-15 years of age. The rest of King's men are between 15 and 25. The King, played by a young boy, enters the village on a white horse while other members of his column dance and sing to attract the attention of the onlookers. The reason is to draw attention to themselves, not flee the King.
The King and his closest associates wear women's costumes. All other riders, serving as honor guards, wear men's clothing and unsheathed swords to protect the King. The singing chanters receive donations for their performance as an allowance for the Kings. The gifts can be placed in a money box or directly into the riders' boots.
Let's get this party started
When the King's ride is over, he returns home to safety and celebrates his safe return with a small feast, music, and dancing. The Ride of the Kings pageant is a cultural tradition of not only the town of Vlčnov but the entire Czechia as well. It is so unique that it was entered on the UNESCO intangible cultural heritage list.
For the last 200 years, where there is historical evidence of the tradition, the costumes and processes connected to the Ride of Kings are passed from generation to generation: the traditional paper decorations for the horses, ceremonial costumes, swords, and many other things. So, if you did not attend the Ride of the Kings in the last 200 years, you have your chance next year. The next one will take place in late May of 2023.