Although not yet as famous as those in neighboring Bulgaria, Romania has almost 150 kilometers of sandy beaches, stretching from the Danube Delta, a UNESCO World Heritage Site thanks to its biodiversity and natural beauty, to its southern border. The Romanian Black Sea and its beach resorts between the town of Constanța and smaller Mangalia to the south offer an increasing number of hotels and attractions for everyone.
26 centuries of sun
If exclusive beach resorts with perfect weather conditions, warm seas, sandy beaches, and majestic history are your idea of the perfect vacation, the first countries that slip into your mind might be Greece, Turkey, or Egypt. While that might be true, Romania is also brimming with fun-in-the-sun kinds of attractions, with an ancient edge.
Jason and the Argonauts were mythical heroes who must have stopped here on their way to Colchis in search of the Golden Fleece. Constanța was founded here around 600 B.C., and the Greek territory was later conquered by the Romans. Warm summers and sea breezes have been delighting inhabitants and guests of the Romanian Black Sea shore ever since. No wonder then that with the approach of modern tourism, which in Central Europe coincided with state socialism, Romania developed a line of beach resorts with hotels for the working class from all around the country.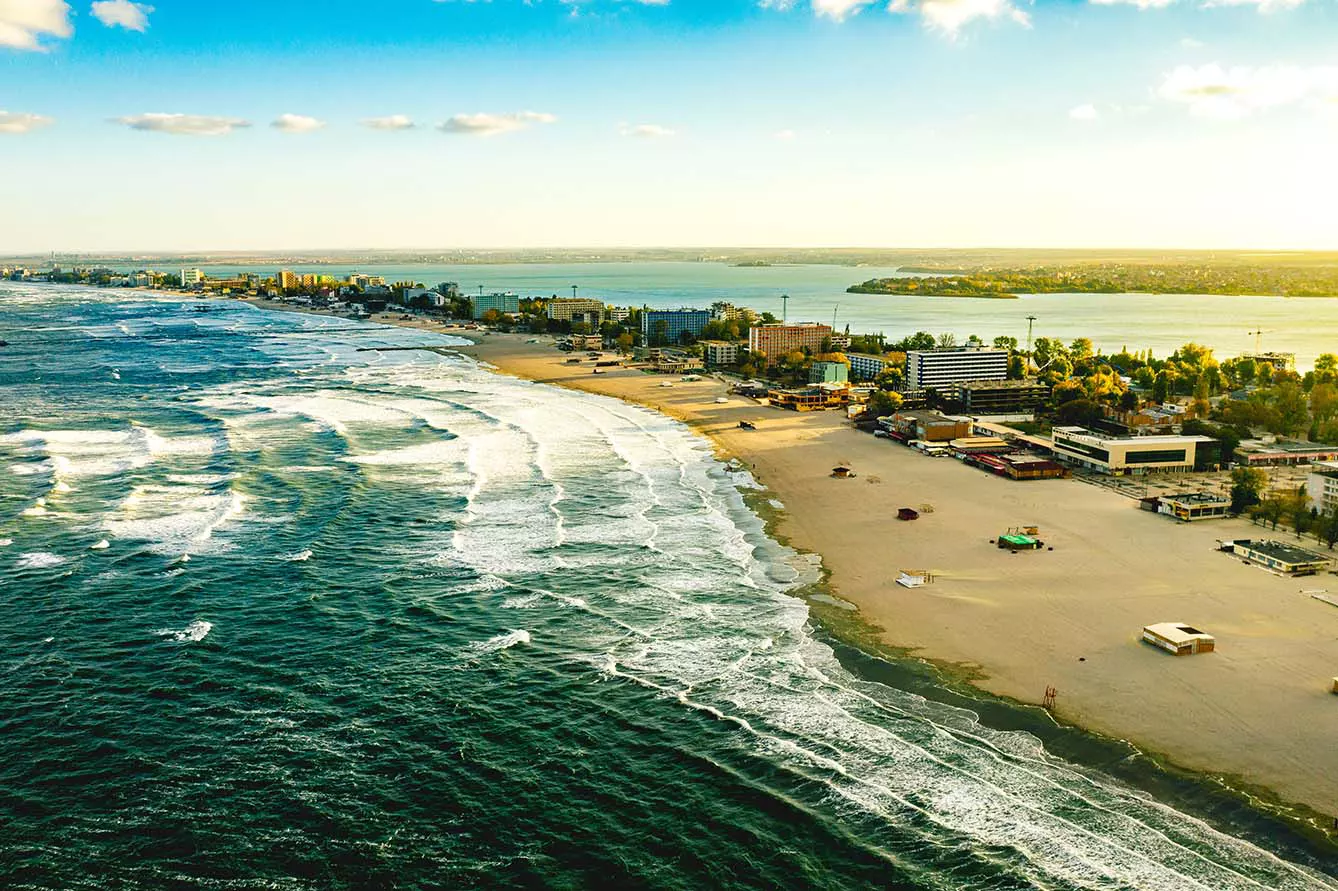 With the new 1948 labor code, the Romanian People's Republic granted everyone paid holidays and almost immediately started construction on several beach resorts. In the mid-sixties, the effort was reinforced with monumental hotels overlooking the Black Sea from the most talented architects of the time.
That's why slopes coming down to the seashore are now covered in an amphitheater-like architecture of hotels, that, multi-story as they may be, fit perfectly in the skyline of the resorts. It is even said that architects were showcasing Socialist superiority by meticulous urban planning.
Romanian beach resorts for Greek lovers
That's how a network of Romanian beach resorts came into being, named after the Greek gods that were here first: Neptun, Olimp, Venus, and Saturn. Alas, some of the former socialist-modernist hotel pearls currently sit in a state of disrepair, waiting for their turn to get back to shape. Not to fear because there are plenty of modern spa-worthy options nearby.
Tourists from Romania and abroad alike head to Mamaia near Constanța for a high-end resort experience with exclusive hotels. While this is a great choice thanks to its luxurious nature and the great variety of restaurants serving the freshly caught fish and seafood you should expect in any seaside city, you may also be tempted to visit either of the Greek-named beach resorts – or all of them.
Perhaps the most interesting of them is Neptun with its fine beach, La Steaguri, and its great spa and hotel options. Little wonder that this was a choice for former dictator Nicolae Ceaușescu, who used to spend his summers at the Black Sea coast.
After the fall of the Communist regime, his opulent villa belonged to the Romanian state and was then sold to a private proprietor. Roumors are, you can now rent it for unmatched luxury. (*It's not easy to find an offer, though.) But, even if you do, remember: Ceaușescu used to have bodyguards and up to a hundred people at his disposal. It's really not easy to match the socialist dictator in luxury.