In Ljubljana, Slovenia, if you're looking for the most artistic, trendy, and busy neighborhood, it just so happens that you will find yourself wandering around a former military compound. When Slovenia declared independence from Yugoslavia, the Austro-Hungarian military complex became abandoned and fell into disrepair. However, as is the fate of such places, it is an obvious spot for gentrification with its historical significance and run-down facade. It soon became a haven for creative types, giving fresh breath to its old walls.
Hostel Celica is in the center of this complex. The hotel consists of 20 "cells," each designed by a different artist, that bring a feeling entirely opposite from how the previous occupants must have felt. A different artist designed each room, giving every room its own specific mood and character.
You can even decide to spend a night in one of its dorm rooms, which, in proper hostel (and prison) style, have shared accommodations sleeping either 7 or 12. Quite unlike a prison, however, it has an atrium corner, air conditioning, and free Wi-Fi, not to mention a shared kitchen where guests from around the world can meet and relax together.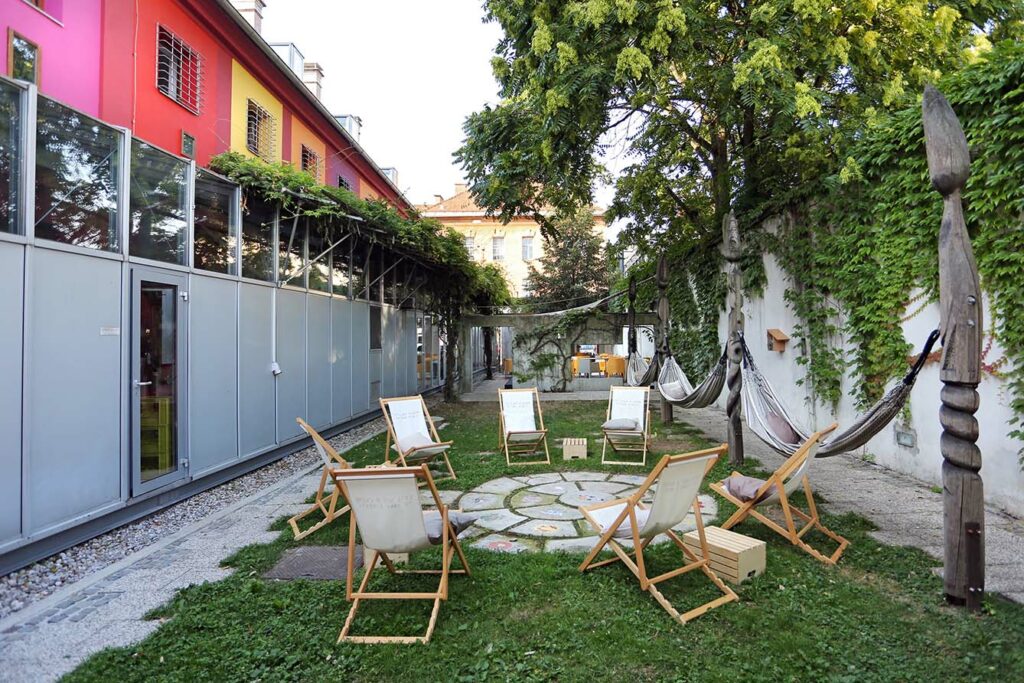 Metelkova: A battle for artistic expression
The former military-turned-artistic complex where Hostel Celica is situated is known as Metelkova and consists of seven buildings, mostly former barracks. The existence of an artistic compound is a result of the battle itself, though no shot was fired – neither in assault nor defense of the vision.
When the Yugoslavian army left Ljubljana, several social and art institutions and individuals formed an initiative called "The Metelkova Network" (Mreža za Metelkovo). It was supposed to turn the area into a site of art, culture, and nightlife.
The city officially supported the project, though not with any actual financial support, so the buildings soon went into disrepair. In 1993, 200 volunteers squatted there to stop the abandoned army complex from being pulled down. This didn't go down well with the city, which would siege the compound by cutting off the power and water supply.
Soon the situation was normalized, but the discussion remained a hot topic for years, Like when, in 2006, the summer lodge was demolished at the city's demand after five years of existence. Luckily, those contentious times are well behind us, as Metelkova, now considered a place for cultural development and tolerance, has even been recognized internationally as a UNESCO cultural heritage site.
Next time you find yourself in Lubljana, it's probably worth your while to lock yourself up for at least one night. Don't just take our word for it. "Lonely Planet" calls Hostel Celica the "#1 Hippest Hostel", and "Rough Guides" has named it one of "25 ultimate places to stay." Just try resisting the temptation to shout "guards!" instead of just ordering room service.