It happened in 1944, but the story of Sofia Ionescu (born Ogrezeanu) begins on April 25, 1920, the day that marks the birthday of the one who was to open the doors of neurosurgery to women from all around the world. Born to a simple family, Sofia started manifesting a particular interest in sciences and academia at a young age. This inclination towards studies prompted her to move schools in her early teens, and she began studying in Bucharest, where she graduated from high school in 1939. The same year she enrolled in the Faculty of Human Sciences, from which she would graduate six years later. Little did she know that her life and the course of our history would be forever changed in those six years.
Sofia Ionescu and the Gold Team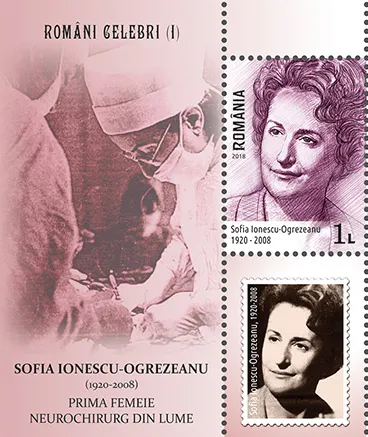 Much like in the case of Victor Babes, an important Romanian physician and bacteriologist, Sofia was motivated to study medicine due to the loss of one of her dearest friends. Her classmate's sudden death posed critical and significant questions in her mind regarding the state of medicine in Romania and overall. Facing such intriguing thoughts, she decided to study medicine. This thought transformed Sofia Ionescu into the paramount figure we speak of today, the mother of neurosurgery.
In 1943, Sofia became an intern for the "Gold team" of neurosurgeons in Bucharest, comprised of Prof. Dumitru Bagdasar, the founder of Romanian neurosurgery, Constantin Arseni, and Ionel Ionescu, of whom the latter would become her husband in the following years. Here, her abilities were not only recognized but promptly encouraged.
The decisive moment came in 1944 when amid the Second World War, casualties were many while the medics were few. One day, a young boy in need of urgent medical attention was brought into the hospital. With all of the doctors caught up in other surgeries, it was a matter of life and death. Sofia could not simply let that boy die, losing his young soul due to lack of medical assistance. The neurosurgeon resident was scared to operate on the child and backed out.
That was when Sofia took matters into her hands – literally. With out-of-this-world calm and care, proving herself as a skilled surgeon and knowledgeable doctor, she successfully operated on the young boy, saving his life. Without knowing back then, this marked a turning point not only in that child's life but in her own life as well. One year later, she obtained her certificate in medicine and surgery.
Desire to save lives
Sofia's passion for medicine sparked out of a pure desire to save lives. Things were not always easy, as she was advancing in such a notoriously new field to her. Eyebrows were raised, and questions were asked when she would introduce herself as a neurosurgeon. But her contribution was obvious since her palms bore the marks of the trade – calluses and deformed fingers, resulting from years and years of methodical, detailed practice. In 1970, Sofia made history again when she treated the wife of the sheik of Abu Dhabi. The task was extremely sensitive as no men were allowed to enter the Harem of the Sheik, and at that time, only one woman could perform the surgery – Sofia Ionescu.
The first female neurosurgeon, Sofia Ionescu, remains a remarkable figure in history for her groundbreaking developments and her determination and skill to excel as a world-renowned doctor. She was showered with multiple prizes and recognitions for her impeccable work, the highest being the Star of Romania, in the rank of knight, which she received at the beginning of March 2008, just days before she passed away.
*Editor's note: There is some debate as to whether Dr. Ionescu was the first female neurosurgeon in the world, with some awarding that title to English neurosurgeon Dr. Diana Beck, who began her career in the same period.