In Polish, the name Szumiś is an ingenious hybrid of the word szumieć and miś (so to hum and a teddy bear – a "humming-bear"). This is precisely what a Szumisie does. It hums in a way pleasant to babies helping them sleep. Tired parents no longer need to heat their hairdryers red, overwork their hoovers, or buy an additional smartphone for those calming wave sounds. Szumisie can become their little treasure's best friend, to the parent's delight (and additional hours of sleep).
How did it all begin?
Anna Skórzyńska had one of those babies who desperately needed white noise to sleep. Allegedly standing over her troubled first son with a hairdryer in her hand, she dreamt of that noise being sawn up in some nice, soft toy, giving her the opportunity to rest herself. She realized a product like that did not exist. But she did not jump on the bandwagon just yet. It took her another four years, when she had her second baby, to master the initiative necessary to try and make the product nobody else seemed to have thought of. The year was 2013 when she ordered the first batch of 1500 teddies.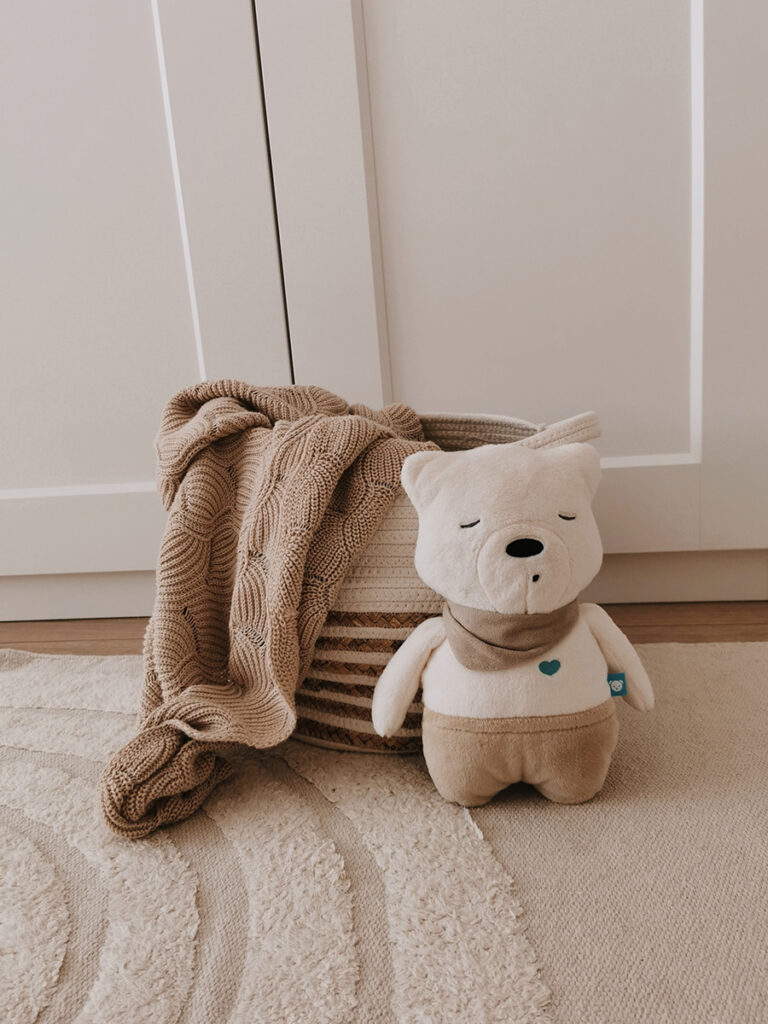 A jump into the deep end
Anna already had the name, idea, and motivation in mind. All she needed was the mechanism and… the teddies. Together with her first business partners, they tried to find a company to make a mechanism playing the hairdryer sound to hide inside the first teddy bear design. This proved to be a challenge.
In her many interviews, Ania told the story of how the manufacturers thought the sound file was corrupted, as "all you could hear was humming." When she finally got through to them that, indeed, she needed a good-quality mechanism that would play a recording of white noise, she stepped over the first hurdle. With the humming heart in her hand, the aspiring businesswoman was able to order the first batch and released the product without much prep work. It proved to be an instant hit.
A split
After a few months, however, the first team split. Ania kept the right to the name Szumisie and started the company all over again in cooperation with a new business partner, Marcin Gawroński. Her former partners, sisters Julia and Zuzanna Sielickie, founded their own company named Whisbear. Both companies produce soft toys that play white noise to comfort babies, and both use original designs.
And despite the division, both companies are doing extremely well in the market, expanding and selling their products abroad. And despite being similar, they are not the same, focusing on different aspects of design (Szumisie look more like traditional teddy bears, while the original Whisbear was inspired by childhood drawings). However, Szumisie were the first one out there and the protoplast, for now, a very successful branch of children's products.
Szumiś: like nothing before
When the original idea hit the market in 2013, there was no other product like it – not in Poland and not abroad. A soft toy playing white noise was somehow missed by the biggest manufacturers of kids' products. The success of the first Szumisie launch made Anna determined to see her product do well. Before its second launch in 2015, she introduced some changes – not only to the design but also to the noises the bear was able to play. She added the sound of waves and rain and made the sounds play longer.
Together with her new business partner, they had no doubt that the product had to be completely Polish – designed and manufactured in its homeland. And so it is – Szumisie are still produced in Poland, with about 70% of production dedicated to export. You can find Anna's bears in countries such as Germany, Czechia, Norway, France, the USA, and the British Isles. It is sold abroad under the name MyHummy for an easier connection of what the toy does.
Successful business model
It is, of course, not disclosed how much the company's capital grew compared to the initial investment. In one of her interviews, Ania admitted that the company's turnover grew by a few hundred percent in the first four years of its operations. Szumisie were also chosen as one of the Google Growth Engine ambassadors. But what makes Szumisie so successful is the fact that Ania continues and continuously develops her offer.
The market of products for children is extremely fast-paced. Ania's team constantly improves their design and widens the offer. They have, for example, added bears for older children that can help them unwind by listening to lullabies. But that's not all. There are now hummin blankets, families of Szumisie with different designs, app-operated Szumisie, and… something extra.
Don't worry – you did not miss out!
Whether your children are already grown up, or you don't have any, but you wish a product like that was available when you were a child and struggled to sleep, then don't fret! As more and more doctors suggest grown-ups should also try white noise to help their sleep and relaxation, Szumisie did not listen to them idly. They extended their offer by SzumMi – a product designed for adults. After all, we are all big kids inside, deserving some TLC after a long and stressful day at work.
Thanks to Szumisie, we can now calm our strained nerves without the unhealthy blue light of our smartphones and the necessity to keep network-connected devices close to our beds. Finally, a restful night's sleep for all! Thanks to one Polish business mum.