During the warmer months of every other year, connoisseurs of art and architecture from all around the world converge in Venice's Arsenal and Gardens as the Venice Biennale takes place. Each country proposes its own take on what's hot in its respective disciplines in their national pavilions. The Polish Pavilion at the Biennale 2022 is, for the first time in the event's 120-year history, spotlighting Romani art and garnering rave reviews from art critics. 
Re-enchanting the World is a total work of art by Polish Romani artist Małgorzata Mirga-Tas, curated by Wojciech Szymański and Joanna Warsza. The exposition consists of twelve tapestries, or large format textile installations, each depicting one of the twelve months of the year, all in Renaissance style. Their iconography includes zodiac signs, life cycles, and the history of Roma people wandering across space and time.
The colorful and meticulously crafted tapestries are made from clothing articles and scraps of material that would have been worn by the subjects. Textile drawings are figurative, alluding to Italian Renaissance frescoes from Palazzo Schifanoia in Ferrara. The goal was to add representation of Romani culture to European imagery, as Roma, a nation with no country of their own, are usually overlooked on the national map of the continent.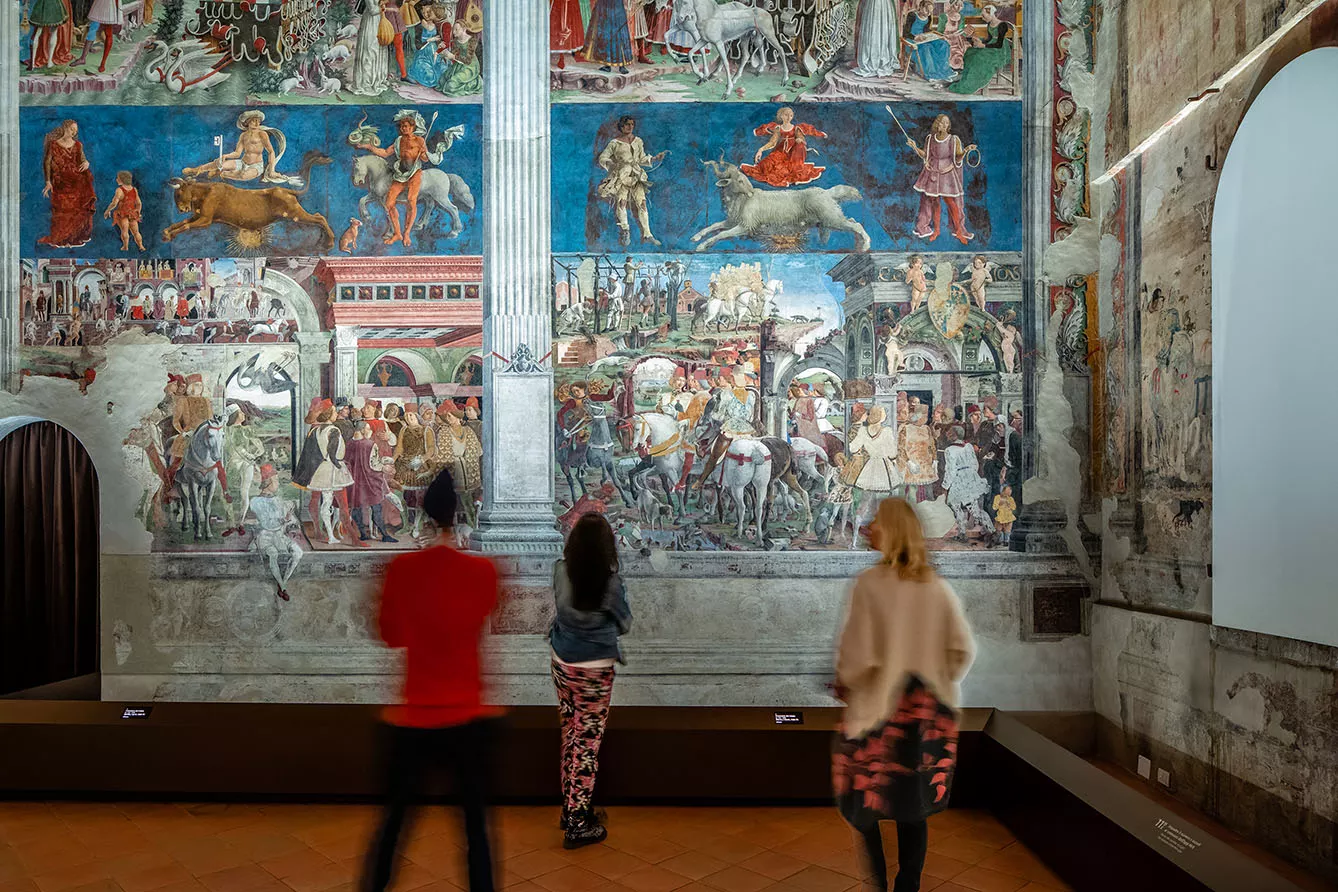 The artist, Małgorzata Mirga-Tas, is a Polish Romani herself. Born in 1978 in a mountain Roma village in Southern Poland, she graduated from the Academy of Fine Arts in Cracow and has incorporated Romani art motifs into her oeuvre since her artistic beginnings. As a member of the Bergitka, or Carpathian Roma ethnic sub-group, her culture is strongly connected to the southern Polish and northern Slovakian territory. These traditionally non-nomadic people settled at the feet of the Carpathian Mountains in the 18th century. That sets them in opposition to other Romani sub-groups, only loosely following a set of Romani customs and traditions known collectively as Romanipen. 
According to the 2011 census, there are some 17,000 Roma people in Poland today. The first mention of their presence in the area dates back to the 11th century; the Constitution of 3 May 1791 allowed them to settle freely on Polish territory. Before World War II, around 30,000 Roma were living in Poland. Forced settlement actions under Communist rule in the 1960s essentially annihilated the nomadic Romani tradition and undermined their notable presence in the Polish cultural landscape.
Małgorzata Mirga-Tas's work is important to the revival of Romani culture. And the Polish Pavilion in Venice is part of an appreciation of the enriching culture of this largely nomadic tribe. Better late than never.
Another notable and well-known artist of Polish descent is Papcio Chmiel, who created "Tytus, Romek and A'Tomek." It is worth reading about him.