One day in 1957, a Warsaw-based artist accidentally knocked over an ink bottle with his elbow. Looking at the inkblot, he saw something in it – a shape. "I just add a nose and a pair of eyes, and this turns a stupid ink stain into a wise…" He didn't even have time to finish his sentence before the recently drawn monkey jumped out of the illustration, shouting, "Long live me!".
Tytus, Romek i A'Tomek: forever boy scouts
And long did he live. These are just the initial images of the comic strip series that turned into a series of comic books, becoming the longest published comic book series in Poland. Tytus, as the monkey came to be called (an actual name Titus, but also a wordplay on "you, ink" (In Polish, "ty" = "you" and "tusz" = "ink"), was befriended by a pair of boy scouts Romek and A'Tomek (Tom of atomic age) which gave him more human qualities.
Each volume of the story involved another attempt at humanizing the monkey – through scouting, attending school, finding a job, time-traveling to different countries, epochs, and fantasy lands, such as the "Nonsense Islands," to the African origin of monkeys or to the prehistoric times of monkeys evolving into humans.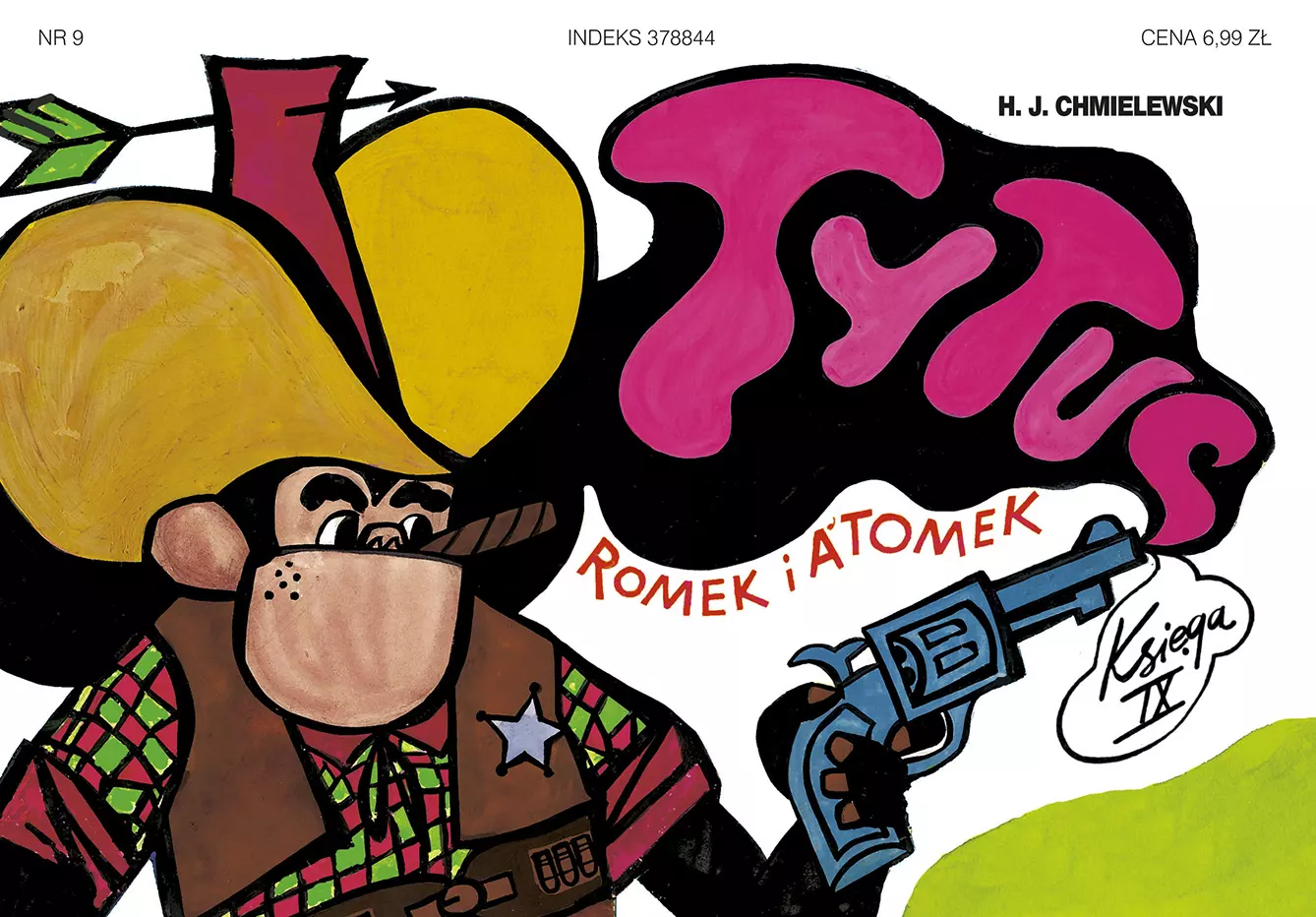 The artist who created the first blot (and most subsequent versions until his death in 2021, aged 98) was Henryk Jerzy Chmielewski. As a children's artist, he called himself Papcio Chmiel, or Daddy Hops, as his surname in Polish is derived from the name for this beer-flavoring plant. Amusing with marvelous adventures and silly, satisfying puns that are still part of the Polish lexicon to this day, he turned out to have a second layer.
Papcio Chmiel: illustrator and Warsaw Uprising Combatant
Born in 1923, Papcio Chmiel was 16 when the war broke out, and he fought in the Warsaw Uprising in 1944. When the communists took power after the war, membership in the "bourgeois" Armia Krajowa (Homeland Army) was prosecuted during Stalinism, and even later, it was not something to brag about. But Chmielewski served his time in the socialist army and then invented a new career – that of a graphic novel author.
The first Poles to be educated and "humanized" by Titus's adventures are now in their sixties. And thanks to the renewed appreciation for iconic retro works, the series is still gaining new fans even today. But how much is all this buzz worth?
In early April 2022, Warsaw auction house Desa Unicum auctioned almost a hundred original artworks from several comic book classics, both Polish and foreign. And guess who the most expensive artist was at the auction? Five works by Papcio Chmiel from the "Tytus, Romek i A'Tomek" series sold for over EUR 30 thousand. He may have been not the most skilled Polish cartoonist, but a generation full of childhood memories put a high price tag on his art.