Are these rocks, or is it a city? If we're talking about the Adršpach-Teplice Rocks, the answer is yes, as the rock formations of this area really resemble the network of streets and buildings of a city.
Both Adršpach and Teplice have their own rock cities – the former being better known and generally easier accessible, the latter – higher and larger. Both are a part of the larger mountain chain, stretching north from Czechia to Poland – all known as the Table Mountains, characterized by high rock formations divided by vertical canyons and flat as a table on their top.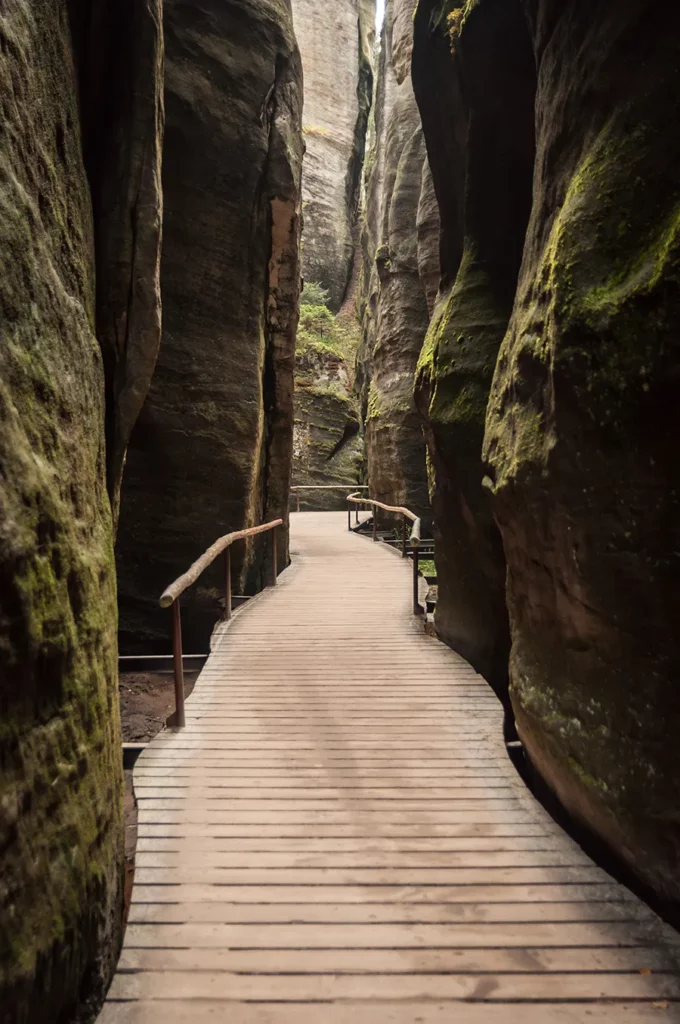 Natural city on the rocks in Czech Republic
High sandstone rocks dominate the area, shaped by nature into marvelous formations that, just as clouds do, remind people of objects. Therefore, many rocks have their own names, such as Sugar Loaf, Guillotine, the Mayor, and the Mayor's Wife. One of them is also called Eagle's Nest – and there's a reason for that, as the area is a sanctuary of a few magnificent birds.
And that's why tourists are allowed only on paths – but worry not, the paths give you more than a perfect opportunity to take a trek, which is also a city stroll. Especially since the tracks have already been tested by generations of tourists. From at least the 18th century, the Table Mountains were a bait for the curious, including royalty – Austrian, Prussian, and Polish rulers were known to visit here, and some tourists in that period (perhaps not necessarily the monarchs) used to sign their names on a particular rock formation, called the Lovers.
Tourists still flock to see these inscriptions today, which now include a particularly notable verbal protest against Soviet aggression on Czechoslovakia in 1968, painted on the wall of one of the rock formations.
Adršpach-Teplice: not only for a mountain stroll
But the true tourism era began after the great forest fire that happened in Adršpašské skály in 1824. The fire led to massive deforestation of the area, which left canyons open for tourists from all around. The forest is already back, but with tourist trails maintained throughout the city.
And with the advent of more sophisticated sports, some of them also found their place in Adršpašské skály. Tall, vertical rock formations are a dream spot for rock climbers, but you can even try rafting on the artificial lake built in the 19th century to transport wood from the local forest. But hey, it's ok to walk around, find some viewing spots and look around. That's what you do visiting cities, don't you?
You may also be interested in carnival in Central Europe.