Back in the late 90s, the now make-up mogul dubbed the "queen of eyebrows" was just a woman fresh-out-of-a-communist country with little to no English knowledge and no financial means, working to earn her living at a beauty salon in California. But she had a hidden ace up her sleeve, a golden ticket to success if you will.
She was the first to apply the aesthetically pleasing, symmetry-based concept of the golden ratio to brow shaping, creating the Golden Ratio Eyebrow Shaping Method that transformed the make-up world forever. Before leaving Romania, Anastasia worked as an apprentice in her family's tailoring shop. Here is where she first encountered the mathematical concepts she later implemented in her field. She studied engineering and mathematics alongside art and cosmetology.
The rationale for Golden Ratio
It's unsure whether her former education in architecture and arts or her entrepreneurship intuition inspired her to come up with the creative concept, but the blend between the two changed her life, turning her from an undervalued employee into a world-wide renowned self-made billionaire. Anastasia realized the brow service is not fully exploited in America. Implementing the theories and principles she studied in school to beauty, Anastasia became the queen of eyebrows, first in America and then all around the world. The "brow revolution" took off shortly, and not long after that, Anastasia Beverly Hills became the talk of the town – or should we say the world.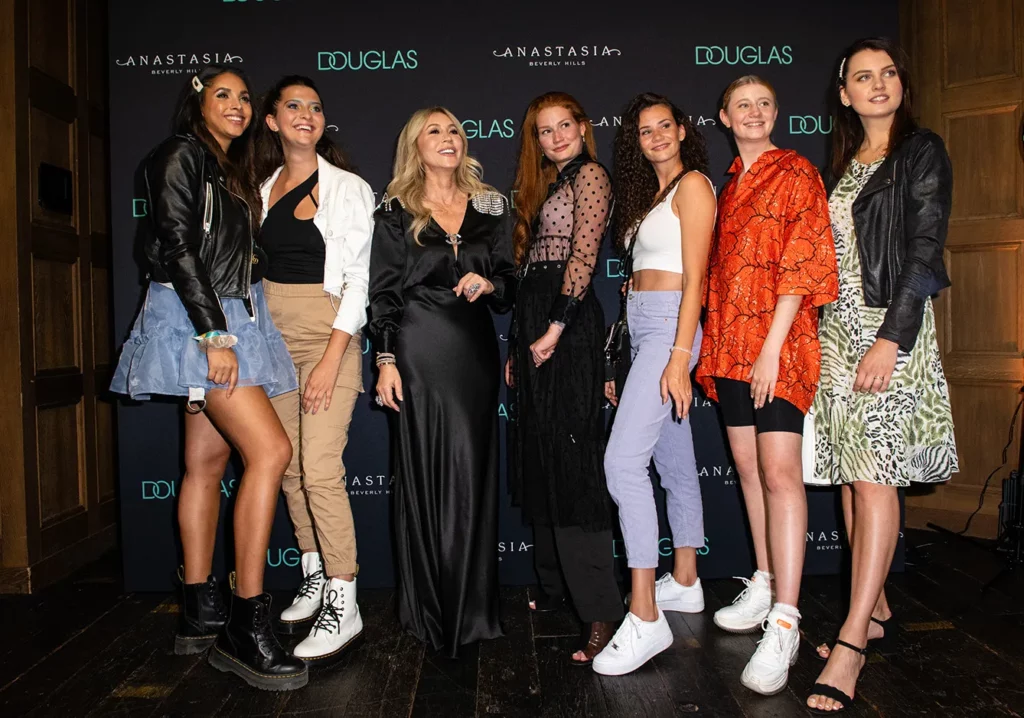 In 1992, after facing mistrust and doubts from her employer, who questioned her ground-breaking technique, Anastasia rented a small beauty salon in – where else – Beverly Hills. Here, she began doing what she knew best – eyebrows. Her technique gained fame quickly, and she soon became a favorite among celebrities. Long before launching her own product line, two of her first clients were none other than supermodels Cindy Crawford and Naomi Campbell.
And the list of famous names who entrusted Anastasia with their brows only grew from there – Victoria Beckham, Jenifer Lopez, Faye Dunaway, Kim Kardashian, Oprah Winfrey, and Michelle Obama, to name just a few. In 1997, the brand was officially born, and her products reached the market in 2000. From then on, it was a steady climb up the ladder of success for Anastasia.
Anastasia Soare's Beverly Hills dream
Anastasia is one of America's wealthiest self-made women, ranking no. 38 in Forbes in 2022. With a current net worth of just over USD 660 million (down from a high of over USD 1 billion in 2019), Anastasia now sells her products in over 2000 stores internationally. She has been featured in everything from The New York Times to The Guardian to Vogue and Elle, and she has appeared on The Oprah Winfrey Show and America's Next Top Model. She made the mission of making every woman feel beautiful a life mantra. She founded the Anastasia Brighter Horizon Foundation, which supports young adults upon exiting the foster care system, and she committed her brand to cruelty-free product formulation, testing, and development.
Anastasia Beverly Hills is more than a billion-dollar brand; it is the success story of what ambition, dedication, and belief in self can lead to. From a port city in Romania to USA's Golden State, Anastasia took a leap of faith and forever revolutionized the make-up industry, becoming one of the world's top billionaires.