One has to admit that a 77-kilometer-long lake is a great place for tourism, despite its name, which literally means 'the Mud Lake'. To some extent, the description is fair. First, Balaton is very shallow, with an average depth of only three meters – at its deepest point, it's still only twelve meters. Second, Balaton's tributaries are rivers rich in minerals, which contribute to the opacity of its water. And with a huge surface in comparison to depth, its waters evaporate easily, which only adds fuel to the phenomenon.
Balaton: a single lake district
However, that's where the cons list ends. What speaks in favor of the lake are hundreds of kilometers of lakeshore, creating a landlocked seaside that allows for watersports in Hungary. With 14 kilometers shore-to-shore and a 77-kilometer route, you can swim, kayak, sail on a yacht, and cruise on the surface (*not much depth there for diving, though, sorry). Hungarian Yachting Association brags about having over 70 harbors where one can stay overnight on their landlocked sea trip.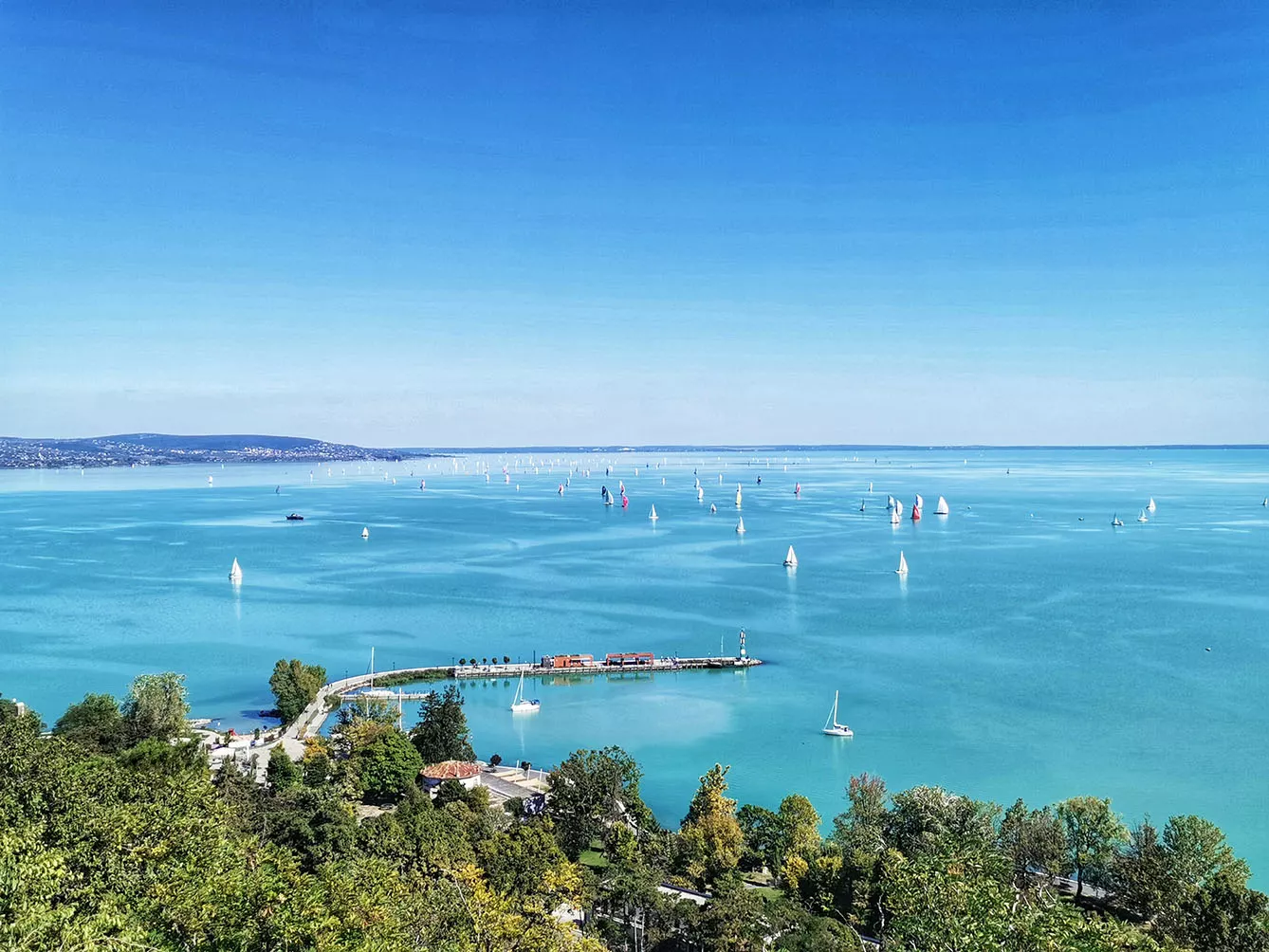 Land sports also provide a good adventure. Fishing opportunities attract many tourists to Lake Balaton's shores, as well as the beaches. And, as the lake is not new to the tourist market, you can spend a night in a modern bungalow as well as in an old-fashioned spa hotel, which harkens back to Austro-Hungarian times. And oh, don't forget about the biking trail which goes around the lake and consists of 210 kilometers of pure biking fun.
(Micro)climate of Balaton for summer holiday
The southern shore is the shallowest one and mainly attracts families. Cities such as Siófok offer multiple attractions for tourists expecting both beach rest, and some fun nightlife. The Northern side of Balaton provides tourists with several adventure parks.
Located conveniently approximately 80 kilometers from Hungary's capital, Lake Balaton is also an important cultural tourism destination, with vineyards being a vital part. Hungary, the home of the oldest wine region in the world, produces much of its wine in Tokaj and Eger. But the Balaton area has a special microclimate, thanks to the lake itself – the precipitation in the area is above average.
Unfortunately, this leads also to a smaller number of sunny days on Balaton's lakeside. Yet still, in the summer on its southern shores, you can enjoy temperatures reaching above 20 degrees Celsius and a full-on beach and watersports season lasting from June to August. Not bad for a landlocked country.